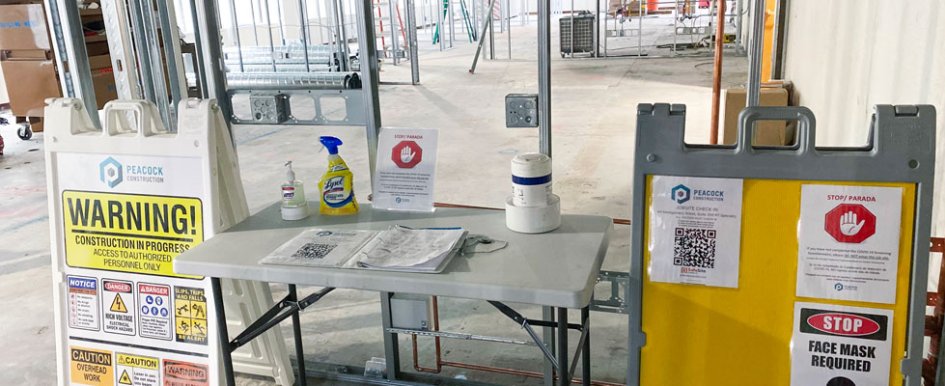 The app Premier Structures Inc. uses to streamline the prevention & spread of COVID-19
Earlier this year when construction sites were closed, every firm spent the downtime researching how they would safely reopen. There were lots of questions and considerations to be addressed—a shortage of personal protective equipment, rereading medical privacy law guidelines and Occupational Safety and Health Administration regulations, adjusting project timelines, and more.
It wasn't surprising that several COVID-19-related technology solutions emerged. One area that's seeing a lot more activity is the jobsite check-in process. It's been a long time coming. Everybody knew the clipboard and pen that got passed around was fraught with issues in terms of accuracy, accountability and taking too much time to start the day.
Prior to the pandemic, the sign-in process was more of a nuisance than an urgent business issue. Today, streamlining and digitizing the way workers, subcontractors and visitors enter a jobsite is nonnegotiable. General contractors need to comply without impacting productivity.
Technology companies are including COVID-19 health-related questions. The questions are designed to identify and address potential issues before a worker enters the jobsite and is exposed to others for an extended period of time.
The Firm's Accountability
Where it gets tricky is in managing the employee's check-in information. The technology, compliance and social issues around contract tracing and federal privacy guidelines adds complexity to the process—not to mention the general uneasiness when it comes to sharing personal health information.
Arguably, it's more complex than is necessary. One way to address these issues and make it easy for workers to sign into a jobsite is by using the worker's own cell phone.
For example, Premier Structures Inc. in San Francisco, California, is tackling the sign-in process using a combination of touchless thermometers and a touchless app called Safe Site Check In. After a temperature check, workers are directed to the app. They point their smartphone at a QR code poster on the jobsite, answer COVID-19-related health questions, and are either admitted or denied access to the site.
The health information stays with the worker, but the site supervisor is immediately alerted if someone is denied access. It was Matthew Bickerstaff's role to help define the company's approach to jobsite check-ins since COVID-19 began to spread in the United States. He spent time researching the latest pandemic-related construction technology solutions.
"A lot of the apps that came out early on couldn't document what we needed. Then we looked at survey solutions. Those are customizable, but it would have taken time and resources and it was more technology than we needed. We just wanted a simple way to check in to work and immediately notify supervisors if an employee or subcontractor was at risk of having COVID-19," he said. Premier is spending $2 a day for Safe Site Check In, and Bickerstaff says the technology pays for itself.
The Ripple Effect of Proactive Measures
Think about it. If the No.1 concern on a jobsite right now is the spread of COVID-19, one of the simplest things a firm can do is address the issue before it becomes one. Ask employees how they're feeling at the start of the day. For firms like Bickerstaff's, this includes temperature checks, because the reality is workers aren't always aware if they're running a fever.
Digital check-in technology that's executed on the worker's phone keeps personal health information on the phone. It also gives site supervisors accurate and immediate information about who's on the jobsite at any given time.
This way, everybody on the jobsite can focus on the work, knowing they're surrounded by people who aren't exhibiting signs or potential indicators that they have contracted the virus. And the technology is simple enough that it doesn't require a lot of heavy lifting from the IT department.
As we work through this period in history, it makes sense to take a closer look at the systems and processes that are working. And those that aren't. While streamlining the jobsite check-in process is simple and small in the whole scheme of things, it has a positive ripple effect when you consider the industry employs over seven million people in the U.S., according to the latest numbers from the Bureau of Labor Statistics.