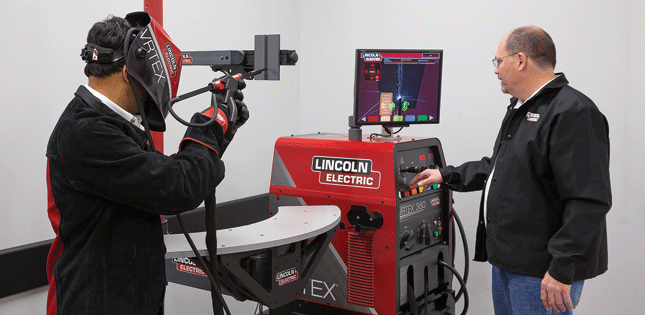 This form of training helps employers train and screen skilled workers
Thursday, December 19, 2013
Few people would argue that the U.S. and other countries around the globe are facing a shortage in skilled labor. A close look at the labor pool in industries such as construction and manufacturing reveals that many positions pose technical challenges and require a special skill set, which adds to the complexity of hiring, educating and training qualified workers.
Global manufacturers and fabricators cite the difficulty in finding skilled labor as a challenge for their future productivity and profitability, as indicated by research in the Grant Thornton International Business Report (IBR). Some companies and businesses are taking that challenge into their own hands. In an effort to ensure their workforce is competent, capable and focused on their established quality and productivity goals, companies are using a combination of traditional hands-on methods and new technologies to expand internal training programs or develop them from the ground up.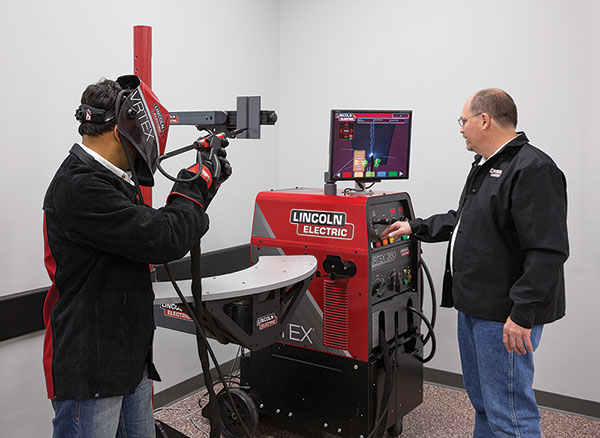 An Economical Tool
Overall, virtual reality training offers an ideal method for companies to address skilled labor shortages in a cost-effective manner that can deliver top-notch instruction combined with safe, hands-on experience. In a virtual reality environment, companies need not tie up production resources for training purposes, and trainees are not in danger of injury should mistakes be made on live, full-functioning equipment.
Beyond addressing cost and safety issues, effective virtual reality training systems provide hands-on instruction and instantaneous feedback as trainees essentially perform tasks as they would on the job. Another plus: Retention improves with virtual reality training as opposed to traditional methods—nothing trumps the effectiveness of "doing" when attempting to learn proper techniques.
"Blended" Training
Welding is one sector of the construction industry in which employers of skilled workers have begun to focus on virtual training. Welding is a skill that requires not only manual dexterity but also attention to detail. A proper weld is conditional on the operator's travel speed, angles relative to the work piece, position of the arc in the welding joint and comfortable body position throughout the length of the weld.
The welding saying "you need to burn to learn" suggests that you need to burn a welding rod to actually learn welding skills. Today, this isn't necessarily true.
Since the introduction of virtual reality welding training in 2009, this message has steadily changed. Now, the increasingly accepted methodology is "blended" welding training. In blended training, a virtual reality welding simulator is incorporated as a supplement and enhancement—not a replacement—to a traditional welding training program.
Virtual reality welding training, in conjunction with traditional methods, offers distinct advantages, including cost reductions, improved trainee accuracy and focus, increased consistency, enhanced training environment and evaluation of performance on the critical variables.
Because recruitment, screening and training can be a time-consuming and costly endeavor for an employer, companies are finding new ways to recruit, attract, hire, screen and retain qualified workers, whether the prospects are students coming out of an accredited training program or applicants with experience in the skilled labor pool.
Virtual reality training programs provide hands-on training and screening that are consistent with standard industry methodology and evaluation criteria. In virtual reality welding, for example, learning occurs in a fun, "gaming-inspired" environment, thanks to a specially equipped virtual reality welding helmet. In today's digital society, these systems allow students of any age to learn key skills in a safe, virtual environment with realistic imagery and scenes.
Virtual reality training also is true real-world learning. Students using virtual reality welding training systems, for example, must learn how to replicate proper machine setup before they can "weld" by entering the proper material type, process, gas flow and amperage/voltage/wire-feed speed into the system.
Streamlined Recruitment and Screening
At Vermeer Corporation, a global manufacturer of industrial and forage equipment, hiring managers approach the skilled labor challenge with a motto from the founder, Gary Vermeer: "There has to be a better way." Vermeer managers seek this "better way" by creatively implementing evaluation and screening programs for incoming workers and for welder training/retraining. The company uses classroom instruction, virtual reality welding training and hands-on welding. The use of virtual reality welding simulation as a tool for training and screening is an example of how Vermeer Corporation is implementing continuous improvement and innovation in its business processes.
Like Vermeer, other employers have found virtual training to be an excellent tool to capture the interest of potential employees—both on-site at their plants or offices or at job fairs. This technology gives HR professionals a cost-effective, safe way to demonstrate welding's benefits without the need for steel, shielding gas, added safety equipment or a welding booth—anywhere, anytime.
Anyone who fills out an application can say he or she knows how to weld. Typically, a company employee with welding knowledge and understanding can't determine that an applicant is competent and capable enough to pick up a welding torch on an actual jobsite until the applicant completes a full review, including employment screening, safety training, preparation and a welding test.
This intensive screening process takes away from welding personnel's time on the job. Weld testing every candidate with actual materials and equipment also is costly for the company. With virtual reality welding training, hiring managers can complete a pre-assessment to determine if the candidate has indeed ever picked up a welding torch or is merely overstating his or her experience. This initial review can weed out candidates who would never pass a real welding test and ensures that the company's welding personnel are focused on what matters—their work on a jobsite—until a smaller prequalified pool of candidates can complete a hands-on welding test.
Global Training Support
Many companies now have multiple locations and have expanded globally. This globalization poses challenges to maintaining the consistency of internal training programs from plant to plant, especially in plants that require language support. Virtual reality training rises to this challenge as well.
In the welding sector, trainers, unlike educators, may not be able to focus on training full-time. They may be juggling a training responsibility with other tasks and projects. In addition, trainers in different plants or on different jobsites may not have shared data or information on their training program. With some virtual reality training systems, the trainers can easily implement a blended training program with a consistent and focused review and analysis. No longer does a weld "lookout" contain only a personal review by a trainer; it also includes a score for each welding operator that analyzes performance and puts employees on an even playing field.
At Trinity Industries, one of North America's largest manufacturers of transportation, construction and industrial products, Blake Craft, the company's director of welding application and compliance, says virtual training also improved their trainers' skills as they strived to demonstrate their control of the process to others. The measures, combined with real-time simulation, have been a great growth tool for both trainees and seasoned instructors alike.
A Better Path to Skilled Workers
While there is no single answer to the skilled labor challenge, manufacturers and contractors are stepping up to find solutions and qualified employees. By implementing new ideas and methodologies, they are improving their organizations and helping to grow the skilled labor pool. Their plan is not to sit back and wait for an answer, but to take ownership, answer the challenge with innovation and drive home productivity results that make a difference. Virtual reality training is a method to accomplish exactly that.