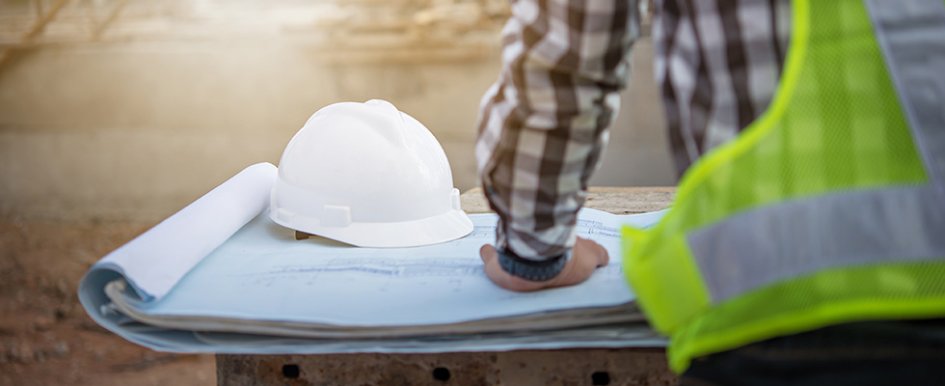 Proactively protect your bottom line & position your business for success
The last several years have been challenging for contractors as they face mounting pressures from inflation, labor shortages, rising capital costs and continued supply chain interruptions. As you navigate these pressures, be sure not to ignore the many risks that could adversely affect the business you've worked so hard to build and maintain. Proactive risk management puts you in a better position to protect your business and employees: It should be a key aspect of every business plan. 
Here are a few tips to strategically reduce your risk in the areas of safety, theft, cybercrime, motor vehicle use and employment practices.
1. Safety
The risk of injury in construction is high. There's always room to improve the safety of your construction sites and operations. As a business leader, that directive starts with you. Work with your most experienced employees to lead by example to foster a culture of safety, with every employee acting as a contributor. Have a plan. Communicate it. Celebrate success. 
When deciding how to put your risk management plan in place, consider the following:
Property condition assessments — Conduct inspections of your property, including building history, age and preexisting problems, to identify potential risks.
Hazards — On a regular basis, evaluate your machinery, work environment and working conditions on- and off-site for potential hazards. This includes industrial hygiene, such as sound exposure and ergonomic issues, and environmental safety, like exposure to chemicals including asbestos, lead fumes, spray paint, carbon monoxide and silica.
Once you've determined the areas needing attention, it's time to put a plan into action and implement your safety practices through in-person consultations, safety training sessions and the distribution of additional resources to your employees. Work with your insurer to develop a proactive safety culture and to choose insurance coverages that best fit your unique needs.
2. Theft
Given the nature of construction work sites, it's imperative that you strengthen security to help reduce your losses and prevent costly delays. Include the following steps in your risk management plan:
Assess before you construct — A preconstruction security assessment should include location-specific exposures, project type, socioeconomic factors and the level of public support or resistance surrounding your project. It will give your team a better idea of the external site risks.
Minimize entry points — After your assessment is complete, secure the perimeter. This requires perimeter fencing, warning signage, camera systems, and permanent and motion lighting.
Deter equipment and material theft — Lock up tools, equipment and materials when possible; disable and remove batteries from equipment when not in use; equip vehicles with GPS and geofencing alerts; and limit the amount of time valuable materials are freestanding at the jobsite.
Implement breach protections — Incorporate alarm systems and motion sensors that alert those in the surrounding area of a breach through lights and sound, or a silent alarm system that alerts local authorities and the construction supervisor.
Limit after-hours threats — Don't overlook your employees' safety; encourage them to walk to and from jobsites in groups for additional security.
For an added layer of protection, your insurer may offer contractor's equipment insurance. This coverage typically includes valuation options, whether for replacement cost or actual cash value of the equipment. The right insurance can also provide coverage for hired equipment, additional acquired property, and employees' tools and clothing.
3. Cybercrime
Cybercrime continues to rise significantly. Ransomware, in particular, continued an upward trend in 2022 as the share of data breaches caused by ransomware grew 41%, according to a study by IBM Security. There is a considerable financial cost to these breaches: In this study, it was estimated that a ransomware attack cost a business an average of $4.54 million.
A cyberattack on your business's software or equipment could cause project delays, reputational damage, loss of bid data, cyberextortion and litigation. There are several ways to help protect your sensitive data, including:
Identify sensitive data and ensure proper controls are in place — Look for any personally identifiable information, and evaluate and implement proper controls to secure the data, comply with regulations and reduce privacy risk.
Back up data — Ensure any data critical to your company's existence is secured and copied to a separate storage site.
Bolster your information technology (IT) systems — Make sure your antivirus package is current and able to block attacks.
Educate employees — Teach workers to recognize and delete potential risks like phishing emails.
Find an expert who can help with your specific needs — Have a software/hardware security expert check your system for strong encryption and authorization protocols.
Construction is a lucrative target for cybercriminals. As an added layer of protection, use multifactor authentication mechanisms to protect your sensitive information. Make sure you also require strong user passwords and reset them at regular intervals. Similarly, using a password manager such as LastPass or RoboForm and disallowing apps and websites to retain your passwords can help combat cybercrime.
Cyber liability insurance is another opportunity to further help protect your business, and can assist you with privacy breach response services, such as:
Computer specialists
Legal advice
Public relations expenses
Notification costs
Credit monitoring services
4. Motor Vehicle Usage
Depending on the scope of your projects, your employees may be at an increased risk on the road. They may have to travel between construction sites, work with a variety of vehicles from cement mixers and excavators to company trucks, or even perform roadwork. According to Cambridge Mobile Telematics, drivers were 30% more distracted in February 2022 than they were in February 2020, just prior to the pandemic. And while distracted driving used to have seasonal peaks, it's now considered a constant risk throughout the year.
With the most distracted drivers more than two times more likely to crash than the least distracted drivers, it pays to proactively mitigate your risks. More frequent crashes can increase your insurance costs, and litigation targeting accidents involving businesses can further drive up costs for everyone. You can help counter this by establishing a detailed risk management plan that includes: 
Background checks prior to employment — Assess motor vehicle reports (MVRs) prior to hiring an employee. If you put a driver who has an unsafe driving record on the road in one of your vehicles and they cause an accident, it could be a catastrophic loss for your business.
Employee training — As part of your overall safety plan, motor vehicle training can help keep your employees, and those on the road with them, safe.
Telematics in vehicles used by your employees — You can monitor driving behaviors in real time to encourage safe driving.
Tailor insurance coverages to the types of driving tasks your employees undertake. Your insurer can help you choose the options best suited to your needs. 
5. Employment Practices
Effective hiring practices are a key element of success for any business. There are three steps you can take to improve your hiring practices and add a layer of protection:
Establish and follow written employment guidelines and job qualifications.
Consult a legal expert to review your company's recruitment and hiring processes, and make sure they're compliant with state and federal laws.
Perform background checks as part of your hiring process, including checking references from past employers.
Employment practices liability (EPLI) coverage is also important to consider. EPLI helps protect you and your business if an employee claims employment-related issues like discrimination, wrongful termination or harassment. 
Protect Your Hard Work From the Unexpected
You've worked hard to build your business, and risk management is an essential part of protecting your employees and bottom line. Every business is unique, so take the time to find an insurer who knows your field and is familiar with your needs. Talk with your insurer, your team and local experts to identify your risks, find solutions to your safety and security gaps, and ensure your business has the appropriate coverages in place to help you recover if the unexpected happens.