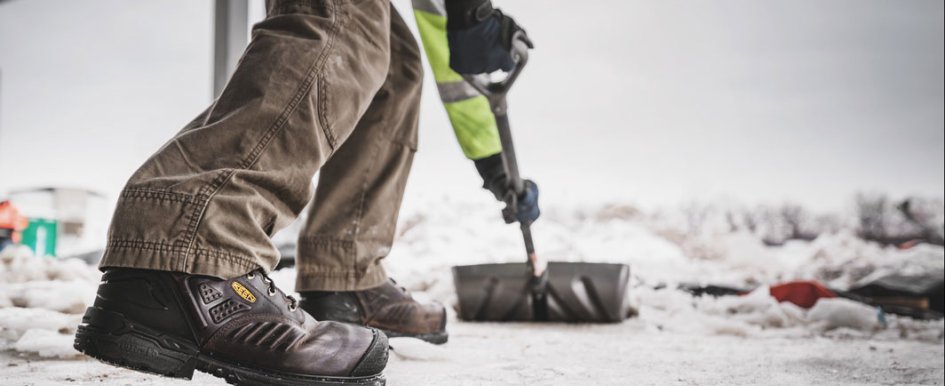 The safety boot features workers need to survive the cold, wet months
Friday, November 8th, 2019
The autumn leaves have hit the ground. Frost is starting to cover the grass. Fall is in full swing, and winter is on its way. While most construction business owners and contractors will worry about extremely cold temperatures and the effects on scheduled jobs, hypothermia and frostbite are also significant concerns.
Not every part of the country deals with snow and ice the way the northern climates do, but maintaining ample body heat is a key component for keeping workers productive in any climate. As far as wet weather concern goes, early winter and early spring are often about preparing for soggy working conditions.
When winter is upon us, so too are its challenges. Colder temperatures bring rain, snow and ice, and these seasonal safety risks can wreak havoc, causing more slips, trips and falls. As such, having proper safety footwear to weather the season is paramount.
From the Ground Up
The importance of cold weather work gear starts at the ground level—our toes—which are especially vulnerable extremities, making work boots an important and necessary investment. When the body enters a cold area, blood vessels in the extremities constrict, reducing blood flow, which helps to keep warmth and blood flowing to the most important body parts. 
Our feet, similar to our hands, have a large surface area and specialized blood vessels, which can open up to pass high volumes of blood and, therefore, offload heat quickly. Because the toes are the furthest from our vital organs, these are the first to feel the effects of vascular constriction and are in more jeopardy of frostbite. So, keeping feet warm is essential to keeping the whole body at a regulated temperature. 
Insulation within the boot itself helps to trap and preserve body heat while still allowing for moisture to escape. Additionally, work boots lined with various levels of synthetic insulation, or those using natural insulators like wool, provide warmth across a range of temperatures. Because every body is different, every worker may need to try different levels of insulation, in coordination with a proper wool sock, to find the most comfortable ambient temperature. 
Stay Warm, Stay Dry 
A non-lined and non-waterproofed boot will open susceptible areas of the foot to the penetration of water, snow or ice. And to maintain warm feet, you must keep them dry. This doesn't absolutely require a polyurethane (PU), rubber or thermoplastic polyurethane (TPU) boot.
But, it is critically important to maintain breathability, with a waterproof barrier that will keep moisture out while allowing water vapor to escape the boot, away from the foot, as feet sweat when they're warm. Waterproof leather paired with a waterproof, breathable membrane allows for breathability without sacrificing performance.
The Right Equipment for the Job
No matter what the winter weather brings, it's important for everyone to have the right type of equipment in the field. Most workers will agree that a grippy, lugged rubber outsole will offer more traction in snow and mud. It's important to look for a tread design pattern that will also help release that debris, so the boot doesn't accumulate muck and rubble, creating further trouble down the line. 
In addition, all ice will eventually melt, which can create slippery work surfaces. When snow and ice are constantly tracked to an indoor environment, maintaining boot traction continues to be a safety factor.
Like a snow tire on the road, the outsole of a work boot grips the surface. It also includes strategically placed channels in the tread design, helping to divert water and debris quickly for better surface area contact and friction with every step. 
Frigid winter work environments may require a more aggressive, multidirectional lugged outsole to help grip uneven terrain. Footwear manufacturers are taking an innovative approach to advance slip-resistance and enhance traction technologies, with newer products that feature rubber lugs, which have been engineered to include micro-glass fibers that pierce the wet surface of ice. This creates a micro-cleat effect that digs in for optimal traction in the toughest conditions. 
Materials Matter
Inclement weather and harsh conditions require that a boot's materials hold up. For the footwear manufacturer, material choice is critical for comfort, performance and durability. Not all work boots are winter boots, and tradespeople will encounter myriad obstacles—from unsafe terrains and caustic elements to managing the traverse across a multitude of materials that are in various stages of frozen solid, melted and slushy.  
The combination of heavy-duty leathers and synthetic uppers can create a winter performance boot that holds up to the conditions. While road salt can stain leather work boots, a bigger issue is the damage it can cause. If not treated, salt will eat away at the natural leather, leaving it dry and highly susceptible to cracking. 
Polyvinyl chloride (PVC)-free, barnyard-resistant leather protects against the damaging effects of caustic materials like oleic acid, urea, sodium chloride and ammonium hydroxide, extending the life of the boot. Additionally, work boots worn in abrasive work environments or used as a tool with a repetitive motion, such as resting pallets on the top of the toe, might require TPU or rubber coatings on high-wear areas to protect the boot and maintain its structural integrity.  
Caring for Your Boots
Conditioning the leather of a work boot helps to protect and restore its leather components while extending its hard-working life. When conditioning work footwear, it's important to have an understanding of the boots' materials before selecting a conditioner. 
For waterproof leather, use mink oil paste or a leather conditioner formulated for leather boots. For oiled leather, consider cleaning with a damp cloth and then conditioning using a beeswax or lanolin-based leather moisturizer. Dry-tanned leather boots need a leather conditioner formulated for leather boots (e.g., mink oil paste, paste wax, boot polish, etc.). 
And finally, for nubuck or suede, consider a spray-on conditioner that has been formulated specifically for those materials. Products containing mink oil and waxes are damaging to the nap and finish of suede.
Performance Socks
Socks that are too thick in a boot will reduce air circulation, as well as blood circulation. Keep the following in mind when choosing a pair of work socks for your next cold-weather job:
Material—Merino wool, nature's best performance fiber, helps to keep the foot dry and comfortable while achieving durability levels superior to cheaper alternatives. It's naturally antimicrobial, which means less odor, and it is temperature regulating. If your foot is too hot, the fibers will release moisture to breathe, and if your foot is too cold, it will warm it up.
Fit—The best way to fit a right and left foot is with a specifically patterned right and left sock. Minimizing excess material on the outside of your foot means a perfect fit every day.
Seams—Socks with seams on the toe flex zone can result in bunching and chafing on the tops of your toes. 
Support—Work socks with contoured arch support, impact cushioning in key areas and a proper heel pocket make all the difference in ensuring comfort and support all day long.
Winter work throws a number of obstacles in the way of jobsite safety. By working with your staff and crew to educate and inform them on better-performing personal protective equipment, you will set a precedent for seasonal safety by starting from the ground up.