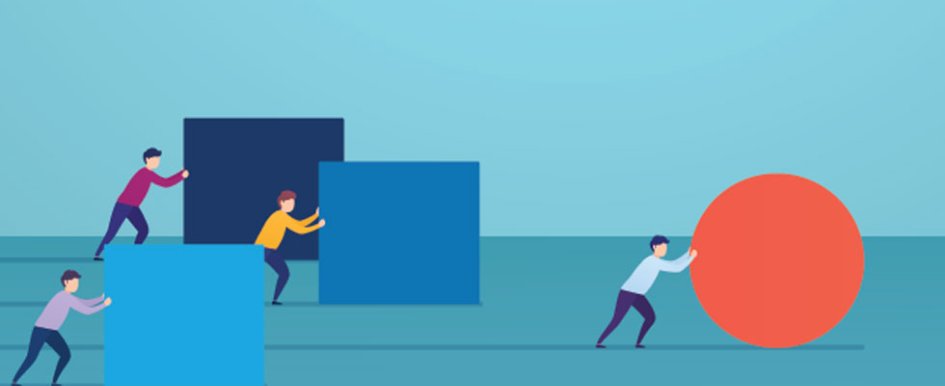 How to set the stage for growth & prosperity after the pandemic is over
We've seen economic downturns before, but the coronavirus pandemic is a completely unprecedented situation. The negative economic impact has been global, with cities around the world mandating the closure of many businesses to reduce the spread of the virus. This has left many companies, both large and small, struggling to survive.
While there is little we can do to change the overall economic impact of COVID-19, companies can use the downtime created by the crisis to prepare for even greater success once the dust has settled. The following proactive steps will empower your company to set the stage for growth and prosperity in the post-COVID-19 economy.
Revisit Your Business Plan 
The path your company takes relies upon your plan and mission, so it pays to revisit it from time to time. However, many companies have not looked at these things since they were a startup. You can use the extra time created by the slowdown to revisit these foundational ideas to see if you need to adjust either your practices or your plan. If you find areas of opportunity, you can create a new path forward that incorporates new vision and direction.
For instance, have you added or changed what you offer without looking at how that change impacts your mission and goals? Is it time to identify new goals or find new offerings to help your business reach the next level? Asking yourself these questions will give you the information you need to realign your daily work with your long-term goals.
Look for Ways to Streamline
In lean times, companies naturally look for ways to cut back on spending and conserve resources. This is a short-term tactic that can help in a crisis. Above simply tightening your belt, streamlining looks at how you can become a more efficient and profitable organization for the long haul.
So, while cutting discretionary spending is a cutback that has short-term effects, streamlining your bidding process can have a powerful, long-term effect on your company's success.
Some areas you may want to look at include inventory management, project management and supply chain. Are there opportunities to lower inventory costs, negotiate with vendors or source alternatives? Can you more closely align your monthly cash flow and accounts receivable to your current business needs?
Revamp Your Processes
Processes may often be considered secondary, but they can have a huge impact on profitability. Unfortunately, process changes are often viewed as disruptive, even if the process itself is inefficient. For this reason, many companies rely on the same old methods they always have for important tasks like time keeping, payroll, project management, inventory management and budgeting. Each of these areas, however, is critically tied to your company's bottom line, so it makes sense to rethink and revamp them.
One easy way to recalibrate how you operate is to examine your use of technology. Software platforms can revitalize your processes in key areas like timekeeping or project management. In turn, your staff will be freed up to focus on other areas instead of mundane tasks.
Reconnect with Your Network
Networking is often hailed as an important tool for growing your business, but it often takes a backseat to other areas of focus. This is especially true when business is doing well. During an economic downturn, however, the strength and quality of your network can make the difference between survival or becoming a statistic. After all, some of your contacts may have future business to offer when their own business starts to boom.
Reconnecting can be as simple as sending emails, offering helpful resources and engaging on social media. This includes current and former clients, prospects, fellow members of associations and connections on social networks like LinkedIn.
Reconnect with Your Employees
Attracting and retaining dependable workers is difficult during the best of times, but it's going to be even harder when companies are allowed to reopen in full force. Many companies have had to furlough workers as well, creating an even more uncertain staffing situation.
After all, your laid-off workforce may end up working for the competition. Having a solid team is vital for success though, so you should take measures to reconnect with your people.
Be transparent, share information and offer encouragement through email, phone calls and text. You can also point them to helpful resources. These small actions can have a big impact on your team's morale and your ability to staff up when it is time to get back to work.
Keep Marketing
The old saying "out of sight, out of mind" is as true today as it ever was. In fact, it may be even more applicable now because competition is more fierce when there is less business to go around. So, if you're not actively marketing, your competition probably is. This means they will have the name recognition it takes to grab new business when the economy starts to recover. Fortunately, you can use cost effective tactics to keep your company front and center.
You can improve your company's visibility by publishing content on social networks and sending emails to your current list of contacts. You can also utilize user-friendly digital advertising options that you can manage in-house, like Google or social media ads.
Economic ups and downs are nothing new, including large-scale downturns that have systemic effects on multiple industries. So while the COVID-19 situation is a first, companies have navigated their way out of plenty of hardships to find even greater success on the other side. This is fantastic news for companies looking to turn adversity into opportunity because it means that if you have the will, your company can thrive. They key is to utilize the downtime to forge a stronger organization that's efficient, focused and ready to jump on the opportunities that arise post-crisis.