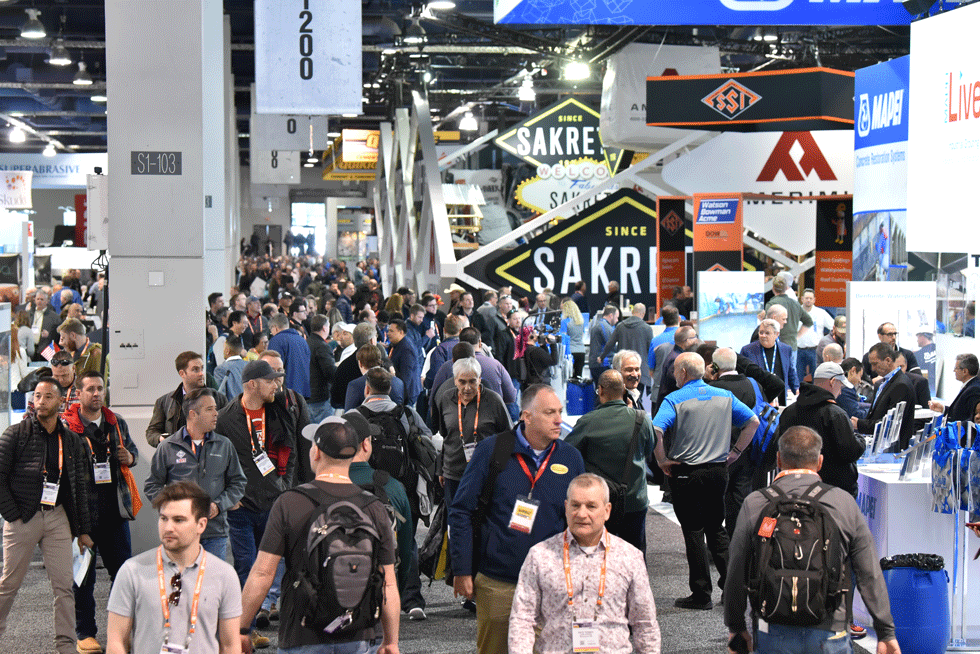 What's happening next for industry events
Friday, December 11, 2020
In-Person Events
January 20-23
National Pavement Expo & Conference
At press time, the National Pavement Expo and Conference issued a statement saying the showrunners planned to proceed with the in-person trade show and conference in Nashville, Tennessee, on Jan. 20-23, 2021. The statement also said, "The health, safety and well-being of every attendee, exhibitor, speaker and staff is our number one priority. We are closely monitoring COVID-19 and its potential impact on plans to host National Pavement Expo and Conference. Should the in-person event not be able to take place, we are looking at a virtual exhibit hall and conference experience to meet the needs of all industry stakeholders. Please check back for updates." 
May 15-19
Construction Financial Management Association (CFMA) Annual Conference & Exhibition
In June 2020, CFMA held a virtual event in place of its annual in-person conference and exhibition. The association's 2021 conference is currently scheduled to be an in-person event, taking place in Denver, Colorado, in May.
June 8-10
World of Concrete
World of Concrete (WOC) announced its decision to reschedule WOC 2021 from January to June. WOC will now take place June 8-10, 2021, with educational offerings June 7-10, at the Las Vegas Convention Center in Las Vegas, Nevada.
"We have a commitment to our exhibitors and attendees to provide a valuable and productive face-to-face experience at WOC each year," said Jackie James, group director, World of Concrete. "This is the first time in our 46-year history we have been faced with circumstances that have caused us to reschedule the event. We feel the new June dates will provide everyone with the necessary time to plan effectively and allows us to reimagine WOC for a different time of the year."  
October 18-20
The American Rental Association Show
The American Rental Association (ARA) announced that The ARA Show 2021 has been rescheduled for Oct. 18-20, 2021, at the Las Vegas Convention Center, in Las Vegas, Nevada. The 2021 edition of ARA's annual trade show and convention for the equipment and event rental industry was previously scheduled for February in New Orleans, Louisiana. To accommodate the shift to a fall 2021 show, ARA has canceled The ARA Show 2022, which was planned to take place in Anaheim, California.
Virtual Events
February 9-12
International Builders' Show
The National Association of Home Builders (NAHB) announced that the 2021 International Builders' Show (IBS) will be held virtually. The association made the following statement: "This decision was the result of countless hours of research, meetings with NAHB member leadership, talking with exhibitors and surveying attendees. But ultimately, the health and safety of IBS attendees and exhibitors, as well as the ability to produce a signature event experience, outweighed all other considerations." Registration for the event is now open.
March 8-12
World of Modular
The Modular Building Institute announced its annual convention and trade show, World of Modular, will be a virtual event in 2021. Registration for both attendees and exhibitors is now open.
Cancellations
Work Truck Week 2021
NTEA – The Association for the Work Truck Industry announced it will not produce Work Truck Week in its traditional in-person format next year. The event, originally scheduled March 9-12, 2021, in Indianapolis, Indiana, includes The Work Truck Show and Green Truck Summit. While there are no plans to hold Work Truck Week virtually, NTEA is exploring new opportunities to share education and connect industry businesses. Work Truck Week will return to Indianapolis March 8-11, 2022.
The association issued the following statement from Board of Directors Chair Peter Miller and NTEA President and Chief Executive Officer (CEO) Steve Carey: "After extensive and careful deliberation, we have realized a typical Work Truck Week is not possible in 2021. The health and safety of our attendees, exhibitors and staff is paramount, and was a driving factor in the board of directors assessing the feasibility of the 2021 event. Doing what's right for the work truck industry is NTEA's No. 1 priority and commitment, which is why it was extremely hard—but ultimately necessary—to make this decision. We know each year the commercial vehicle industry relies on this event to further business opportunities and strengthen professional connections." Exhibitors and sponsors can choose to apply deposits to the 2022 event or receive refunds.
World of Asphalt Show & Conference & AGG1 Academy & Expo 2021
The executive committee of World of Asphalt Show & Conference and AGG1 Academy & Expo announced the combined in-person shows will not be held in 2021 due to ongoing concerns related to COVID-19. The decision was reached after extensive discussion between leadership from show co-owners National Asphalt Pavement Association (NAPA), Association of Equipment Manufacturers (AEM), and National Stone Sand & Gravel Association (NSSGA), as well as feedback from exhibitors, attendees and stakeholders.
"Together we made the difficult decision to not hold World of Asphalt and AGG1 in 2021 in Atlanta," said Audrey Copeland, president and CEO of the National Asphalt Pavement Association. "The health and safety of all participants in the show is our highest priority, and with the status of the pandemic in the United States, we believe the responsible choice is to not hold the show in 2021 and focus our sights on 2022 in Nashville."
The next in-person World of Asphalt and AGG1 is planned for March 29-31, 2022 at the Nashville Music City Center in Nashville, Tennessee. Exhibitors have been offered the opportunity to transfer exhibit space funds to the 2022 show or to receive a full refund. At press time, NAPA and AEM were exploring the option of offering an all-digital education conference in 2021. Attendee registration for the 2022 show in Nashville will open in fall 2021.