WASHINGTON (Aug. 15, 2023) — Associated Builders and Contractors (ABC) reported that its Construction Backlog Indicator increased to 9.3 months in July, according to an ABC member survey conducted July 20 to Aug. 4. The reading is up by 0.6 months since July 2022.
The South remains the region with the highest level of backlog, despite being the only region with lower backlog on a year-ago basis. Backlog gains in July were concentrated in the commercial and institutional category.
ABC's Construction Confidence Index reading for profit margins and staffing levels moved higher in July, while the reading for sales fell slightly. All three readings remain above the threshold of 50, indicating expectations of growth over the next six months.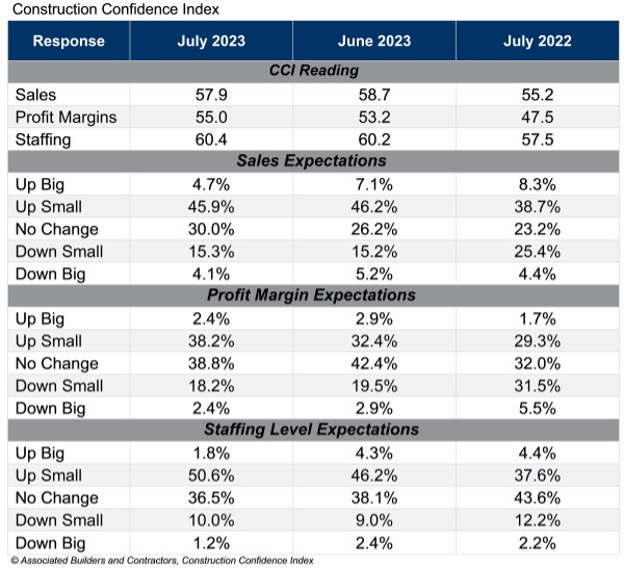 "Nonresidential construction backlog continues to expand, which is precisely what contractors had predicted six months ago," said ABC Chief Economist Anirban Basu. "For many months, contractors have been signaling an expectation that demand for their services would continue to expand despite high and rising interest rates and a spate of regional bank failures.
"That said, there are some surprises in the data," said Basu. "Backlog declined in both the infrastructure and heavy industry categories, possibly because the current administration is striving to reserve many large-scale projects for unionized firms. ABC members are largely nonunion, and therefore may be locked out of a meaningful proportion of significant opportunities. Diminished competition for such projects would tend to drive up construction service delivery charges, much of which are financed by American taxpayers."