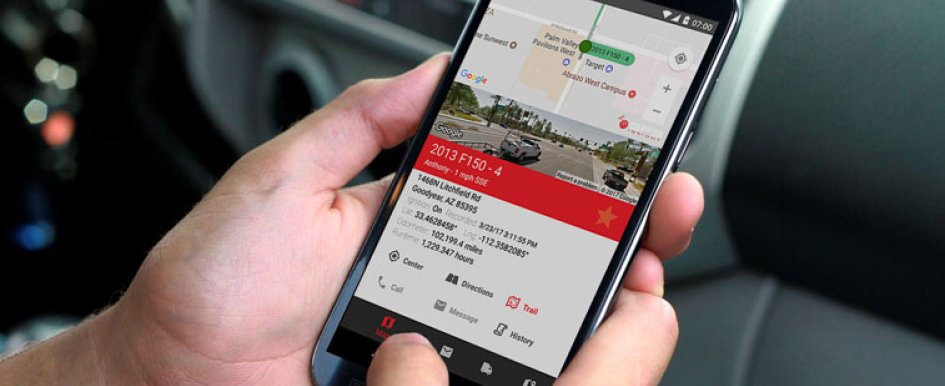 How to protect & enhance your brand with telematics
Building a positive brand image is a crucial aspect of marketing for all businesses. It's how customers recognize and remember your brand. As a mobile business, vehicles act as driving billboards. If drivers are reckless on the road or use company vehicles where and when they shouldn't be used, then that is the impression that will stick.
There is an important question that all construction business owners should ask themselves when considering their marketing efforts, "Do I know how my vehicles are representing my business to the community?" It is important because it doesn't matter how much budget is allocated to marketing if the brand is being represented in the wrong way by drivers in the field.
Along with using telematics to gain insight into equipment locations and fuel usage and to improve a variety of other aspects of fleet management, construction businesses are turning to telematics for tangible answers to help protect and enhance their brand.
Gather Real Feedback on Driver Performance
Safety first—surely this phrase is important to most construction businesses. The reality is, it doesn't only matter to businesses, it matters to customers, too. Most people have witnessed a company truck fly by on the road and notice the branding, and possibly a "How's my driving?" bumper sticker as the vehicle fades into the distance. When drivers are reckless with company vehicles, it goes beyond being a significant safety issue for drivers and the public. It is detrimental to the brand's image and can hurt your company's reputation.
It is recommended not to rely on these bumper stickers as the sole resource for driver behavior monitoring. While this may have been the only way to gather feedback in the past, telematics is a much more effective tool to measure driving performance in today's current landscape of fleet management. The following are a few reasons why it's time to ditch the sticker for technology:
The complaints that come in may not always be accurate. It's possible that vehicles could be mistaken for another company's vehicles.
The public may not call in because they don't want to get someone into trouble.
There is not a lot of constructive feedback that can be implemented because determining who was driving can range from difficult to impossible.
Ultimately, relying on someone else's word on how drivers are performing is not the soundest strategy when there is technology available that can provide useful insight into what is happening.
Telematics provides reliable data that lets fleet owners and company management know how their drivers are performing by monitoring speeding, idle time, fast acceleration, harsh braking, windshield time, rolling stops and more.
Prevent Unauthorized Usage
Some construction businesses have their drivers take company trucks home and dispatch them straight to the job. There is no doubt that it is an efficient practice. However, if vehicles are used when or where they shouldn't be during nonworking hours, it can represent your company's brand negatively.
If vehicles are spotted towing a boat to the lake, running personal errands like going to the gym or spending time at seedy locations, it generates the wrong kind of attention for the brand, not to mention it wastes company fuel.
It happens more than business owners would like to think. To avoid getting noticed for the wrong reasons, construction businesses can use fleet telematics to know when company vehicles are going places they shouldn't and moving during nonworking hours.
Use Telematics to Go Green & Promote the Results
Green initiatives are becoming more important to brand image for mobile workforces. Given the nature of the business, there can be a negative impact to the environment if excessive idle time, route efficiency or regular maintenance are not monitored and managed in the most efficient way.
Construction businesses can use telematics to take a step in the right direction by initiating fleetwide sustainability. While tracking the initiative's progress through the software, businesses tend to be amazed by just how much fuel is wasted from vehicle idling alone. Once metrics like excessive fuel use are successfully controlled, incorporating the results into advertising is skillful use of this information to enhance branding. Construction businesses may even earn awards for their company's contribution to the environment.
Generate Positive Customer Experiences & Reviews
According to the White House Office of Consumer Affairs, news of a bad customer experience reaches more than twice as many ears as praise for a good service experience. In today's technology-driven society, more specifically with the rise of customer review websites, construction businesses need to be both diligent and consistent with their customer experience to avoid negative attention online. One of the major benefits of telematics is that it can help improve customer satisfaction. The following are a few tips to enhance customer experience with telematics:
Don't leave customers guessing when a driver will arrive. Improve dispatch by gaining visibility over locations and provide customers precise estimated times of arrival (ETAs). If a driver is running behind, call the customers to let them know. It shows their time is valued, and they will appreciate it.
Accurate billing is important both to a company's reputation and cash flow. GPS locations allow construction businesses to provide proof of job completion and assure customers that employees and equipment were on the jobsite when they were scheduled.
How important is it that the public has a positive opinion when they see a company's vehicles driving around the community? It's the difference between winning and losing customers. Telematics will provide many benefits to the way operations run and is also a fantastic resource to gather data for marketing. Along with reducing costs, reducing risk and increasing revenue, construction businesses that implement a comprehensive telematics solution will receive the information they need to protect and enhance their brand.