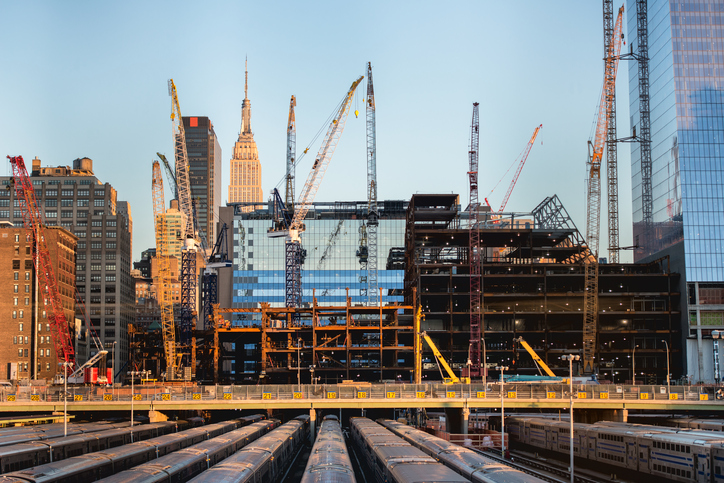 Add value to your brand by delivering content that informs & engages
The construction industry has unjustly gained a reputation for not embracing digital media. However, a survey by the Construction Marketing Association revealed that 97 percent of construction professionals are active on social media, with 7 percent year-over-year growth in social media marketing. Clearly, the industry has adopted social media. The question is has it adapted to it?
Digital platforms call for a shift away from traditional marketing to content marketing. In a nutshell, the marketing most of us have grown up with and continue to use focuses on selling, or pushing, products and services. Content marketing, which has grown up on the web and is inherently social, focuses on capturing audiences. It's about adding value to your brand (and by extension to your service) by delivering content that informs and engages.
How do construction companies make the shift? Cameras that provide remote jobsite viewing and time-lapse videos can do a lot of the heavy lifting. Visual content rules on the web, and jobsite cameras provide a rich and endless source.
The Power of Visuals
Cisco Systems reports that video will soon drive 80 percent of web traffic. That doesn't mean no one is reading anymore and that words will disappear from the web. Instead, it shows a strong preference for video over text as an initial introduction to a product, service or company.
Marketing Zen, a company specializing in social media marketing, cites an interview by Forbes Insights in which 59 percent of senior executives said they prefer watching video to reading text. That is important because of what they do after the video: 65 percent visit the company website; 50 percent seek additional sources of information; and 45 percent contact the company directly.
Nearly 75 percent of B2B companies that use video marketing report a positive return on investment (ROI). There's a similarly powerful effect for B2C companies. Online shoppers who see a product video are 64 percent more likely to buy it from the company that posted the video.
How Other Companies Do It
Real estate developer Jamestown LP knew their Ponce City Market project in Atlanta's Old Fourth Ward would be under a great deal of public scrutiny. The project involved the promised restoration of the historic Sears, Roebuck & Company building while renovating it into office, retail and residential space.
To foster goodwill with the community, Jamestown used a construction camera that allowed anyone to virtually visit the jobsite on the web. Before the project was finished, the live camera had more than 35,000 unique viewers—all without paid promotion. Some were interested in seeing that Jamestown delivered on its promise, others were interested in leasing space. What was conceived as a genuine public relations effort turned into a successful online marketing campaign.
Property Group Partnes knew they'd use construction cameras to market their Capitol Crossing project in Washington, D.C., from the start. Live cameras broadcast images of the project in PGP's sales and marketing center, reaching thousands of community members and future tenants. PGP also posts time-lapse videos of the project on various social media platforms, keeping viewers and followers up-to-date on project progress. "The time-lapse videos keep people coming back to view progress of the project," said Olivia Vietor, Property Group Partners.
Stanford Carr Development's Keauhou Place condo project in Honolulu offers a striking example of viewer engagement and interest in project milestones. A time-lapse video update has been posted to the project's Facebook page each month for nearly a year. Stanford Carr reports posts that feature time-lapse videos have nearly three times the reach and a 67 percent higher reaction rate than standard posts—and that's without any paid promotion.
Digital marketing for Keauhou Place also includes a live construction camera on the project's website. Visitors can see the jobsite in the here-and-now, zoom in on images that go all the way back to the start of the project, and play a time-lapse video. It's interesting to note that visits to the live camera page, where the visuals are interactive, account for more than 11 percent of website traffic, whereas visits to the gallery page, which features visuals that are not interactive, account for less than 3 percent.
Takeaways & Tips
Interactive images and video cut through clutter on the web and capture attention. While they don't replace informative copy and person-to-person interactions, they serve as an engaging invitation to start a relationship and learn more. Here are ways construction companies can use live cameras and time-lapse videos to increase their visibility, drive web traffic and gain leads.
Include short (30-second) time-lapse videos in social media posts, including blog posts, e-newsletters and e-blasts whenever the content is relevant to the target audience. Once your audience watches the video they are more likely to follow up by reading your content or visiting your website.
Consider having a longer time-lapse video on your homepage. The bounce rate (the percentage of visitors who go no further than the homepage) decreases by 80 percent when there's a video to watch. The time lapse should showcase a noteworthy project and run about a minute or so.
Feature a current project with a live camera on your website and include a call out and link on the homepage.
Construction cameras and digital marketing each owe their existence to the web, and it's really no surprise that the two fit together so well.