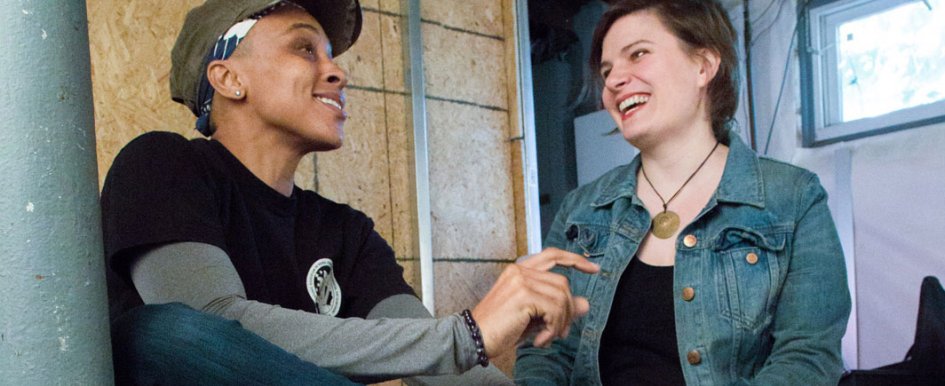 What the women from Hard Hatted Woman have to say about inclusivity in the workforce & how you can help
According to a report from the United States Bureau of Labor Statistics, 939,000 women are employed in the construction industry, meaning women make up only 9.1% of the construction workforce. And most of those jobs are in a back-office.
Only 1.2% of tradespeople in the industry are female. And although a career in the trades comes with its own challenges, especially for a woman, there are some promising statistics, too. For example—take the gender pay gap. In the U.S., on average, women earn 81.1% of what men earn for the same job. The pay gap in construction is much narrower—a woman earns 95.7% of what a man in the same role would make in this industry.
It's no secret that the industry is also in the midst of a widespread skilled labor shortage. Construction companies across the U.S. are struggling to find workers to fill jobs and move forward with projects in process. But what if the missing element is simply an untapped labor force?
What if the answer to the labor shortage—or at least a way to alleviate it—lies in building a more inclusive and welcoming environment for women working in the trades? What if taking a direct interest in encouraging women to explore a career in construction is exactly what your company needs to be successful in the future?
That's where "Hard Hatted Woman" aims to improve the dialogue. As the first feature-length documentary made to shed light on the lives of women in the skilled trades, the film follows five women who have built their careers in a world dominated by men.
The film features a real-life cast of female electricians, welders, ironworkers and more. In "Hard Hatted Woman," viewers step inside the daily lives of these women—including the obstacles they face in an industry that isn't formulated to welcome them, how they are working to change it and how a career in construction has impacted their lives.
The women featured in the film join trade unions, industry organizations, and technical schools in a move to spread the word about why construction could be a lucrative, successful career for a female. Below, get an inside look at the film, the women behind it and what you can learn from it.
What It Means to Belong
Lorien Barlow, director and producer of "Hard Hatted Woman," didn't initially plan to focus on just one industry, but it was the women working in construction that caused her to narrow that focus.
"I quickly found out that this really makes their hearts sing. They identify so strongly with their trades," Barlow said. "And to be honest, that's still the most surprising thing to me after all this time [working on the documentary]. Despite these never-ending challenges of being a woman in the field, tradeswomen still come back to the job every day."
When asked about what they would miss most if they left the industry, Barlow said most of the women she has spoken to say, "the camaraderie—being part of a crew."
"That's why I repeatedly say this film is really a story about belonging," Barlow said.
Ambra Melendez, a welder and journey ironworker, Local 361, in New York, New York, got into the trades as a way to support her daughter. The promise of good wages and benefits appealed to her, and a nontraditional career didn't scare her. She went to a 7-month program at a technical school, and said she fell in love with welding.
While it was Melendez's dream to go into the Ironworkers Local 361 then, she felt her daughter was too young for her mother to undergo such a tough and time-consuming apprenticeship. So, she did concrete inspection for several years and entered an apprenticeship with the ironworkers when her daughter was older.
"That was 12 years ago. I specialize now as a production welder," Ambra said. "But I can do all kinds of ironwork. I've worked on almost all the bridges in New York City. I spent years rebuilding the World Trade Center. And in the meantime, I've been able to buy a house and provide for my family—while loving the work I do—most of the time."
Melendez said she chooses to stay in the industry to protect her sisters—the other women in the trades.
"I choose to stay to try to create some change, even if it's small," Melendez said. "But mainly, it's to protect my trade sisters and to make sure they have someone to talk to. If I left today, I could still talk to them, but being out there myself adds more credibility to the support I give them. It puts me in the trenches with them."
The Making of the Film
As it happens, "Hard Hatted Woman" came about almost by chance. Barlow said the stories she heard about tradeswomen had the "universal qualities of grit, and pathos, and humor, and heart." She was surprised to find there wasn't a lot of coverage on these women, so she set out to fix it. Early on, Barlow said she met a steelworker who was close to retirement and was grieving the fact that her role was slowly being outsourced or automated.
"I thought, at least infrastructure will always have to be built," Barlow said. And with our nation's infrastructure in the derelict state it is, the industry seemed to provide the perfect backdrop for telling the story of tradeswomen. "That story is about women in male-dominated spaces, but it's ultimately about the desire to be on a team and belong to something greater than yourself," Barlow said. "It's about feeling valued on that team and within society."
Barlow said the work of skilled tradesmen and tradeswomen has been devalued in recent years, and in part, it has led to a skilled shortage that is well on its way to crippling the industry.
For Barlow, her role, as it pertains to the film, is jack of all trades. "As director, you are guiding the creative vision for the film, and as a producer, you're keeping the film moving forward logistically and financially," Barlow said.
Balancing the two roles hasn't been easy, according to Barlow. In addition to all of the regular duties that come with being director and producer—shooting the film, scheduling for the subjects and crew, managing the budget, fundraising for the film itself, writing grant applications, and doing speaking engagements to promote the film (to name a few)—Barlow said one of her most important roles is to be able to react to real life and then try to capture it beautifully and coherently.
"The role of a documentary director is to see the truth of a situation and reveal it in a way that the audience can see," Barlow said.
The truth of the situation is apparent, though—at least to the subjects involved. Barlow said she was lucky to have "honest and fearless" women involved, who understood why it was so important to tell their stories.
"I think each of my subjects has come to a place where they are so frustrated by how little has changed [in the industry], how many tradeswomen continue to suffer in their careers and how invisible they are as a group," Barlow said.
"And yet, they were also frustrated with exclusively negative portrayals of the situation. The truth is always complicated … Their willingness to put themselves out there comes from a place of really loving the trades but desperately needing these careers to be safer and more sustainable for women."
What You Can Do
One thing to be learned from "Hard Hatted Woman"—your company could benefit from adding a few well-qualified women to the mix. When you do, take a minute to consider how different workers might perform in different environments and:
Ask women what they need. According to Melendez, the best place to start is by asking women on the jobsite if they have what they need. "Nobody really asks me that, and on the rare occasion they do, when I start telling them what I need, they look like they regret asking," Melendez said. "When I say, 'I need a harness that fits me better,' and they start rolling their eyes and saying, 'Eh, we'll see how it goes,' as if they want to wait and see if I'm still on the job a week from now before going through the trouble of finding me a harness that fits."
Help tradeswomen find mentorship and apprenticeship opportunities. Melendez said one of the biggest barriers to entry and to staying in the trades is a lack of mentorship and education once a woman has begun her career. "I've seen apprenticeship coordinators eye promising young men and set them up for success and foremen grooming guys on the jobsite. But unfortunately, it is few and far between that an experienced tradesman will take a woman under his wing," Melendez said. "I was lucky—I had a few men who did that for me. Women need somebody who believes in their talent, too."
From Barlow's point of view, the biggest issue is that contractors and/or company leadership are not using the power they have to improve conditions on the jobsite for women and minorities.
"If you're a general contractor or subcontractor and you have tradeswomen working on your jobsite, start by assuming that she is already having a problem," Barlow said. Ask yourself and your team the following:
How do we create safe lines of communication?
How do we ensure everyone understands the company's zero-tolerance policy, and what are we doing to enforce this policy?
Are the superintendents and foremen setting a positive example of inclusive leadership, or are they part of the problem?
Do we have women in leadership positions?
Barlow pointed out that doing all of the above also garners interest from a new generation—millennials. "This isn't just about women succeeding. It's about inviting more millennials into the trades," Barlow said. "They are a different generation. They don't want to deal with all of this toxicity on the job either. When jobsites are better for women and people of color, they are better for everyone."