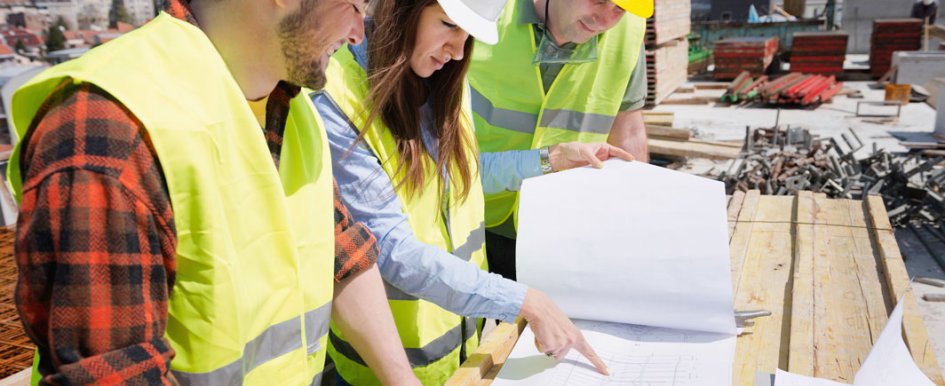 How the 'I Build America' program brings new focus on the trades
Guilherme Alves Jr. has a serious problem. While the 47-year-old owner and operator of Lakeside Concrete Enterprise in Williamsburg, Virginia, has plenty of work (his phone rings nonstop), he can't find enough help. "The hardest part of my business is finding laborers," said Alves. "I'll get some guys who show up on the first day and quit after a few hours because it's too tough."
Alves isn't alone. A 2018 industrywide survey from Autodesk and the Associated General Contractors of America (AGC) reports 80% of construction firms have a tough time hiring hourly craft positions. And this comes at a time when average earnings for construction workers are at a 9-year high, and employers filled almost 223,000 construction jobs in the past year.
So, why can't construction companies increase their workforce? It's complicated. A recent survey of 18- to 25-year-olds by the National Association of Home Builders (NAHB) revealed only 3% of young people were interested in pursuing construction as a career, with most perceiving construction as difficult and wanting a less physically demanding job.
"Nobody wants to do hard labor," said Alves. "These kids have no idea how much money they could make. It's hard to find labor unless [the workers] come from a country where there's less opportunity."
The immigrant community has long been a pillar of the construction industry. A 2017 Pew Research Center study reported that 24% of construction workers in the United States were either documented or unauthorized immigrant workers. Among workers with temporary protected status in the U.S., 23% had a construction or painting job. 
But, as the White House limits immigration, it's getting harder for contractors to meet labor demands. While the obvious answer would seem to be recruiting from the native population, the challenge lies in attracting talent from underrepresented groups in construction and changing industry perceptions.
The Beginning
"I started working [as a laborer] for my dad's concrete business in the summer when I was 16," says Alves. "[My dad] helped show me the value of a dollar and sweat equity." 
In the early 1990s, Alves spent most of his days working for others, lugging 250-pound slabs of concrete across construction sites in the sweltering northern Virginia heat. Eventually, he moved to greater Williamsburg, Virginia, to establish his own business. 
He got his start during a period when the construction industry's employment rate was on the rise—from 1989 to 1999, employment increased by 23.8%. Today, Alves is one of the Tidewater area's most successful contractors. 
Sparking New Interest
Changing the view of trades like construction and attracting new talent take more than just a few talking points and promises of a comfortable living. That's where programs like "I Build America" come into play. 
"We want to start a conversation with millennials and Generation Z that instills a sense of desire to join the construction industry," said "I Build America" Manager Susanna Jakubik. "We are first working to change their perception." 
Mike Rydin, founder and chief executive officer of Heavy Construction Systems Specialists Inc., started "I Build America" in 2016 to show young people how construction can lead to a purposeful, rewarding career. The program's mission is to show that skilled laborers are well compensated right away and contribute to meaningful projects. 
These are imperative points to get across, given millennials currently earn less than their parents did at the same age, and 74% of younger job candidates want a job where they feel like their work matters. "I Build America" recruits members across a variety of construction industries, including industrial, marine, earthwork, environmental and highway, and provides them with resources to help attract younger workers. 
Young, Diverse Talent
Finding fresh talent from underrepresented groups is critical for sustained growth in construction. Workforce management and talent optimization are two of the leading global challenges facing the industry over the next decade, according to Willis Towers Watson's 2017 study on construction risk, which also recognized the industry's limited workforce diversity. 
According to the U.S. Department of Labor, the median age for an American construction worker is 42.5. Along with an aging workforce, males make up almost 90% of workers in the construction industry sector. "I Build America" provides a platform for women in construction to share their stories and serve as an inspiration to other young women. 
"While there are challenges in the industry—like equipment needed for smaller hands and bodies and an unequal number of restroom facilities—the biggest benefits are opportunity and compensation," said Jakubik. 
The U.S. Department of Labor reports women earn 95.7% as much as men in the same job in construction—more than the standard 81% across all other industries. 
With the average hourly wage for a skilled laborer at $21.21, the potential for young people and women to earn the median salary ($44,564) in the U.S. has never been higher. The onus is on the construction industry to further open its doors to a younger, diverse demographic.
Fresh Opportunities
Some employers hear the words "millennial" or "Generation Z" and conjure stereotypes of entitled young adults who expect more than they deserve and won't break a sweat to earn a buck. As his father did, Alves plans to show his kids firsthand the value of construction and not let them fall into that pigeonhole. 
"My oldest boy is 15, and he will be working for me this summer," said Alves. "I want him to learn that it's all about respect, and respect comes from hard work."
Not everyone has a relative or chance encounter that introduces them to construction as a career. That's where programs like "I Build America" step in to introduce industry leaders to previously untapped labor markets and high school students to unconsidered career paths.
"We visit schools at all levels to plant the seed at a young age about the benefits of a construction career," said Jakubik.
"I Build America" keeps an active social media presence where they share inspirational stories from their members and young people in construction. Along with offering recruiting collateral and career-day toolkits for members, the program is making great strides in showing future generations the benefits of a construction career. 
"Young people are the lifeblood of the construction industry," said Jakubik. "As the existing generations retire and move on, companies need to attract and retain top talent to fill their spots."