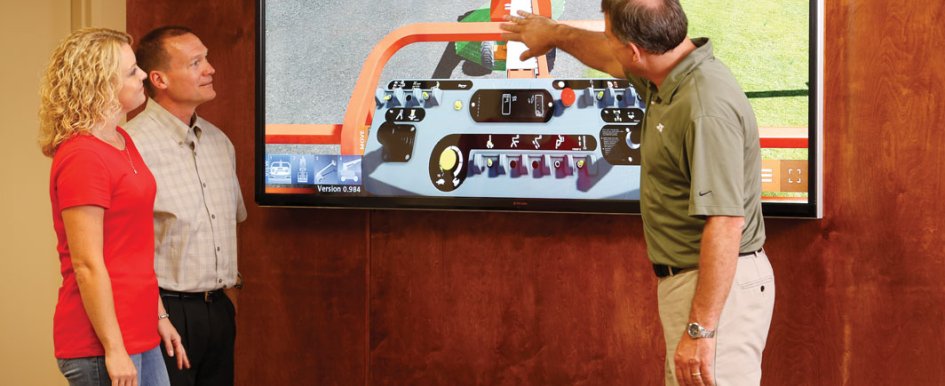 A review of the guideline updates that affect your training requirements
Monday, February 5th, 2018
The American National Standards Institute (ANSI) and the Canadian Standards Association (CSA) determine standards that govern the design and use of aerial work platforms across North America. The last big change to these standards took place in 2006. Today, new standards are in the works.
Updated CSA standards for Canada were published in May 2017, while new ANSI standards for aerial work platform design, safe use and training in the United States are anticipated early this year. One year from the date of publication, any aerial work platform manufactured for use in the U.S. must meet the new standards. Machine designs for equipment manufactured prior to that date will continue to be governed by the existing standards.
Among the new standards, ANSI A92.24 and CSA B354.8 focus on training requirements, providing guidance on preparing aerial work platform (now called mobile elevating work platforms, or MEWPs) training materials, defining ways to deliver theoretical and practical training and identifying the required elements for proper training.
According to the new standards, all training must be delivered by a qualified person who is experienced with the classification of MEWP on which training is being given. This person must understand the laws, regulations, safe-use practices, manufacturers' requirements and the recognition and avoidance of hazards as they relate to MEWPs.
Training Requirements
Although MEWP operator training is still mandatory, training requirements now include any others who will come in contact with an MEWP on the jobsite, including supervisors—people who directly supervise MEWP operators (ANSI only); occupants—people in the MEWP who are not considered operators (ANSI and CSA); and maintenance and repair personnel—people servicing MEWPs (CSA only). Anyone who interacts with MEWPs in any way is subject to new training standards.
The standards require dealers, owners and users to train and familiarize all employees, or have proof of training and familiarization for all employees, whom they allow to operate an MEWP.
Whenever dealers or owners sell, lease or rent an MEWP to someone, they must offer operator training or explain where operators can get the required training. All training must be delivered by a qualified person and must be offered in a language and format the trainee understands. When requested, dealers must offer familiarization to the person buying, leasing or renting an MEWP.
Supervisors & Occupants
Supervisors must be trained in proper MEWP selection; rules, regulations and standards that apply to MEWPs, including operation, safe use and training; potential hazards associated with the use of MEWPs and how to protect against them; and where operation manuals should be stored and how they should be used.
In addition, operators must provide specific instructions to occupants so they can work safely in an MEWP, including how to use fall protection and the location of fall protection anchors and teaching them how their actions can affect stability.
Occupant instruction must also include how to safely use MEWP accessories, how to adhere to the safety plan and avoid site-specific hazards and how to complete emergency procedures in line with the manufacturers' warning and safety information.
Additionally, the new standards require maintenance personnel to be trained to properly inspect and maintain MEWPs, including load and tilt sensing, entrance gates, foam-filled tires and platform railings.
Training Timeline
Many manufacturers offer ANSI- and CSA-compliant operator training through independent trainers instructed by in-house teams, with the option for website training as well.
Through training on the web, manufacturers issue certification cards for MEWP and telehandler operators who successfully complete training and evaluation.
The results of the new standards will be better alignment of North American manufacturers with international standards like AS/NZS, CE, GB and ISO and, by requiring more robust training, safer jobsites. ANSI standards have long been the benchmark for safety in the industry. These new training standards, along with those that address machine design and safe use, will continue to set the bar for the safe operation of MEWPs.