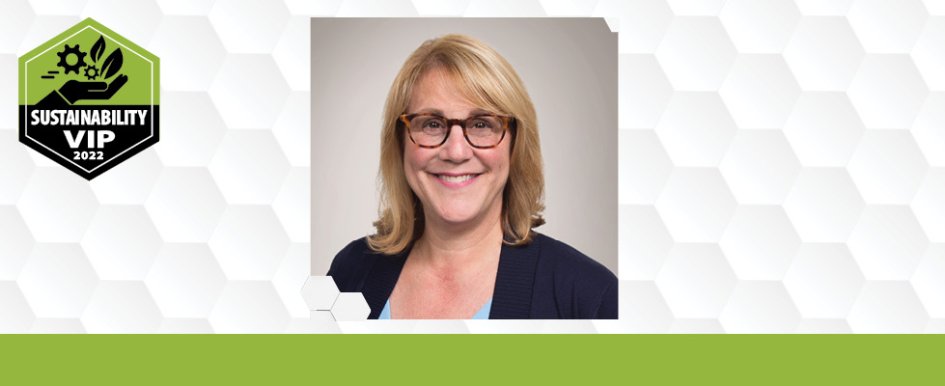 Sustainability VIP 2022 Finalist
Shelly Giannini
Account Manager
Gordian
For any business or institution pursuing a goal to become a greener, more sustainable organization, it takes planning, coordination, knowledge, analysis and plenty of capital. Shelly Giannini knows. As an account manager at Gordian, a construction-specific software company based in Greenville, South Carolina, Giannini partners with higher-ed institutions that are committed to addressing climate change by mapping out strategies to reach their sustainability targets.
Gordian provides facility and construction software, cost data and other services for all phases of the building life cycle for clients in health care, K-12 and higher education, and local, state and federal government. Giannini works in Gordian's Member Services division, primarily with colleges and universities, health care and state/local governments.
"The environment has always been a lifelong passion of mine. I truly believe we have an obligation to leave the path cleaner behind us and clearer moving forward," Giannini said.
"That is what drew me to Gordian, the fact that they provided sustainability solutions to their members," she said.
Giannini's journey to a career in sustainability began in school — she studied chemical engineering and materials science engineering at the University of Connecticut before following her passion for the environment and earning a master's degree in environmental science from the University of New Haven.
Afterward, she took a job with General Electric Co. (GE) working on environmental impact studies and providing support for Brownfields transactions. Then, six years ago, she joined Gordian.
As an account manager, Giannini provides solutions to Members that define sustainability goals, tracks progress toward those targets and delivers data that supports strategic decision-making. Initiatives might include major building renovations that substantially reduce energy consumption, a campus-wide LED retrofit, or a refinement of waste processing policy.
Such an undertaking can be especially daunting for colleges and universities since so many stakeholders, from the president, provosts and deans to the faculty, staff and even student representatives, must be at the table for their input.
"I work with small community colleges right up to some of the largest, most prestigious institutions in the country," said Giannini.
"So, sustainability is not limited only to the schools that might have a greater set of resources. Sustainability is a commitment that is derived from the local grassroots and embedded in campus communities across the country." Giannini partners with institutions to define their performance across the three pillars of sustainability — environmental, social and economic.
"This provides a cross-sectional view of where they are today. It creates an opportunity to complete a gap analysis that maps out progress. This is where we are. That is where we want to get to."
But Giannini said that to properly assist her higher education clients with reaching sustainability goals, it is critical that she stays informed and keeps abreast of evolving science and regulatory requirements. "That's because I believe that I have an obligation to exceed our customers' expectations," Giannini said. One way she is able to stay informed is by following trade journals, tracking sustainability reporting requirements, and connecting with organizations like the Association for the Advancement of Sustainability in Higher Education (AASHE).
The U.S., including higher education, however, has experienced major upheavals over the last two years due to COVID-19. The pandemic caused disruptions to supply chains. Many employees, educators and students had to work and study from home due to lockdown mandates designed to help stop the spread of the virus. But despite the disruptions, the commitment to more sustainable campus communities hardly waned. "The clamor for decarbonization and sustainability reporting and understanding what greenhouse gas emissions look like has grown dramatically in recent years, not just in higher education, but in every sector that has requirements and commitments across all sustainability issues," she said.
At Gordian, Giannini is a member of two company steering committees that are endeavoring to promote and support all pillars of sustainability. One is Gordian's corporate social responsibility (CSR) steering committee. "Our primary focus is on volunteerism within our Gordian family and creating opportunities and initiatives," she said.
Every Gordian employee has two volunteer days (paid time off) to give back to their local communities in a way that is personally authentic. Some of the past projects include helping to build affordable houses for the nonprofit Habitat for Humanity, donating backpacks with school supplies for children and sponsoring more than 30 local, underserved families for Christmas.
In addition, Giannini, is a member of the Supporting Women at Gordian (SWAG) steering committee. "SWAG is an employee resources group focused on empowering women to thrive professionally by fostering a culture of equity, facilitating self-advocacy, and providing a supportive community for women in the organization," she said.
Gordian embraces a commitment to sustainability through internal culture and external client services.