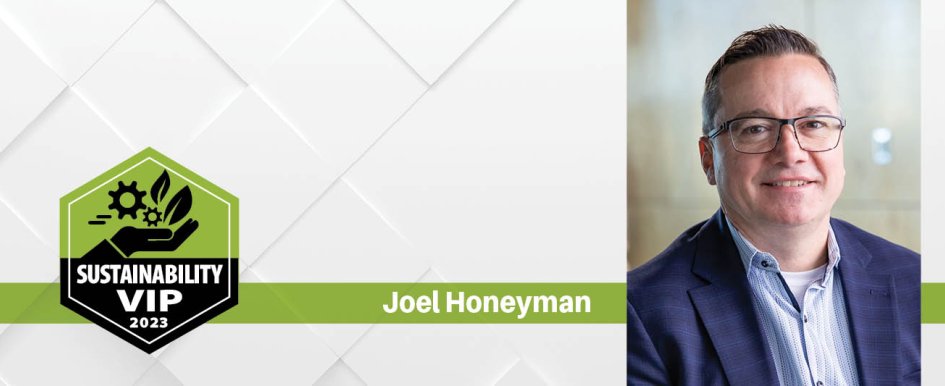 Sustainability VIP 2023 Finalist
Joel Honeyman
Vice President of Global Innovation
Bobcat Company
Joel Honeyman grew up on a farm in North Dakota. He attended North Dakota State University, where he earned an undergraduate degree in mechanical engineering and a master's in agricultural economics.
He has been employed at Bobcat, a global brand that manufactures farm and construction equipment, for almost 26 years.
"Growing up on a farm and working around equipment and machinery is in my background, and Bobcat, obviously, was a natural fit," he said.
Early in his career at Bobcat he worked in sales, and, for nearly a decade, was the company's vice president of North American sales.
"I spent a lot of time with customers and understanding customer needs and working with our dealers. That helped me to look at these broader problems that we're trying to solve for our customers in the field," he said.
But five years ago, Bobcat launched a unit dedicated to innovation and tapped Honeyman to lead the group. Under his leadership, the unit began developing sustainable products for customers seeking to fulfill their own green initiatives.
"What our customers say is what we have to react to, and we certainly have a segment of our larger-scale customers, working on larger types of projects, who have an interest in having sustainable solutions on the site when those projects are being built or constructed. That's where a lot of our impetus for our sustainability efforts started," he said.
According to Honeyman, the innovation team focused on not just sustainability, but improved performance as well.
"We don't believe sustainability is a trade-off — customers and operators don't need to trade off sustainability for performance. We believe you can do both," he said.
Among the innovations for sustainability are two models of compact excavators which use a battery pack that drives the hydraulic functions of the machine. In addition, Bobcat recently introduced an all-electric T7X compact track loader. Instead of a hydraulic system, the machine uses an electrical drive system of electric motors and ball screw actuators. Moreover, the T7X emits zero emissions. In addition to accelerating the future of zero-emissions technology and how work is done, this solution aims to transform how the world runs jobsites, builds cities and thinks about a sustainable future.
Honeyman states that even through the recent COVID-19 pandemic, he and his innovation team continued working on new technologies.
"There were impacts within the supply chains to some components, but we kept our development going throughout the pandemic. We were able to launch some new products last year, and also keep some other ones on the drawing board that will be coming out in the future," he said.
The Bobcat innovation team has fostered collaborations with groups like the California Air Resources Board on their initiatives and with government entities that now mandate green solutions in construction equipment.
Honeyman thinks a more widespread adoption of eco-friendly equipment will take time, but he would like to see a greater acceptance of eco-friendly equipment options.
"I think it's for customers to experience it and understand that sustainability doesn't mean trading off other performance characteristics of equipment they might be used to. Once they start to experience those things, I think that will start to change their minds," he said.
"Keep an open mind to the new technologies," said Honeyman. "Be willing to try and experiment and understand those other benefits that might be out there."
In addition, he believes companies in the construction equipment space should always aim to understand what the customers' applications are for the technology and how well it can perform in a way to help their customers get their jobs done more efficiently.
To continue fostering sustainability, the innovation team will keep developing products for customers that want more eco-friendly options, he added.
Honeyman is married with three children. He is also a member of the Futures Council of the Association of Equipment Manufacturers and a board member of the North Dakota State University Development Foundation.
According to one nominator, Honeyman's enthusiasm for innovation and compact equipment ingenuity inspires not only the core team that has been built around him, but all Bobcat employees who are fiercely dedicated to the advancement of sustainable construction equipment and technology. His advice to other innovators: "Keep technology simple. Solutions need to be simple, and they need to be reliable and work."