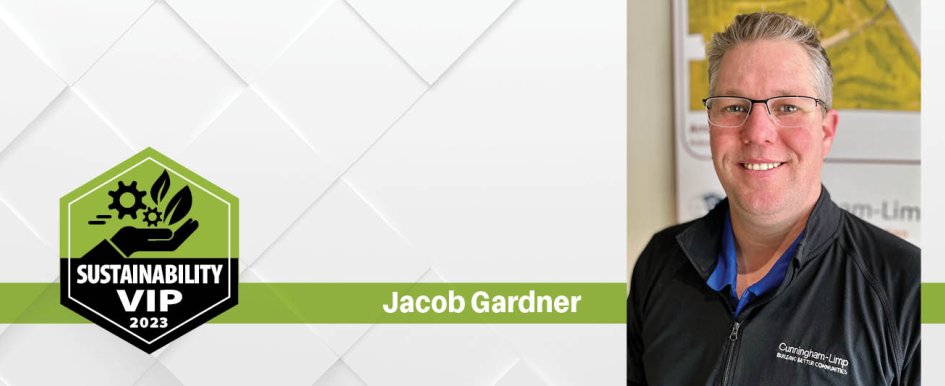 Sustainability VIP 2023 Finalist
When Jacob Gardner graduated from Eastern Michigan University in 2009 with a bachelor's degree in construction management, he could hardly have imagined the kinds of building projects he would one day help lead. Gardner is a project manager for Cunningham-Limp Development Co., a real estate firm specializing in development, design and construction, headquartered in Novi, Michigan.
Recently, Japan Solderless Terminals (JST), a global manufacturer of interconnection products, hired Cunningham-Limp to construct several commercial office buildings for a new campus in a wooded section of Farmington Hills, Michigan.
The catch: JST wanted the buildings made of wood and for the construction to have little impact on the surrounding forest and local animal life. To succeed, the project would have to involve both American construction expertise and Japanese timber craft.
"I don't think anything could have prepared me for what I'm doing now," Gardner said. Working with a Japanese designer and other consultants, Gardner and his team have been hard at work to make the client's request a reality. That includes collaborating with Japanese craftsmen who will work on finishes for the buildings. Construction is set to be completed in 2025.
"The primary goal of the project is to utilize the existing natural landscape with as little disruption to the current ecosystem as possible, to carry out daily life while preserving the forest," Gardner said. The mandate has even included not disturbing migration patterns of the local wildlife, according to Gardner. Such a project was a first for him. It required him to organize the construction in a new and unfamiliar way.
"Before we broke ground, we spent several years identifying the plant life and the ecosystem to really understand the birds and deer and all the animals that were traversing the property. So, when we planned the building, it was planned to impact them as little as possible," he said.
"It's humbling working with a design firm out of Japan that has a vision that's coming to life."
In fact, one of the most challenging aspects of the project was learning to work in a more methodical way in concert with his Japanese collaborators.
"It was very, very methodical. The hardest part is slowing down to understand their beliefs and be in alignment with them. This is a perfection job and not a production job. So, taking a step back, slowing down and making it as perfect as it can be has probably been the most challenging, aside from trying to learn Japanese," he said.
The work has continued even through the COVID-19 pandemic, which had only a minimal impact on the project. But Gardner did run into a few snags along the way.
"Procuring some of the timber has been slow and problematic. Electrical equipment has been challenging, and then there's the manpower aspect. I think everybody's struggling for a little help on the manpower side of things," he said.
The buildings, besides being made of wood, will also have features such as green roofs and geothermal systems, and Gardner thinks others in the construction industry should do more to embrace sustainability more fully.
The project is so unique, they have invited others in the construction community to see the work.
"We're showing clients and architects and engineers," said Gardner. "Everybody is in awe. Some people dive in, and some people walk away. But it's been mostly good reactions with questions like, 'How do we do more as well?'"
"This project is a showcase for just about everybody who worked on it, mainly because it's different. It's unique. It's challenging," he said.
When he is not on the job, Gardner enjoys spending time with his three children. But colleagues praise his work ethic and organizational skills on such a major project. In fact, he merited 12 nominations for CBO's Sustainability VIP 2023, all submitted by coworkers and industry partners who respect his work. According to one nominator, the sustainable elements of the JST project will not only become the most sustainable project elements in the state of Michigan but will prove revolutionary for years to come on a global scale. "None of this would be possible without the incredible dedication and expertise," she said.
In the end, Gardner believes working on the JST building project has changed his perspective on construction.
"Honestly, it has made it not all about the building. It makes it more about what we're impacting."