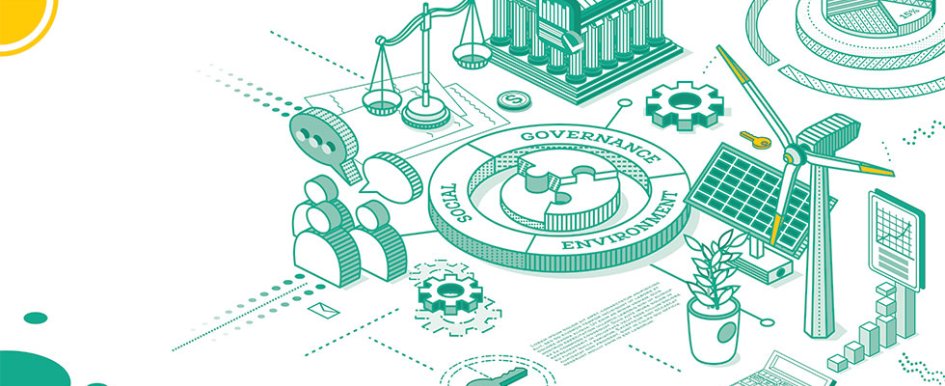 Whether you are ready or not, the environmental, social and governance (ESG) era has arrived, and it is growing rapidly. As investors apply increasing pressure on climate change, human capital, board diversity, cybersecurity risks and other nonfinancial factors, companies within both the private and public sectors are tasked with weaving ESG into their corporate vision, structure, strategies and operations.
But what exactly is ESG? ESG strategy consists of the following dimensions:
Environmental — Considers how a company performs as a steward of the environment. Major criteria include a company's risk to climate change, natural resource conservation, as well as reduction of waste, energy use, water usage and carbon emissions.
Social — Examines how a company manages relationships with employees, suppliers, customers and the communities it serves. Representative areas of focus include diversity, equity and inclusion (DEI) efforts, pay equity, mental health and well-being, ethical supply chains and working conditions.
Governance — Deals with a company's leadership and places emphasis on ethics, board diversity, executive pay, internal fraud controls, political contributions and shareholder rights.
ESG continues to evolve as our social, economic and political environments change. The effects will continue to affect companies of all sizes within both the private and public sectors.
Affecting the Industry
Perhaps the most established focus for ESG in the construction industry falls within the environmental focus of ESG. According to the World Green Building Council, the built environment is responsible for 39% of carbon emissions globally. Carbon emission reduction and other environmental initiatives, such as sustainable building concepts, design and delivery, have become key areas of focus for contractors. ESG efforts have continued to promote modular and prefabricated construction due to potential improvements in productivity, time, schedule and labor conditions.
As ESG continues to evolve from corporate social responsibility, the push for formalized DEI strategies and holistic employee well-being programs have emerged for contractors.
DEI implementation and commitment for addressing both the physical and mental well-being of employees are coming to the forefront as contractors understand the short- and long-term benefits of a caring culture. The industry continues to face challenges in recruiting talent and labor, increasing the importance of committing to formalized strategies.
Impacting Midsize Contractors
Both private and public companies in the construction industry are influenced by external forces. With respect to ESG, the primary catalyst is trillions of dollars from the real estate investment community that ripple-down through the construction supply chain.
Publicly traded companies face more scrutiny on meeting ESG criteria. Expectations are higher for public companies for the adoption of ESG, compliance to regulations and reporting requirements, as well as transparency and disclosure.
Many analysts expect larger contractors to undertake more ESG actions and initiatives. These contractors have a bigger — and therefore more visible — footprint with more diverse stakeholders.
However, it is advisable for midsize privately held businesses to recognize potential risks and opportunities inherent in ESG. Today's leading companies are considering how adopting ESG can make them a better company and steward of their resources.
Embracing ESG
ESG is gaining momentum in the broader economy. As the construction industry continues to compete for future talent, ESG strategy is expected to become even more important as a recruiting and retention tool. Many sources report that both millennial and Gen Z workers desire to work for employers that are sensitive and supportive of causes that are important to them.
Launching an ESG strategy and embedding it into your company's culture can generate goodwill among stakeholders. Developing an intentional ESG strategy can demonstrate your company is contributing to the greater good. There is evidence that ESG efforts contribute to companies' success. Moreover, ESG-engaged contractors seeking financing may receive more favorable lending terms and conditions.
Potential Risks of Avoidance
Contractors who do not adopt ESG may face increased scrutiny from stakeholders, including owners, developers, financiers and public agencies. A small but growing number of contractors have reported not being awarded negotiated projects because their workforce or subcontractor and supplier base lacked diversity. Moreover, some company leaders privately express concern about how to meet the rising expectations of today's workforce amid a shortage of workers.
Another risk construction companies face by not adopting or addressing ESG is negative publicity and reputation risk. Public relations professionals describe a "halo effect" that shields a company from criticism when the company's actions match their words.
Conversely, there is a "black eye effect" that stains company image and poses reputation risk when companies either fail to walk the talk or act on prominent issues of public trust.
6 Strategic Actions for Success
For those looking to dig deeper into the components of a successful ESG program and its potential applications within your organization, start with these steps.
Discuss ESG among the ownership group or senior leadership team of your company.
Incorporate ESG considerations into strategic planning. Consider how to leverage opportunities in ESG and be realistic about the potential risks.
Establish a clear vision for your ESG strategy. Make sure your stated ESG vision aligns with the company's values.
Be modest in promoting ESG activities and results. Commit to ESG strategy with full authenticity to avoid the risk of undertaking initiatives as "window dressing" and leaving some commitments unfulfilled.
Remain realistic in the number of ESG initiatives your company undertakes. It is better to fully implement fewer high-impact initiatives than to experience too many stalled or unfinished initiatives.
Set clear targets and realistic timelines. Establish accurate measurement of your company's activities and progress.