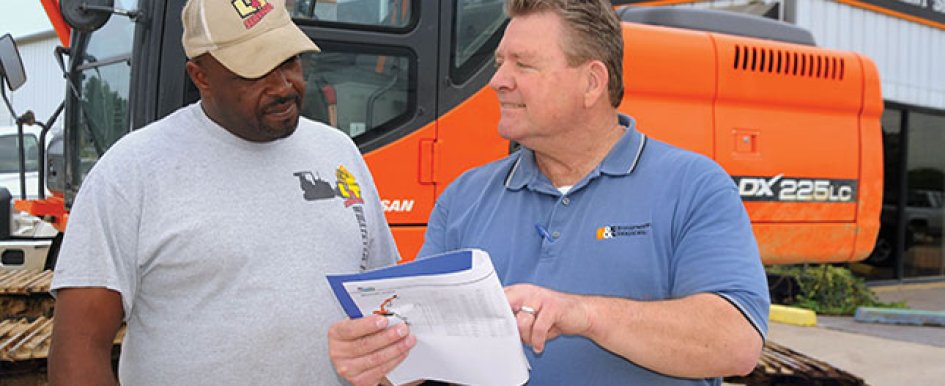 A partnership with an equipment dealer can be one of your top allies.
Who are your top three business allies? The majority of construction business owners might name a trusted banker or tax adviser. Rising to the top of your list also might be a loyal customer—and understandably so. But if your short list doesn't include an equipment dealer, you might be overlooking a partner with the potential to directly impact your revenue stream and add value to your business.
Evaluate Dealership Advantages Now
You have several options for acquiring equipment such as excavators and wheel loaders. Your bias may currently lean toward live auctions, online sources, rental stores and owner-to-owner transactions. However, your list of qualified sources can narrow quickly when you consider expertise with emerging technologies, maintenance, parts and field support.
A dealership that nurtures a true partnership with you—standing beside your business and fully supporting your equipment assets through every phase of their life cycles—may prove to be one of your strongest allies.
Tap Qualified Expertise
Whether you are actively involved in day-to-day operations on-site or not, you know a lot is at stake with fleet management. Investments you make in this 
aspect of your business are leading influencers of your bottom line. Being able to tap into a built-in resource with expertise that starts in sales and carries through to parts and service can maximize long-term machine performance.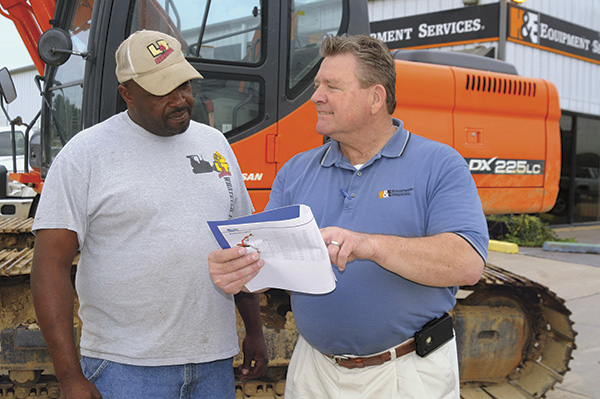 Two of the biggest shifts in construction equipment ownership today are the technological advancements taking
place with computerization and the changes occurring in engine systems as a result of federal emissions standards. In this age of innovation, having the knowledge and experience of a dealership's manufacturer-certified technicians who are qualified to troubleshoot and maintain a manufacturer's sophisticated machine is critical.
Regardless of how advanced the industry becomes, one thing never changes: Your time is still money. In this competitive market with potentially narrowing margins, you must determine if activities such as chasing parts, researching machine functionality, exploring finance options and comparing engine technologies are saving money or costing you more. Can a relationship with a full-
service dealership take those time-
consuming issues off your plate and 
allow you to be more productive?
Evaluate Resources
Selecting who to do your equipment business with is as important as adding any other adviser or consultant to help steer your venture. You are essentially hiring an equipment business partner, so evaluate them as thoroughly as you would an accountant or a management team candidate. A prime factor to evaluate when choosing a dealer network is determining the network's reputation in the market. This is where credible references become valuable.
Remember: First impressions count. A good dealership's online presence should be resourceful. When you call them, pay attention to their approach and responsiveness. Visit their locations to see the extensiveness of their whole-good machines, attachments and parts stock. A clean and organized shop can contribute to shorter downtime. Also consider a dealership's ability to give your business undivided attention. Will they treat you like a number?
Additional attributes and services a successful dealership can provide:
Knowledgeable sales – Good salespeople know their products and competitive machines. They understand new technologies, encourage demonstrations and are dedicated to maximizing your machine performance.
Rental resources – The availability of a dealership rental fleet can provide a first exposure to machine functionality and productivity, shape your impressions of a dealership's business style and help you transition into ownership. Rental also illustrates a dealership network's commitment to all needs in a market.
Financing and trade value – If you've already identified the future projects and resources that justify owning equipment, dealerships can educate you on available finance tools such as leasing options and traditional loan structures and rates, as well as identify current trade-in values.
Certified technicians – Do you have progressive in-house mechanics to perform your fleet's service work? If not, you'll need help going forward. With today's advanced systems, ask for proof of factory certification to verify that dealer technicians have the highest levels of technical training to perform service work on a particular manufacturer's products.
Plentiful parts – Look for a level of parts stock that addresses needs for performing routine maintenance and critical parts that reduce downtime and lengthy shipping intervals.
Field support – You may not have the time or the vehicles to transport your equipment to a dealership's shop. Mobile service trucks should be equipped with parts and tools to respond to your equipment on-site.
Multiple dealer locations – A strong dealership network will address your needs in multiple locations with the same level of service even if you're working in a different territory.
Customer experience – A dealership may not have every manufacturer's model in stock. You can gain efficiencies by visiting a manufacturer's demonstration facility where you can experience hands-on operation of several machines with product specialists and dealer representatives.
After evaluating these factors, analyze your equipment costs, product IQ and staff resources to develop a strategy for the most efficient and profitable method of managing your fleet.
If you determine that a dealership 
network should be one of your top 
allies, get their team aligned with yours as soon as possible. More than ever before, strong dealership networks represent an important partnership that can greatly 
impact your profitability.