Understand how the upcoming mandate will affect your business
Tuesday, September 22nd, 2015
On October 30, 2015, the Federal Motor Carrier Safety Administration (FMCSA) will announce the final rule mandating fleets to install Electronic Logging Devices (ELDs) in their vehicles. With this date rapidly approaching, your workforce may be wondering, "What is ELD and will our vehicles be required to comply with the mandate?"
Many fleets are eager to learn more about what ELDs mean for their operations. This article will explain what an ELD is, who it is for, when fleets will need them and what they do for construction fleets.
What Is ELD?
ELDs automatically keep record of Hours of Service (HOS) to ensure drivers are compliant with the official guidelines set by the FMCSA. The ELD mandate is a provision to the current law, the Moving Ahead for Progress in the 21st Century Act (Map-21), put into effect to reduce crashes, injuries and fatalities involving large trucks and buses. Electronic logs will replace the current rule, which requires drivers to retain paper logbooks to keep record of their HOS compliance.
The intent of ELD is to stop drivers from misrepresenting their time on logbooks, reduce HOS violations and prevent fatigued drivers from getting behind the wheel. Manually logging HOS is time consuming and less accurate than electronic logging, so this provision will also increase efficiency for fleets. If your construction fleet currently uses paper logging to track HOS, then you are aware of the huge burden for drivers and managers.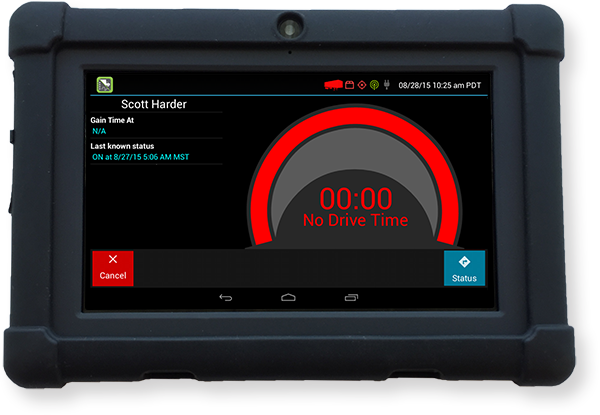 Will Your Fleet Need ELD?
The important question for most construction businesses is, "Do we need to equip our vehicles with ELD, and if so, when?" If your construction fleet is currently subject to HOS or your business utilizes commercial motor vehicles (CMVs), then you will likely be affected by the ELD mandate. To be compliant, your construction fleet will need to equip all CMVs with ELD within two years of the final rule. Generally, a CMV is a truck, or truck-tractor, with a trailer used to support a business.
Here are some of the current HOS requirements to help you identify whether your vehicles are subject to the regulations:
Vehicles that weigh 10,001 pounds or more
Vehicles transporting hazardous materials requiring placards
If your vehicles fall under either of these HOS requirements, then now is the time to start researching HOS solutions in order to be compliant.
HOS Solutions
The most effective way for construction fleets to be compliant with the mandate is by utilizing an HOS solution to monitor and keep a record of electronic logs. Using an HOS solution will ensure compliance, reduce HOS violations and improve CSA (compliance, safety and accountability) scores.
Along with helping to ensure compliance standards are met, HOS solutions provide many other benefits for construction businesses. Using a solution will allow fleet managers to receive electronic logs in real time to ensure HOS compliance, keep dispatchers informed on drivers' current HOS availability and prevent fines and citations that result from simple paperwork mistakes.
Using ELD to track HOS will save time for managers and drivers. Electronic logs will allow drivers to quickly and accurately provide DOT officers their current HOS logs, making roadside inspections faster and less stressful. This technology will also reduce paperwork and allow for more time to be productive for drivers and employees back at the office. According to the FMCSA, the mandate will lead to the largest paper savings in the federal government, behind tax-related fillings.
With the final rule on ELD just around the corner, now is the time to start researching HOS solutions to ensure your construction fleet is compliant with the new regulations. By selecting an HOS solution with advanced capabilities, your construction business will not only be HOS compliant, but will also save time and money by eliminating paper logs.