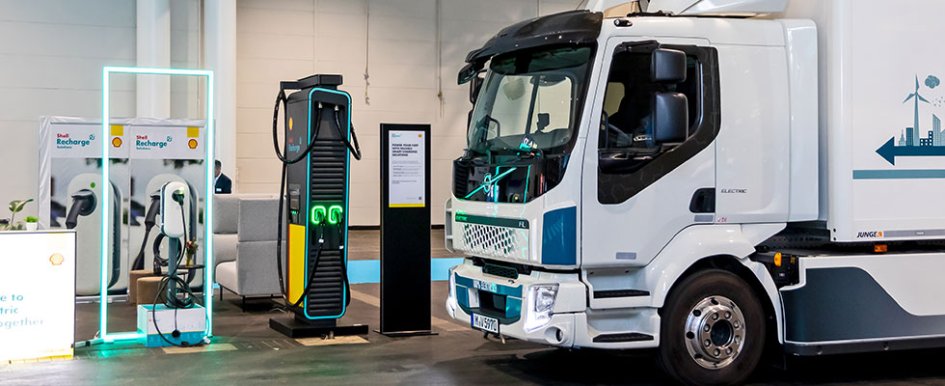 Your guide to EV conversion & charging infrastructure
Monday, February 13, 2023
Electric power is beneficial, but converting a fleet of work trucks to run on electricity is not as simple as flipping a switch. Producing a work truck is far from simple. These vehicles are often constructed in multiple stages and by multiple manufacturers. Converting from internal combustion engines to electric drive systems piles on the complexity.
Yet, whether due to the pursuit of improved cost, productivity, regulatory or sustainability outcomes, or some combination thereof, the work truck industry's interest in electric vehicle (EV) fleets is gaining traction fast. Most of these vehicles will be battery-electric vehicles (BEVs), meaning they are powered solely by batteries installed within the vehicle's frames that provide all the "juice" needed to drive the powertrain. Some EVs may be hybrids, equipped with both electric drives and (typically) gasoline engines for light-duty work, such as pickups.
While EVs may not be suitable for every work truck application, those that work from central depots, such as refuse collection and utility service vehicles, are excellent candidates for going electric. What's more, this green technology continues to advance as additional options for electric trucks become available and the batteries that make their wheels turn become more efficient.
Why Switch?
Electric power appeals to many fleet operators for several compelling reasons. These include the potential for EVs to do the following: deliver a lower total cost of vehicle ownership thanks to reduced fuel spend and lower maintenance costs; eliminate tailpipe emissions of greenhouse gases as required by federal and state regulations; help achieve corporate environmental sustainability goals; and, in many cases, enable quiet operation on urban streets and during overnight operations.
Because they are purpose-built for defined missions, work trucks are complex vehicles that require considerable engineering and overall effort by fleets and their suppliers to put them on the road. On the other hand, these job-specific trucks are likely to deliver a much longer life cycle than mass-produced vehicles. The specific reasons why a particular fleet would consider shifting to lower-emissions vehicles — indeed, the bar now is as low as zero emissions — should be clearly defined and weighed prior to starting any EV conversion. Among the key considerations are:
Lowering operating and life cycle costs
Supporting energy independence
Reducing energy costs
Improving the fleet's public image
As bright as the electric future appears, shifting a single truck or an entire fleet to electric power takes a lot of planning. That starts with attaining leadership buy-in. From there, consider the electric ecosystem that will surround and support these work trucks. The next step is for the fleet to form cooperative partnerships with vehicle builders and their EV component suppliers, battery manufacturers, electric utilities and providers of on-site charging infrastructure.
Back to Basics
When communicating with these partners, be sure to define the fleet's drive cycle and duty cycle for each type of truck to be converted — these are the two pillars to define a work truck's mission and help determine how to accomplish that mission. Avoid the common pitfall of confusing the two.
The drive cycle defines how a vehicle is used, while the duty cycle defines how much a vehicle is used. These measurements are mutually inclusive, and both define how vehicles are utilized. They are equally important, especially when designing EVs and the infrastructure to support them. However, the measurements are vastly different. In simple terms, the drive cycle measures physical points, such as vehicle speed, starts and stops, idle time and power take-off (PTO) power export. On the other hand, the duty cycle measures the length of average operating time, operating cycles per period, total distance driven and percentage of loaded versus empty operation. Both measurements are crucial when considering all aspects of electrifying the fleet.
Engaging With Suppliers
Most vocational trucks are built in multiple stages by multiple manufacturers. While some fleets work with a single source — such as a fleet management company — that may provide a turnkey solution, others will interact with several partners, such as the chassis supplier, an auxiliary equipment supplier and an upfitter. While industry standardization keeps evolving, technology also continues to advance. Taking time on the front end to evaluate all options, from the capabilities of the electric drive system under consideration to how the truck batteries will be charged, can ensure that the final spec'd unit serves its intended purpose.
Following a methodical procedure and engaging the right people at the right time is critical. With almost every vehicle change, there are hidden and unanticipated costs and other challenges that creep up and can derail or significantly delay a vehicle spec'ing campaign. Don't overlook costs and prices beyond the power unit when planning. These could involve facility upgrades, technician training or operational requirements based on vehicle limits (range, towing, etc.). You may find that vehicle design is the easy part: Designing and installing charging and maintenance infrastructure can get complicated.
Charging Ahead
Many fleets, especially in the work truck sector, cannot rely on public infrastructure for fueling or charging. Therefore, it's critical to talk to the utility company about the supply of power available and how/if it can support the vehicles.
Next, develop a long-term plan for infrastructure. Just as making mid-build change orders on trucks or modifying them after delivery is expensive, planning for infrastructure will be much more cost-effective.
Charging infrastructure can be a very expensive afterthought. It's essential to plan not just for current needs, but for tomorrow's as well. This involves consultations, designing, permitting, constructing, managing and, finally, activating.
Having the right partners lined up and communicating with them effectively is of the utmost importance. Diving deeper into charging with a utility and charging suppliers will reveal that most fleets need two types of charging solutions.
Depending on duty cycles, plan to install enough "overnight" or slow-charging stations so vehicles returned to their depot can be charged up steadily over a period of hours to be ready for their next shift, typically each morning.
To supplement this, a fleet may install a smaller number of "opportunity" or quick-charging stations that can rapidly top off the charge of a vehicle on duty to extend its range as needed. Light-duty fleets may also have drivers charge their vehicles overnight at their homes. This means they'll need a plan for installing chargers at their employees' homes and a reliable driver reimbursement system.
Bear in mind that it's the fleet's continuing responsibility to ensure that charging stations are installed to meet building and fire codes and are operated safely by trained personnel. In addition, work with charging suppliers so charging data will be collected and processed properly. This data can better inform management on the performance of EVs and their chargers.
Measuring Success
While EVs are a proven green solution, this shouldn't obscure the fact that no single technology is the only answer to cutting greenhouse gases and fuel costs.
For a given fleet, the best option might include other advanced fuels and technologies, such as natural gas and propane engines or, further off, fuel cell power. And that's not to mention advances that may occur in conventional diesel- or gasoline-fueled powertrains.
In the end, vehicles need to perform specific tasks to meet organizational goals. While goals can differ by fleet, success means getting the commercial vehicle's job done effectively and efficiently.
Gear Up With More EV Resources
Wherever you are on the electrification journey, you can learn more during Work Truck Week 2023. Work Truck Week, North America's largest work truck event, will be held at the Indiana Convention Center in Indianapolis, Indiana, March 7-10, 2023.
Showgoers can experience a Green Truck Summit, attend educational sessions, check out the newest commercial vehicles, powertrains, equipment and components from leading manufacturers, and experience the industry's latest technology. For more information and to register, visit worktruckweek.com.