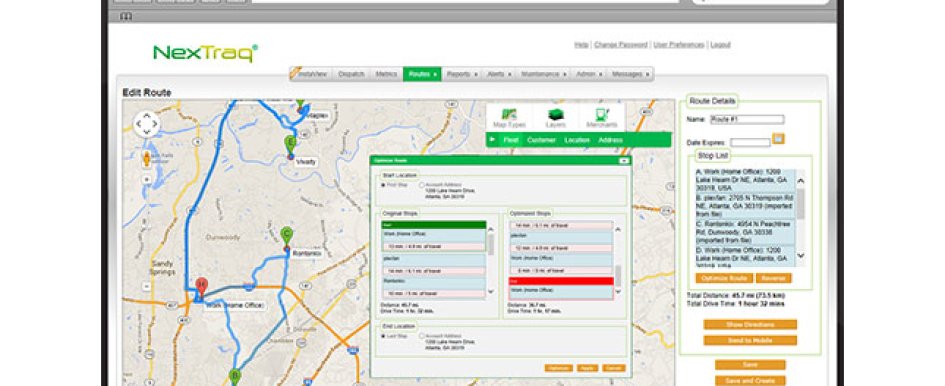 Advances in technology allow companies to manage all aspects of fuel consumption.
Thursday, June 19th, 2014
Fuel serves as a major operating cost for any business with vehicles in the field. What makes fuel one of the toughest expenses to manage is its constant fluctuation in price and usage. While no business owner can prevent fuel rates from rising, advances in fleet tracking technology have made complete fuel management possible.
Fuel Card Integration
For construction businesses that use fuel cards, keeping track of fuel card transactions can be difficult and time-consuming. To simplify this process, contractors can integrate fuel and maintenance purchase information into a fleet tracking solution. This gives businesses a way to view all fuel card data and transaction details on one screen. Streamlining this process means less digging through paperwork, allowing for a more accurate view of fleet fuel consumption.
Fuel card integration also saves dispatcher and driver time. Because all merchants in a fuel card vendor's network are included in a fleet tracking solution, dispatchers have all fuel station data readily available. If drivers need assistance finding the closest fuel station, dispatchers can easily direct them to the closest fuel merchants through a personal navigation device or mobile app designed for dispatch. This allows drivers to fuel up quickly so they can get back to work on time. Many in-network fuel stations also provide discounts, allowing for smarter purchasing decisions.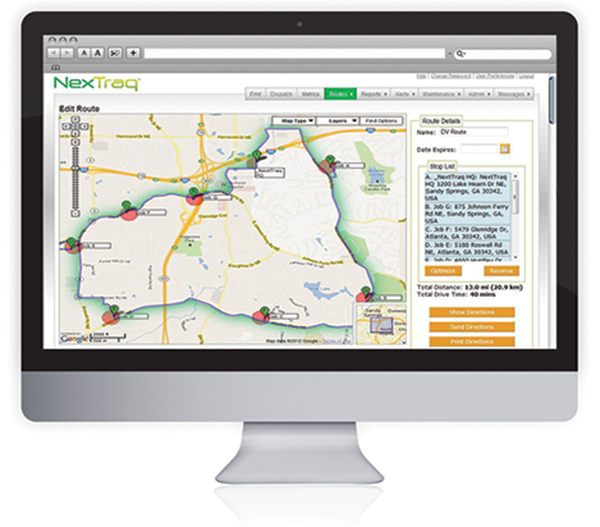 Fuel Reports
Because every construction business has different needs, fleet tracking solutions come equipped with a variety of automated fuel reports, each one serving a unique purpose. Reports provide an in-depth view of specific operational challenges or issues that may otherwise go unnoticed. If any unauthorized fuel transactions occur, contractors can simply pull up a report that identifies the offender and provides detailed information regarding purchase activity, including the purchase date and merchant location. Owners can also set up reports to pinpoint instances in which fuel purchased exceeds the amount of fuel a vehicle's tank can hold, helping identify and eliminate fuel card abuse and fuel theft.
In addition to preventing fraudulent purchases, contractors can use automated reports to monitor and reduce wasteful practices. Businesses can quickly view data showing vehicles that are burning more fuel than they should and not running at optimal efficiency. According to the North Carolina Department of Transportation, a vehicle may burn more than a half-gallon of fuel for every hour spent idling. Contractors can set up reports that identify high idling drivers and show the amount of money wasted. Along with reports, real-time alerts can help contractors pinpoint and reduce wasteful practices. If workers exceed the user-defined idle limit, instant alerts are sent to management via a mobile device or computer, helping to stop idling immediately, thus saving more fuel.
Efficient Routing
When workers must drive to unfamiliar locations, they should be provided with efficient routes to ensure less time on the road and less fuel consumed. If workers have multiple jobs in one day, they can use fleet tracking solutions to order all stops to create the shortest route. Dispatching applications can also help to simplify routes and reduce fuel costs. If workers are lost or stuck in traffic on the way to a job, dispatchers can send optimized routes to in-vehicle GPS devices. This helps workers get to jobsites faster, increasing productivity while lowering fuel consumption.
Vehicle Maintenance
Keeping vehicles properly maintained prolongs shelf life and keeps them running at their most fuel-efficient levels. According to the U.S. Department of Energy, monitoring and maintaining proper tire inflation can improve fuel economy by up to 3.3 percent. Ensuring vehicles are receiving proper routine maintenance can sometimes fall by the wayside when handling multiple tasks and setting priorities. Contractors can use an automated maintenance module to simplify this process. Maintenance schedules can be tailored for the specific needs of the business and allow reminders to be set by days, miles or engine hours. This set-it-and-forget-it method helps contractors ensure that preventive upkeep is occurring consistently and on schedule. Construction businesses can also use maintenance logs and reports to view details of all services performed, ensuring policies are being followed and met.
Improved Driver Behavior
Aggressive driving behaviors such as speeding, rapid acceleration and sharp cornering can burn excessive amounts of fuel. In fact, aggressive driving can lower gas mileage by 33 percent at highway speeds and 5 percent within a city, according to the U.S. Department of Energy. Contractors can use fleet tracking solutions to identify and reduce poor driving behaviors. Businesses can set up speed alerts to instantly notify management when workers exceed a posted roadway speed limit or user-defined threshold. Safety scorecards take driver behavior data and rank drivers based on their performance. This helps pinpoint drivers who are in need of coaching and improvement. Reducing aggressive driving not only improves driver safety, but also helps reduce fuel consumption over time.
Companies that utilize fleet tracking technology typically save up to 20 percent in fuel costs and can achieve ROI in as little as one month. The ability to monitor and track all aspects of fuel usage and activity from one easy-to-use solution saves time and also gives contractors peace of mind.