A primer on fuel & service trailers
Fuel and service trailers provide several distinct advantages to fleet managers and equipment owners. They cost less to own and maintain than stand-alone fuel and lube trucks. They can be hauled with trucks that most contractors already own. In many cases, they can provide significant capital and operating cost savings to companies who do not already own their own mobile method of bulk fuel or service fluid distribution. So, what trailer is right for each operation? Ultimately, that will depend on access to fuel, location of the shop where regular maintenance will occur and the size, type and fluid capacities of the fleet.
The Right Trailer
When we talk about fuel and service trailers, we are essentially talking about two different animals. A fuel trailer is ultimately a trailer dedicated to bulk fuel distribution (typically up to about 1,000 gallons) that allows for other ancillary, add-on components/capacities, such as diesel exhaust fluid, 50 to 100 gallons of other service fluids and a rear utility box capable of holding everything from a simple tool box and greasing kit to a three-in-one welder generator with a retractable work bench.
A service and lube trailer is dedicated to preventive maintenance (PM) work or in-field repair, and is generally capable of holding up to 440 gallons of fluid in up to eight tanks with combinations of 25, 55 and 110 gallons (configurations will vary). This can include tanks for diesel fuel, oil delivery (engine or hydraulic), used oil reclamation, grease delivery, antifreeze, DEF and other fluids based on field maintenance needs. Diesel tanks on these trailers are typically secondary to the needs of the PM work.
Hauling and managing their own bulk fuel source provides contractors with more freedom in terms of fueling schedules and access to fuel. If a contractor controls its own fuel source without having to rely on a wet hose service or having to buy from a local retailer, it gives the contractor a greater ability to keep equipment and jobsites running on schedule. It also provides some significant improvements to the bottom line as it relates to fuel premiums, taxes and more. Some bulk fuel trailers will require placarding, a HAZMAT endorsement and a commercial driver's license (CDL). Others are available that allow the trailer to be towed without a HAZMAT endorsement and, in some cases, without a CDL.
Service and lube trailers are ideal for any decentralized operation that regularly performs PM work in the field, which provides fresh fluid outputs and waste fluid reclaim tanks and a centralized, organized base of operations. These trailers almost always come outfitted with a combination generator/ air compressor or a three-in-one welder/generator/air compressor.
Additionally, as more and more Tier 4 Final equipment enters the field, these trailers can provide dedicated storage and distribution tooling for diesel exhaust fluid (DEF) that ensures its quality and purity, and ultimately the performance of the selective catalytic reduction (SCR) systems found on many of today's machines over 74 horsepower.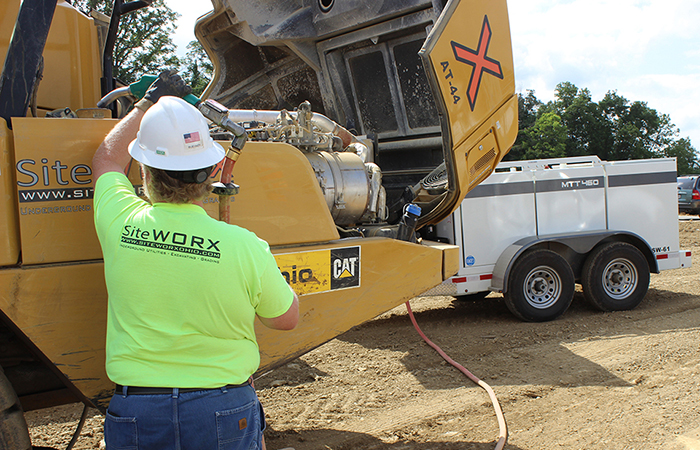 The MTT provides access to bulk diesel when diesel deliveries are not available, such as on holidays.
The Case for ROI
In both cases—as it relates to contractors who currently own a fuel or lube truck—these trailers offer a significantly lower initial purchase cost and a lower total lifetime cost of ownership related to maintenance and upkeep. Other than basic safety checks and filter maintenance, there are no long-term, intensive PM activities required of these trailers. And they can be hauled by trucks that already exist in the fleet and are driven to the jobsite each day. A fuel or service trailer represents one less large-scale fleet asset to maintain and manage compared to a stand-alone, dedicated truck. A fuel trailer provides significant financial advantages to contractors who do not currently own their own bulk fuel storage/distribution methods.
It eliminates the fuel premiums charged by the wet hose services that visit jobsites and top off each machine. These premiums vary from region to region, but can exceed $1 per gallon. In general, buying in bulk nets more fuel for less.
Depending on access to off-road diesel, contractors may resort to using on-road diesel from retail outlets. The use of on-road diesel includes numerous state and federal taxes that—if not tracked and segregated explicitly—are very hard for contractors to recoup.
A bulk fuel source is much more efficient than having a runner hauling 100 gallons of diesel at a time in the bed of a pickup truck. It is not an efficient use of employee time, represents unnecessary miles and wear on the truck, and leads to downtime if that single runner fuels numerous machines.
In some cases, these trailers may not require a HAZMAT endorsement or a CDL, and can be hauled by most employees. Properly endorsed/licensed drivers can be hard to find and often cost a premium compared to general labor.
These trailers can ultimately also become profit centers for the contractor when compared to how they currently manage fuel. For instance, considering current financing offers, a contractor who burns 300 gallons of diesel each week and pays a $.25 premium per gallon can essentially get a 460-gallon fuel trailer for free. If that contractor burns more than 300 gallons per week, that trailer is instantly paying the contractor back above and beyond the cost of the trailer. A service and lube trailer provides several cost benefits beyond eliminating the need for a stand-alone lube truck.
Bringing the materials needed for PM to the field ensures that PM is performed on time and that equipment is running as intended.
All fluids are stored and distributed in purpose-built structures that ensure fluid quality and purity.
It simplifies waste fluid removal and disposal, which saves time and ensures proper handling.
Expanded Capabilities
These trailers are often available with options that help aid in efficient fueling and field maintenance.
Lights—Fueling and PM is often most convenient when the equipment isn't running, and that can often be at night or in the morning before the crew gets there and it is still dark.
Hydraulic jack—Further simplify hooking and unhooking the trailer.
Utility box—Whether housing a generator/air compressor or just serving as a space to store extra tools, contactors appreciate having the extra work area.
Greasing kits—Arguably the most important daily maintenance item on any piece of equipment is greasing. These trailers offer a variety of options for simplifying this task.
Solar panel—Recharge and run the battery on the trailer and other systems on the trailer with the power of the sun.
Toolboxes—Organize the hand tools required to perform the work.
Welder/generator/air compressor/generator—Many service trucks or pickup trucks on a jobsite may have these tools, but these trailers offer configurations custom fit for these tools that further allow contractors to centralize everything in one trailer.