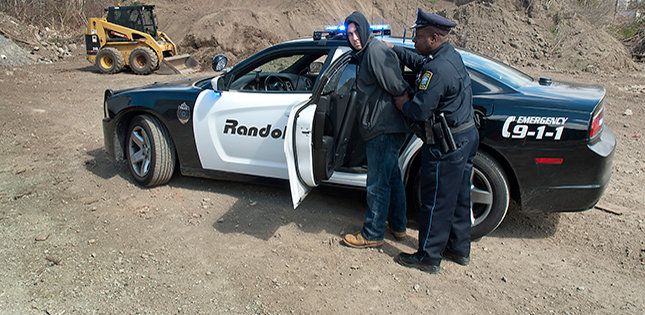 Implement these best practices to keep your equipment out of thieves' hands.
Thursday, December 19, 2013
According to the American Rental Association's Rental Market Monitor, compiled by the economic research firm IHS Global Insight, the growth in construction industry spending will reach double digits in 2014 and 2015, with construction and industrial equipment rental revenue expected to reach $30.9 billion in 2017. This increased demand for construction work means that the equipment and tools needed to complete these jobs will also increase in demand. As a result, every construction business owner should take equipment theft seriously and implement proactive steps to prevent it, especially in light of the National Insurance Crime Bureau data reporting that $300 million to close to $1 billion each year is lost nationwide due to theft of construction equipment and tools.
When the economy hit a low in 2008, construction owners braced themselves for the impact this might have on their businesses. To save money, many construction companies relied on rental equipment for jobs rather than purchasing and maintaining their own equipment. As the economy has become more stable, business owners have begun purchasing more of their own equipment. However, the challenges that many equipment owners face is not only fulfilling the demand for equipment but also protecting the assets they own and finding solutions to keep them out of the hands of thieves.
With many construction jobs spanning days, months and even years at a time, equipment is often left unattended on the jobsite and vulnerable to unsolicited operators. Leaving equipment on the jobsite overnight and on weekends is common practice; however, this practice can make locating and recovering stolen equipment difficult because it gives thieves a significant jump start in stealing equipment and allows them to take the equipment far from the jobsite. Unlike traditional auto theft, which is more prevalent in major cities around the country, construction equipment theft is not confined to city streets and urban areas. Suburban regions where construction growth is prevalent and where construction vehicles are at work on active jobsites are considered high-risk areas.
Rates of equipment theft and recovery were highest in those states that have many active construction projects, as well as those states that have an international border or access to major shipping ports. Based on LoJack's recovery data, the following states had the highest occurrence of equipment theft (ranked in order):
California
Texas
Florida
Arizona
Georgia
New Jersey
Nevada
Colorado
Washington
Maryland, North Carolina and New York
Rental equipment is especially susceptible to theft because renters may not invest in the same precautions as they would if they owned the equipment. While a wide range of equipment is stolen every year, certain types of equipment proved the most popular with thieves in 2012, including the following:
Light utility vehicles/work trucks and trailers. Light utility vehicles and work trucks often carry expensive equipment and parts. They can be quickly disassembled and sold. Many are stolen for both their contents and their parts. Trailers are popular because they carry other equipment.
Backhoe loaders/skip loaders/wheel loaders. Backhoes are multipurpose pieces of equipment needed on most jobsites. Because they can be used for many different jobs, they are profitable pieces of equipment. Most backhoes look alike, and they all share a common key. They are prime targets for thieves based on the ease of theft and difficulty in tracking.
Generators/air compressors/welders. Generators, air compressors and welders are versatile pieces of equipment, have high rental costs and are easily attached to any trailer hitch. Generators are useful in the private and commercial sector. With today's high energy costs, generators are prime targets for theft. Air compressors and welders are also used universally in construction and are attractive to thieves looking to use them on another job or resell them below market value.
Skid Steers. Skid steers are popular smaller pieces of equipment that are versatile and multifunctional, as well as easily moved between jobsites. Based on ease of transport and the high demand, skid steers are top targets for thieves. This trend will likely remain as the construction industry continues to produce smaller pieces of equipment.
Theft is costly to owners of construction equipment, who not only lose valuable tools, but also pay the price of business downtime. Both equipment owners and renters alike can implement a number of best practices to protect their construction equipment from theft:
Be aware. Equipment owners must be aware of all the logistics of a project that will require equipment. Always be familiar with the jobsite and how equipment will be stored after hours or when projects are on hold. If renting out equipment, require proper identification for each applicant and require that the applicant disclose information about who will be operating the equipment. Similarly, if you own equipment and are managing a construction project, conduct thorough background checks on operators. Even when owners are familiar with the jobsite, they can significantly minimize theft by picking up their equipment as soon as possible.
Invest in security measures. Invest in layers of protection, such as security personnel to monitor jobsites on weekends and holidays. Even when equipment is not being used for a job, hire security to check on stagnant equipment. Various theft prevention devices that owners can install to ward off thieves are also available. Most telematics solutions today feature geofencing technology that can detect when a piece of equipment is being moved from its rightful place. Covert theft recovery devices can help police locate stolen equipment quickly and without alerting the thief that he or she is being tailed.
Report incidents of theft/fraud. In the event that you fall victim to equipment theft, always report the full details of the incident to local authorities. This information will protect you from being targeted in the future and inform investigations that may help police catch repeat offenders. Rental equipment owners should also report any fraudulent applications they receive to decrease the risk of future fraud incidents.
Putting these practices in place will help protect construction equipment and preserve company resources. Thieves target properties that can be taken with ease and look to quickly turn a profit. While police have actively cracked down on auto theft, criminals who normally would have stolen vehicles now have discovered that equipment theft is also a lucrative business. Equipment owners must be knowledgeable about all aspects of a job and invest in security so they don't end up paying later. If they don't take the necessary precautions to protect equipment from theft, a job can end up costing a business profits and in some cases, compromise future projects.