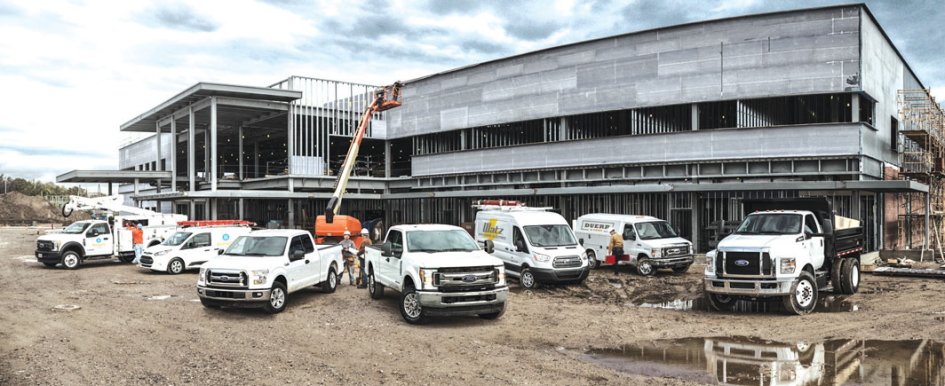 Insight into factors facing fleet decision-makers
With so many major factors affecting efficiency on the jobsite, it may seem trivial to pause and think about your work truck, how it's performing and what might help it perform better. On the contrary, the work truck is one of the most important pieces to the puzzle of jobsite productivity, and one familiar name in work trucks has been studying the market for over 100 years—Ford.
Our team sat down with Tim Stoehr, Ford Motor Company general fleet marketing manager, North American Fleet, Lease and Remarketing, to discuss the latest trends shaping the truck market and what construction business owners and contractors can do to take advantage of new technologies that could soon change the way they operate. Read below for his insights.
CBO: What broad trends are impacting work trucks in the construction market right now?
TS: Advanced, driver-assist technology, such as automatic emergency braking, lane-keeping systems, blind spot information systems (BLIS) with cross-traffic alerts and fleet telematics systems will continue to gain acceptance among construction customers.
CBO: How will these trends affect the construction industry in 2018? 


TS: Advanced safety technology and fleet telematics can not only help construction fleets maximize uptime, but can also dramatically lower total operating costs. Customers with small fleets are now starting to leverage many of these tools as they become available for regular production.
CBO: What is Ford's outlook on the tax bill as it pertains to commercial work in the construction industry?
TS: Ford is deeply committed to production in the United States—in fact, we build more vehicles in the U.S. than any other automaker. Every Ford truck sold here is assembled in the U.S. We believe the tax bill will support continued investment and jobs in the U.S.—a net positive for the economy. We're already seeing evidence of businesses being more receptive to expanding their commercial fleets.
CBO: How do you see new technologies shaping the work truck of the future?
TS: At Ford, we're designing smart vehicles for a smart world. For work trucks, this has taken a number of forms, from reducing the weight of our F-150 and Super Duty trucks, improving their strength and capability, to introducing the first volume-production, 10-speed automatic transmission in the segment, significantly improving performance and fuel efficiency. We've also taken the lead on integrating relevant driver-assist technology into our commercial vehicles.
Some of the new driver-assist technologies we've been rolling out on Ford trucks and vans includes pre-collision assist with pedestrian detection, which is a suite of technologies, including automatic emergency braking, forward collision warning and dynamic brake support.
Our new Super Duty trucks are packed with technology to make driving easier and less stressful, including patented adaptive-steering technology to reduce steering effort and resultant driver fatigue; trailer reverse guidance to enable drivers who are using their trucks for towing to view trailers on the Ford SYNC screen to monitor trailer status; and adaptive cruise control with collision mitigation that works even when towing heavy trailers. Also popular on Super Duty trucks are BLIS with cross-traffic alert and trailer tow, which helps increase driver awareness of obstacles and traffic—especially in tight spaces and parking lots—and lane-keeping alert, which notifies the driver of unintentional lane departure.
By 2020, Ford E-Series, F-650 and F-750, and even the F59 commercial chassis, will offer automatic emergency braking, lane-departure warning, driver-alert system and more.
CBO: What's on the horizon for the electric pickup?
TS: Ford has announced that we're expanding our global electrified vehicle lineup to 40 vehicles, including 16 full battery electric vehicles by 2022. We're investing $11 billion in electrification over those 4 years. This includes development of an F-150 hybrid that we'll begin building at the Dearborn Truck Plant in Michigan in 2020.
CBO: Tell us about Ford's vision for sustainability and alternative fuels in the construction industry.
TS: At Ford, we believe in giving our customers the power of choice when it comes to finding the best commercial vehicle for their unique applications. The power of choice extends to fuel systems, as we offer diesel, gasoline and alternative fuel options across our commercial vehicle line-up. In fact, Ford has the broadest portfolio of natural gas and propane offerings, with a gaseous fuel prep pack available on F-150, Super Duty, Transit and Transit Connect. Construction industry customers can spec a Ford chassis with the prep pack, and then work with one of our many qualified vehicle modifiers to have the fuel system of their choice installed, all while maintaining the factory warranty.
CBO: Briefly describe Ford's most relevant commercial truck products and their importance to the mid-sized contractor working in commercial construction.
TS: You'd be hard-pressed to drive by a commercial construction site and not see a Ford truck or van. Construction contractors buy more Ford commercial vehicles than any other brand. More than 40 percent of the vehicles currently in use in the construction market are Ford Super Duty trucks, medium duty trucks and vans.
We're the only manufacturer offering commercial trucks and vans from Class 1 (F-150 and Transit Connect) all the way up to Class 7 (F-750), making it easy for contractors to buy and service all their vehicles from their local Ford dealer.
The most popular trucks with construction contractors are our F-Series Super Duty pickups and chassis cabs. For 2018, we've upgraded the Super Duty pickup's 6.7-liter Power Stroke V8 diesel engine to provide best-in-class 450 horsepower and 935 pound-feet of torque. It also offers 21,000 pounds of conventional hitch towing and a payload capacity of 7,360 pounds. For those who rely on their pickups for hauling big trailers to get the job done, we've introduced an F-450 Super Duty 4x2 dual-rear-wheel truck with 34,000 pounds of gooseneck towing capacity.
For the biggest jobs, Ford medium-duty trucks are available in GVWRs starting at 20,500 pounds with the F-650 Pro Loader, and going as high as 37,000 pounds on the 6.7L Power Stroke turbo diesel-powered F-750. Ford is the only manufacturer offering a gasoline engine in the segment.
Of course, any story about work trucks wouldn't be complete without mentioning the F-150. New features for 2018 include standard Auto Start-Stop for all engines; an all-new, 3.3-liter V6 with port and direct-injection technology and flex-fuel capability; and electronic six speed automatic transmission with selectable drive modes. Also new this year is the first-ever F-150 Power Stroke diesel with a targeted EPA-estimated 30 miles per gallon highway rating, alongside best-in-class diesel towing and payload.
CBO: What other truck trends should contractors keep in mind?
TS: Construction business owners and contractors have always desired the toughest, most reliable trucks for their businesses. Recently we've also seen a trend among some companies of specing higher-level trucks and vans to improve employee retention and reward their loyal employees with a more comfortable, prestigious work vehicle.