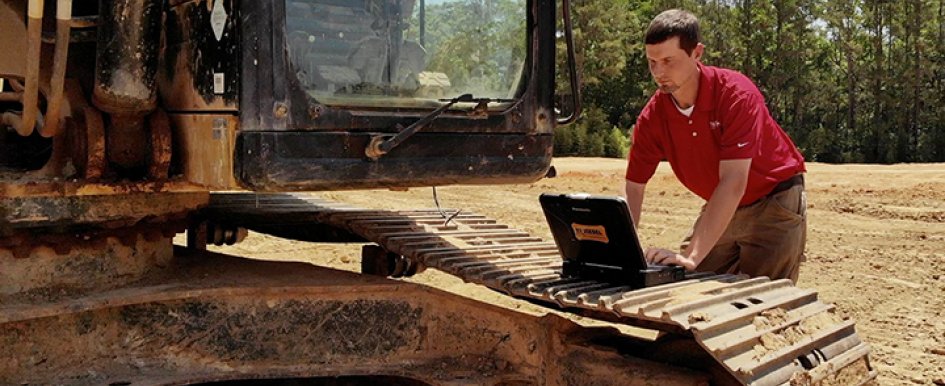 How to ensure operators & technicians have the tools they need to diagnose right the first time
Diagnosing issues with trucks and off-highway equipment isn't as simple as it used to be. Advancements in this industry, such as aftertreatment and common rail fuel injection, have made diesel engines more complicated now than ever before.
A result of this has been a major increase in the service work being performed—both preventative maintenance and repairs needed due to failure. Diagnostics are now being performed all over the world on these complex systems, and there isn't any sign that this will slow down. 
When it comes to performing diagnostics on any type of vehicle, there are two things that come to mind immediately. First, you need a diagnostic scan tool that can connect to these complex vehicle systems and give you a road map to diagnosing the issue. The good news is that there are many different brands and levels of diagnostic scan tools available.
From handheld scanners to PC-based diagnostic tools, there is one that fits just about every budget. There are some manufactures of multi-brand service tools that offer connection to many different types of vehicles, such as trucks, off-highway equipment, marine, motorcycles and even cars—all of which are on the same diagnostic scan tool.
Other tools may only allow the connection to single-manufacture engines or vehicles, and some only connect to specific protocols, such as on-board diagnostic communication protocol (OBDII). When selecting a diagnostic scan tool, it's important to assess the current needs of your business and the needs that it may have in the future to allow for growth. What is good for your business today may not be good for it tomorrow.
To get the best scan tool for your business, ask some specific questions when shopping. The following are a few examples of questions that will assist you in making the proper decision when it comes to making your purchase.
Will the tool connect to all the vehicle manufacturers in my fleet? 
Can I use the connection interface with all brands of diagnostic software, or just the manufacturer of the software I have chosen?  
What type of warranty does the diagnostic scan tool come with? 
Can I purchase a damage-coverage plan for the tool?
Do I only have technical support for the tool, or will I have live technicians that can assist me if I have an issue that is too complicated for my operators or my technicians to diagnose? 
Do you offer step-by-step troubleshooting for fault codes?
Does your company offer training on how to use the diagnostic scan tool software?
 
Asking these questions in advance could be the difference in a business that thrives versus one that survives. If you decide to use original equipment manufacturer (OEM) diagnostic software to diagnose and repair your fleet or your customers' vehicles, selecting a universally compliant connection device is a good investment. This will allow you to use it across all your OEM software if it is supported by the manufacture of that software.
The downside to OEM diagnostic software is that it is more expensive to operate due to the upfront cost combined with paying for yearly renewals to continue to operate the software. OEM software is great if you only have one or two manufacturers of vehicles or engines in your operation.
If you work on a multitude of different vehicles or manufacturers, multi-vehicle diagnostic scan tools are also a great investment for your company. These tools usually cost more up front, but allow the handler to perform dealer level commands, such as cylinder cutout tests, diesel particulate filter (DPF) regens, parameter changes, fault code reading and code clearing, injector trim file calibrations, and much more. And they can be very competitive with OEM software functionality.
The second thing that is as important as a scan tool is training. It is easy to get behind on new systems that have made their way into the transportation industry, such as adaptive cruise, automated braking, hydraulic controls, aftertreatment systems, common rail-fuel systems and electrical systems. Technicians need to be trained extensively on these systems to stay effective and efficient on today's vehicles.
Finding a company to train your technicians can sometimes become quite the task if you do not work for an OEM or a dealership. However, some companies see this lack of training and can quickly assist you or your fleet in getting your technicians the training they need.
Using a scan tool is important, but it is only beneficial if you know what to do once the codes are scanned. It's a misconception that a scan tool will tell you what is wrong with the vehicle and how to fix it. These tools are simply a road map that will help your technician make his/her way to finding, diagnosing and repairing the issue.
Therefore, selecting the right company to purchase from is crucial. From start to finish, choosing the right company to not only sell you the scan tool or software, but to also provide training and tech support on today's issues, will be the best investment your company can make. 
When the time comes to purchase a diagnostic scan tool that fits your needs and your budget, find a company that can answer yes to all the questions above. If they cannot, you should consider continuing your shopping until you can find a company that can. Spending a little more of your time, resources, energy and money in the beginning could save you a lot in the end. Remember, it's not just about diagnostics, it's about diagnostics done right.