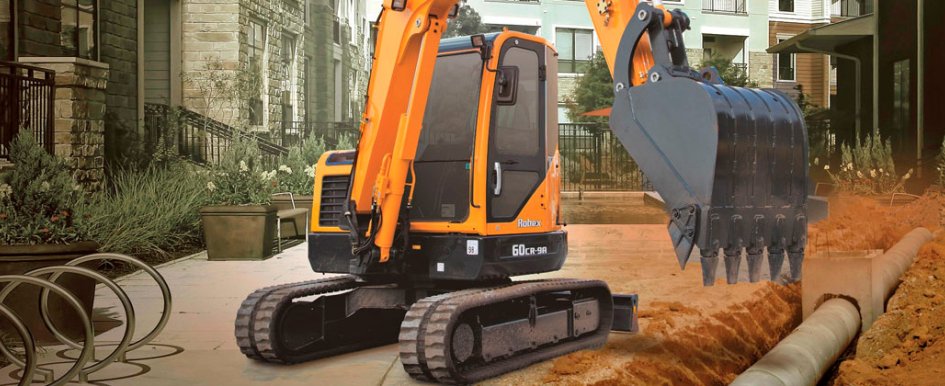 Weighing rent vs. buy options requires balance, flexibility & discipline
Tuesday, August 16th, 2016
Balance, flexibility and discipline are three practices that contribute to success in many of life's endeavors. As a construction business owner, you can use them to guide your decisions for renting, leasing or buying construction equipment. A widely accepted industry rule of thumb argues in favor of buying equipment when you expect to achieve a utilization factor of 60 percent or higher. In a market characterized by instability and uncertainty, contractors are choosing to rent construction equipment more often than not. In fact, equipment rental has experienced a steady growth trend in most parts of the country during the past decade.
For 2015, the American Rental Association (ARA) reported industry-wide revenues of $26 billion for construction equipment rental, up 8 percent over 2014. A 2015 Gordon Brothers Group analysis of the rental industry cited 54 percent of construction equipment is owned by the rental industry (combined rental businesses and equipment dealers), with that percentage expected to rise to 60 percent by 2025. Factors driving the trend include tightening lending conditions, unpredictable levels of contracting activity, cash demands for operating expenses and other costs generally associated with ownership (taxes, insurance, loan interest, storage and transportation costs).
Balance your Commitments
Balance, relative to rent-versus-buy decisions, refers to the need for balancing your financial commitments in comparison to your expected equipment utilization. Start by recognizing the benefits of owning, renting and leasing. Owning gives you complete control over the equipment's use and maintenance. Your equipment is there when you need it, and your operators can gain a level of comfort and familiarity they might not achieve with rental equipment. Renting represents the minimum level of commitment, which can be a plus if your needs are seasonal, special purpose or difficult to predict. You can rent exactly what you need, when you need it and for as long as you need it. Additionally, keep in mind that rented equipment can be written off as a business expense. When renting, shop around to make sure you are getting the best prices and that you are renting from a reputable dealer that maintains the equipment properly and can provide emergency repairs or replacement equipment should something go wrong.
Leasing is a middle ground between owning and renting. Although it generally requires a minimum time commitment of at least a year, the upfront costs are less than buying, freeing capital that you would otherwise use for a down payment and keeping your credit lines available. However, if you break your lease early, you may have to pay the entire lease term whether or not you are using the equipment. To achieve financial balance in your rent/buy/lease decisions, these are some of the questions you will need to answer:
Can I accurately predict equipment utilization rates?
Do I have enough capital for an equipment purchase?
Can I afford the higher daily and weekly costs of rental compared to owning or leasing?
Are my cash flows and reserves sufficient to cover spending for both known and unexpected expenses?
Maintain Flexibility
Of your three acquisition options, renting offers the most flexibility. You can rent by the day, week or month, depending on your utilization needs. Renting keeps your cash flow flexible, as there are no costs for maintenance or repairs, and the rental company will deliver the equipment to your jobsite and pick it up when you are finished. Renting also provides a wide range of makes and models. Most rental companies carry the current model year of equipment, so you can benefit from models offering the most up-to-date technology available.
While rental costs are usually higher than a lease or a loan payment, the rates vary depending on the amount of time you plan on using the equipment. For example, if you need to rent for more than 3 days, the weekly rate will usually save you money. And if you need to rent for more than 2 weeks, the monthly rate is typically a better deal. The different terms are another example of the flexibility of renting.
Another approach to flexibility is found in the concept of substitution—using a different combination of machines that you otherwise may have used. For example, you can substitute the combination of a compact excavator and either a compact or skid steer loader to replace a tractor loader-backhoe. The two smaller machines have the combined capabilities of the larger unit, but can work on two separate jobs. Neither requires a large trailer for transportation or a commercial truck driver. The substitution strategy can be used whether you decide to rent, lease or buy.
Get on Track for Success
Finding the right mix that balances your financial capabilities against your equipment needs not only requires flexibility—it demands a disciplined approach to keep you on the track to sustainable success.
Form a strategy based on your utilization needs and stick to it. In an economy characterized by uncertainty, a clean balance sheet may be your most important goal to stay in business.
If your objectives include minimizing risk, preserving capital, keeping your credit lines available, reducing fixed costs and maintaining flexibility, rental offers obvious benefits to help achieve those goals.
Choosing to rent, lease or buy isn't always a simple or obvious decision. Regardless of the options you choose, take a disciplined approach based on your needs for balance and flexibility.