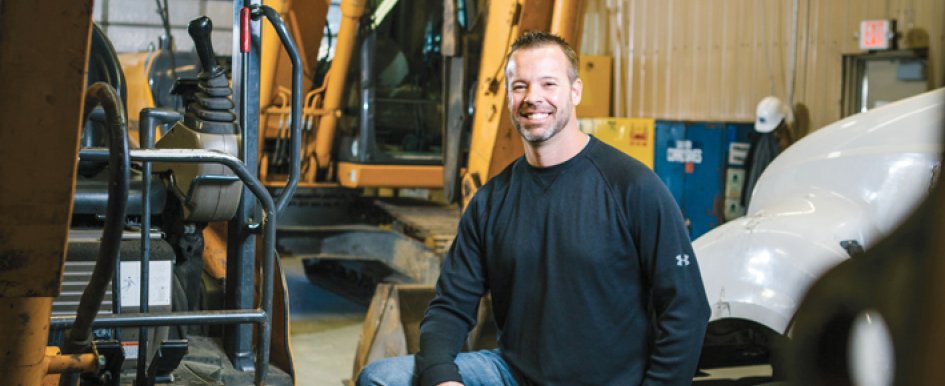 Environmental Restoration's Tim Bland stays ahead of the fleet
Tuesday, March 13th, 2018
Imagine maintaining 300 pieces of rolling stock plus 200 pieces of equipment spread across the entire United States, U.S. Virgin Islands and Puerto Rico. That's the challenge Tim Bland, assistant operations manager at Environmental Restoration LLC, faces every day. For 20 years, Bland and his staff have provided emergency response services, site remediation, government services and industrial cleaning to various commercial, state and federal clients. With 600 employees working from 23 offices across the country, Environmental Restoration is the largest EPA contractor in the U.S.
Fleet Management Challenges
The Environmental Restoration fleet ranges from mini excavators to large pieces of iron and includes some nontraditional construction equipment elements such as boats. Although each piece of equipment has its own life cycle, the general age across the fleet is less than 7 years. Bland's biggest challenge is trying to contain costs for maintenance and operation of the fleet.
"With such a large footprint, our equipment gets spread out all over the place. So, it's not always in a location where it's easy to get service," said Bland. "We rely on servicing some of our equipment in-house, which is sometimes a challenge. We rely on people in every office and jobsite to help us. We try to funnel a lot of the decisions through our corporate office in St. Louis. For example, our head mechanic handles all of our maintenance across the country and works out of the corporate office. He does do a lot of traveling, but he also tries to locate dealers or service stations that can work on the equipment from afar. He manages the estimates and makes sure that we are getting what needs to be fixed for what we are paying for it."
Changes in Fleet Management
Bland has seen a lot of changes in how large fleets are managed during the last 20 years. New technology, such as telematics, have made a big difference in management capabilities.
"We own several pieces of equipment with GPS monitoring on them, as far as maintenance services, alarms or alerts that may be going on," said Bland. "With 600 people on the payroll, not everybody is a mechanic. Not every operator is mechanically inclined or as good at maintenance as others. Telematics allow us to manage some of that from our corporate office. The company relies on GPS technology for many large cap jobs, big excavations and earthmoving projects. The cost savings by using those electronics is just unbelievable."
The switch to Tier 4 technology fits with Environmental Restoration's green initiative. "A lot of the newer pieces are Tier 4," said Bland. "It hasn't affected us greatly. We know we have to supply large volumes of diesel exhaust fluid (DEF) to a lot of jobsites. We usually buy it in 325-gallon totes for larger projects or 55-gallon drums. For some of our rolling stock, like dump trucks and over-the-road trucks, we buy it at truck stops. It really hasn't been that big a change for us."
The Case for New Equipment
Bland believes cost control begins with new equipment. "We start the process with buying good equipment. The cheapest piece of iron is not always the best piece of iron. If you want something to last at least 7 years, then you want to start with a good product. We are huge about following manufacturer's recommendations as far as service intervals and recommended filters such as CASE filters on CASE equipment. We use nothing but full synthetic oils on all our equipment."
Although the average age of fleet equipment is about 6 to 7 years, Bland does not have a set timetable for replacement. "We don't have anything set in stone—it depends on the application of the machine. Certain equipment we purchase may be on a project that is getting 50 to 60 hours a week on it, and other pieces we might buy the same piece of equipment for a different project that puts 10 hours a week on it. It's all a case-by-case basis. We do that by looking at maintenance records and repairs. Are we starting to spend too much money on a particular machine? For example, when it starts getting up to 5,000 hours [and needs repairs], then we make that determination back here [at the corporate office]."
Better Records Equal Higher Resale Value
In addition to following manufacturer's service schedules, Bland has found that keeping complete and accurate records makes a big difference in resale value. "We keep detailed files on every single piece of equipment we own, from a $2,500 plate tamper to a $500,000 excavator, and on every piece of service, from an oil filter to a hydraulic pump or undercarriage changing. When we rotate our fleet and sell it, the payback [on that activity] is huge," he said.
Training is Critical
One of the keys to keeping equipment in peak condition is training the operators. Although Environmental Restoration has a training center at their St. Louis corporate headquarters, the bulk of operator training is done with the equipment manufacturers and local machine dealers.
"We're working with dealerships around the country where we purchased the equipment," said Bland. "We send some of our guys to work and learn in their local service departments. We have had 20 to 50 of our operators at a time go over equipment and basic maintenance and checks that you can run through on your machines daily. CASE sent us up to their proving grounds in Wisconsin, and that was very informative. We all learned a lot, even the guys who have 35 years in this business. The main thing is to just keep training your personnel. Make them follow a policy, and don't let things slip through the cracks."
Dealers Make a Difference
"Usually we buy a large amount of equipment. We may buy 10 skid steer loaders at one time. When you do that and it's a new machine or new model, the dealerships are always happy to send someone over to detail the operation and the features and some of the things to check and look out for," said Bland. "Luby Equipment, for example, is just a mile away from our corporate office. They are always willing to send their service techs here to go through some routine maintenance with our employees, check track tension on machines and give dos and don'ts regarding servicing. Again, we purchase equipment here in St. Louis, it hits our office and could be shipped to Libby, Montana, the next day. It is important to get our mechanics and our operations department familiar with our equipment, so we can pass that knowledge down to our employees in the field, operators and managers on the site."
After 20 years of maintaining a growing fleet of diverse machinery, Bland has a simple formula for success. "Don't cut corners. Start with a core group where everyone follows a policy, and let it flow down to your employees. If you start correctly at the top, people below have to follow suit and you get a good product at the end."