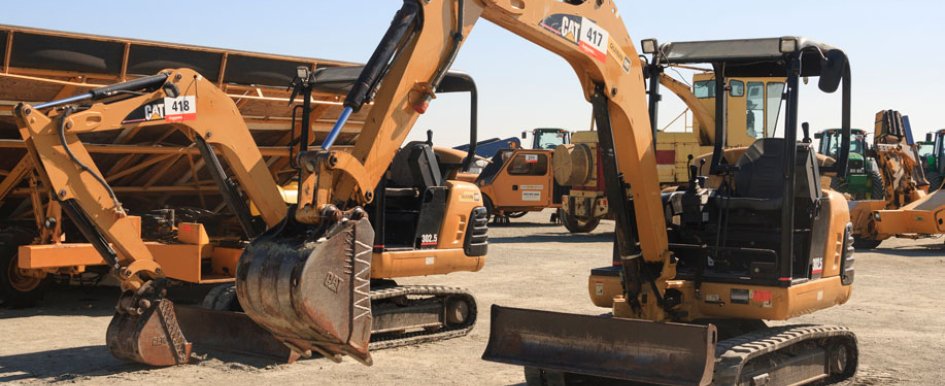 Insights from industry leaders on finding the right resources to get what you want
No construction company can complete a project without access to the right equipment. As your business fluctuates, it is important to monitor your equipment inventory, reallocate when necessary or expand your fleet to keep up with project schedules and potentially gain an edge over the competition.
Whether you are buying to add to an existing fleet, or selling to make room for a new purchase or rental, there are a number of avenues to pursue when it comes to equipment acquisition. Live auctions, online auctions, liquidation sales, rental programs, leasing opportunities, and trade/share arrangements all have their pros and cons. To help in your decision process, Construction Business Owner spoke with some of the industry's leaders in the used equipment marketplace, whose goal is to connect buyers and sellers of high-value items with the solution that best fits your business.
The Right Resources
Ritchie Bros. (rbauction.com) is the world's largest industrial auctioneer in the live-auction space and a leader in asset management and disposition. The company works globally to appraise, sell, inspect, buy, refurbish, ship and finance heavy equipment and trucks. Ritchie Bros. has been in the business of live auctions for 59 years and hosts events at 45 permanent auction sites around the world, with operations in 19 countries and $4.33 billion in total sales of assets in 2016. The company recently stepped outside of its established, live-auction expertise to create multiple online platforms, resulting in an additional $2.1 billion in online sales in 2016. Those platforms include: EquipmentOne, a secure, online public equipment auctions where people can list items for sale or place bids at any time; Private Treaty, a space for confidential, negotiated sales for high-value equipment; and SalvageSale, a platform designed for selling salvage and insurance assets via online, sealed-bid auctions. With online resources like these, buyers and sellers have more opportunities to find the equipment they need.
There are a number of major players in the online auction market offering buy-now (live and online), make-offer and rental options to buyers and sellers of construction equipment. IronPlanet (ironplanet.com), a full-service, multichannel, asset-management platform, offers a number of services to sellers and buyers. On the seller side, it offers several channels to manage or dispose of assets—live auctions, online auctions, online fixed-price and make-offer, buy-now negotiation formats. IronPlanet's latest offering, AllEquip, provides the user with a combination of abilities using a buy-now format and an online negotiation feature. The buyer can choose to buy an item immediately at the listed price, or make another offer to the seller. This takes place online, and both the buyer and seller can counteroffer. After a counteroffer is made, the seller can do one of three things: accept the offer, reject the offer or reply with another counter. If a counter is made, the buyer receives a notification, accepts the sale and the sale is complete. Sellers can also set an offer threshold, only accepting offers above a certain price, so as not to waste any time of interested parties. According to IronPlanet Chief Marketing Officer Matt Ackley, "AllEquip gives sellers more control of pricing and gives buyers more convenience—they don't have to wait until the next auction and don't have to compete."
In August 2016, Ritchie Bros. and IronPlanet jointly announced they had entered into an agreement, under which Ritchie Bros. would acquire IronPlanet for approximately $758.5 million, subject to customary closing adjustments. At press time, the acquisition was not yet final and the two were still considered independent companies.
Another online marketplace making an impact in online auctions and equipment resale is Proxibid. Proxibid President and CEO Ryan Downs initially joined the company from eBay, where he was instrumental in the launch of the merchant business. Proxibid (proxibid.com) is an online marketplace that is part auction and part retail store. It offers secure, live and timed online auction solutions, and recently introduced its "Buy Now" and "Make Offer" products. According to Downs, new advances, like the ability to buy now or negotiate the price of equipment online, are making it easier for buyers to purchase. "Buying and selling equipment online can have a lasting and positive impact on your business. For sellers, offering your inventory available for sale online means you are open for business 24/7. You'll never leave money on the able again," said Downs.
For a more temporary solution, you might consider a platform that offers equipment lending or rental. EquipmentShare (equipmentshare.com) provides a platform that facilitates inexpensive peer-to-peer renting of contracting equipment, giving contractors the ability to make money off of the equipment they aren't using. EquipmentShare was built by contractors, for contractors, to solve their needs beyond a typical purchase, sale or rental. President and Co-founder Willy Schlacks and his brother were frustrated with the rental industry while running their own contracting companies, and made a plan to solve their own problems. Instead of owning a costly fleet of equipment, contractors can rent specific machine when a project requires it to prevent equipment from sitting idle. Similarly, contractors can decide to sell or rent idle equipment on the EquipmentShare marketplace instead of losing money on underutilized assets in their fleet.
Safety & Security
Proxibid's Downs said they recognize that it is a great leap of faith to purchase an expensive piece of equipment sight unseen, which is why Proxibid offers a sophisticated risk management system, designed to ensure only qualified buyers can participate.
For IronPlanet, a competitive advantage is its IronClad Assurance. The IronClad Assurance equipment condition certification informs users that one of its inspectors has personally visited the item, taken pictures and conducted a comprehensive inspection of key systems and components. What you see in the inspection report is what you get when you receive the equipment. The inspection process takes anywhere from 3 to 8 weeks, depending on how quickly the seller wants to move. IronPlanet conducted a company-record-breaking number of annual inspections in 2016, with over 100,000 pieces of equipment evaluated and certified by its 250 professional inspectors. Many of the inspectors are ex-equipment specialists who undergo a training process and follow a standardized, reliable method of evaluation.
EquipmentAuction.com is an online equipment auction mediation company that offers free classified ads on its website and provides liquidation services, as well as equipment appraisal services. According to Managing Director Kipp Krukowski, it provides a wide range of projects—from financing collateral appraisals to high-profile expert witness projects related to machinery and equipment valuation—using a team of appraisers accredited through the American Society of Appraisers.
Data Trends
IronPlanet predicts that as more data enters the marketplace, you will see an increase in efficiency, transparency, pricing and inspections. The industry is headed toward a new frontier, where equipment history will coexist with an inspection report.
EquipmentShare's Schlacks says that data is beginning to affect the resale market, as buyers are becoming less brand conscious and more data conscience.
"EquipmentShare's telematics product, ES Track, accumulates and tracks data—including engine health, runtime, idle time, maintenance—and document a history of their equipment similar to a CARFAX. This data helps drive a substantially higher value when selling their equipment, and the ability to service equipment at the right intervals also naturally increases the life and value of the equipment," said Schlacks. He says IoT solutions—specifically telematics—will continue to give both buyers and sellers a deeper look into the history, health and outlook of each piece of used equipment.