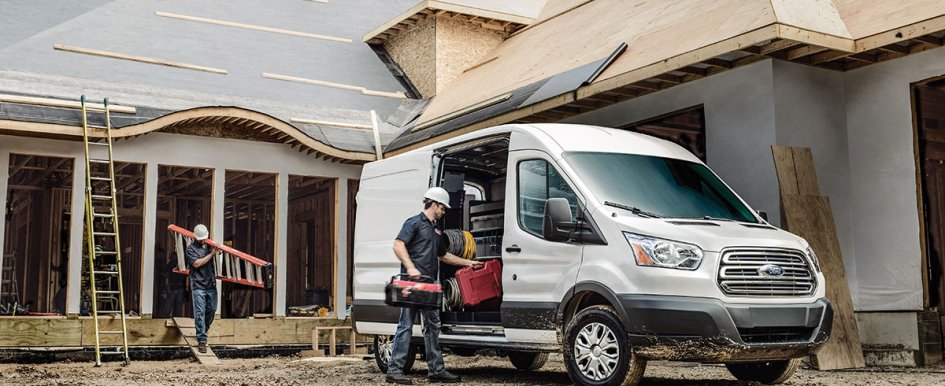 Recent improvements that contribute to increased productivity on the jobsite
Monday, September 4th, 2017
Although trucks continue to rule the construction site, vans are becoming more popular thanks to new designs that provide better organization, customization and interior space. Vans keep tools, equipment and supplies out of the elements and can be locked for security, both on the jobsite and back at the yard. Modern, European-style commercial vans are easily distinguished from traditional body-on-frame vans by their sleek, unibody designs and wide variety of roof heights and body lengths. The new designs offer a range of advantages over older models, including better fuel economy, cargo capacity, payload and flexibility.
Recognizing these advantages, many construction businesses have reevaluated their fleet needs and started adding vans to the mix. Medium- and high-roof vans make it possible to comfortably work inside the vehicle. Some vans are outfitted as mobile workshops, complete with power inverters that make it possible to use air compressors and other equipment inside the vehicle. Programmable battery guards can protect the vehicle battery while it powers such equipment. General contractors are choosing vans to serve as mobile offices, complete with desks, chairs, computers, printers and file drawers.
Commercial vehicle dealers can work with construction business owners to select the best body length, roof height, powertrain and equipment for the company's specific needs. You can choose the best door configuration for the application—hinged or sliding, single or dual. Choose windows all around for visibility and light inside or none at all to maximize security. Window screens are available to protect the glass and further enhance security. The dealer can coordinate with a network of upfitters to properly equip the van with the right storage solutions and other equipment, from cranes to compressors.
A seemingly endless range of rack and bin solutions are available to customize the vans for any application. Upfitters have designed new equipment specifically for the new vans, such as ladder racks that lower the ladders down within reach from the top of a medium- or high-roof van. Some upfitters have designed cargo management systems specific to certain vocations, including general contracting, heating and cooling, plumbing and electrical. For example, a van specified for an electrician may incorporate small bins for connectors, hooks for spools of wire, a ladder rack and a built-in workbench. A plumber's van might be equipped with larger compartments for various sizes of water/sewer line connectors and open space for pipes. Many vans can also accommodate full sheets of drywall and bins for organizing screws, tape and other supplies. Additional equipment can be towed behind the van.
For urban work environments, a small commercial van is easy to maneuver and offers a tight turning radius in a vehicle that still provides a lot of cargo capacity. Like their full-size counterparts, compact commercial vans can be equipped with custom storage solutions and ladder racks to keep workers organized and productive.
Modern vans also offer the latest safety features. Business owners can expect rearview cameras and driver/passenger air bags. Trailer-hitch assist and stability control systems can help with towing applications. Lane-keeping alert systems can alert drivers if they unintentionally drift from their lane. Back-up and perimeter alarms are available, as well as anti-theft systems.
Despite their size, commercial vans can be as easy to drive as a car. Part of the development of the new vans was to make them comfortable for their drivers and passengers.
Modern interiors enable drivers to keep everything they need within reach. Adjustable seats and steering wheels provide the most ergonomic position for a variety of people who may drive the same vehicle. Upgraded stereo systems can use voice-activated technology to control the radio, cell phone or even the navigation system. Keeping employees comfortable and productive on the job can help with employee retention.
Vans can be equipped with telematics systems that can help business owners improve productivity and reduce costs. The systems collect real-time vehicle data on a wide range of performance metrics. Fleet managers can use this information to affect driver safety and compliance, asset utilization and vehicle health.
Adding to the versatility of the new vans are the options available for building other commercial vehicles on the van chassis cabs and cutaways. Van chassis can also be upfit with a wide range of bodies, including utility bodies, platform bodies and service bodies.
These units combine the modern van interiors and powerful engines with the utility necessary for specific applications. When it is time to look at new fleet vehicles, consider vans alongside traditional pickup trucks. You may be surprised to find a van is the workhorse you have been looking for all along.