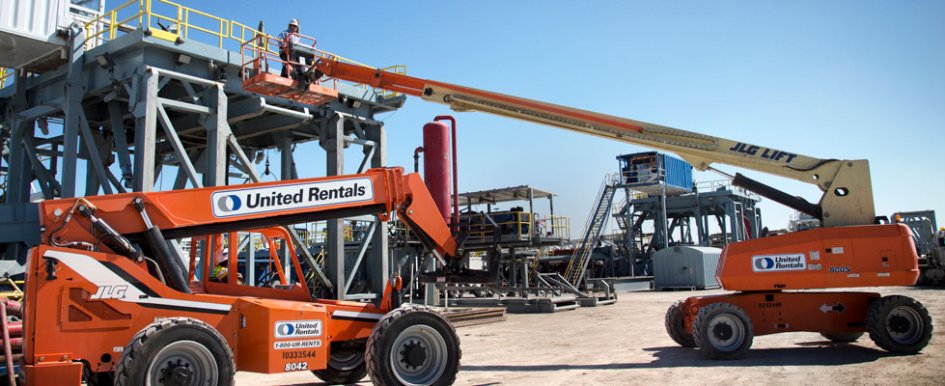 Exploring today's advanced asset strategies & supplemental fleet options
Wednesday, April 14th, 2021
Complex projects paired with tight labor markets and timelines have put additional pressure on construction contractors. Having the right equipment available at the right time is critical to staying on track. A strategic, well-executed fleet strategy can eliminate downtime that strains your schedule — and your bottom line.
Many business owners operate with mixed fleets, leveraging both owned and rented equipment, especially now. Supplementing or scaling inventory with rented machines gives companies flexibility both in machine options and capital. Pay for what you need, when you need it without investing in assets that may sit idle for part of the year. But what is the right mix?
Sourcing Equipment
Equipment needs have recently pivoted, and contractors rely heavily on rental providers to have not only the right machines, but the right solutions. Projects both large and small require different machines and applications at every stage. It's important to be able to tap into a robust fleet that addresses needs from start to finish. From earthmoving equipment to on-site water treatment and discharge and trench boxes, lean on a rental partner that can provide the right equipment and solutions to address the needs at each phase of the project.
Access to a robust inventory of equipment can have a significant impact on project success. Leading rental equipment providers specialize in selecting a broader, and often more specialized, fleet than any one contractor would own. Some rental portfolios include on-site services, such as setup and operational labor, engineering services and on-site diesel fueling, making it easier to consolidate vendor networks and keep budgets on track.
Another benefit of infusing rental equipment into an existing fleet strategy is the access to newer and more advanced fleets. Rental companies upgrade their fleets on a regular basis, giving contractors access to the most advanced gear and the latest in control and operational technologies. Teams get to work with the latest equipment while familiarizing themselves with the machines before deciding whether or not to purchase or continue renting.
Addressing Unplanned Situations
A rental provider's core mission is to deliver quality equipment on schedule and according to a project plan. While that is useful, there is so much more to project success and rental companies can play a big role. Project managers are expected to maintain productivity regardless of the situation but can increasingly rely on rental companies to boost productivity in other aspects outside of just equipment.
Even when schedules and projects have been meticulously planned, emergencies and unplanned needs can still arise, and they must be handled with the utmost efficiency.
As part of their planning, business owners need to explore whether they can depend on their rental providers when they need them to meet unexpected needs, such as disaster response and unforeseen emergency situations. In these instances, time is in short supply and personnel need to understand who they can immediately call and depend on to support them. They need an established partner in the wings with a single point of contact they can trust to deliver in any situation. One who can help put in place contingency plans for these unfortunate but inevitable events.
Creating a Safe Environment
As contractors continue to manage through the many challenges brought on by COVID-19, getting the right equipment safely and efficiently is top of mind. Providers should have options for delivery, contactless pickup and digital avenues to help customers navigate daily needs while keeping safety at the forefront. These include the ability to browse and reserve equipment online, on the phone or with mobile apps.
Contractors need to ensure their equipment rental provider is taking the necessary steps to safeguard its equipment by keeping it sanitary and ready for use. Measures may include pre-rental safety and mechanical checks on equipment and additional cleaning and disinfecting protocols. If the rental provider is dropping equipment off at a jobsite, be sure their drivers perform a "last touch" precautionary disinfecting of the equipment. They should use a government-approved disinfectant to spray or wipe the surfaces touched by the driver when delivering the equipment.
Helping Maintain & Manage Owned Fleet
Maintaining equipment fleet isn't easy. And finding — and keeping — qualified technicians can increase the burden. Contractors also need to factor in the difficulty of keeping up with equipment inspections, especially when equipment is moving from jobsite to jobsite. These all add up to a complex and resource-consuming undertaking.
The challenge for business owners is finding an equipment maintenance service provider that delivers fast, dependable equipment service — both locally and nationwide.
That provider should be a one-stop shop that offers standardized processes and rates — helping to take the maintenance and repair burden off of fleet owners. This approach can deliver the peace of mind that comes with knowing that equipment will be ready to perform when it is needed. By tapping into the equipment maintenance systems, processes, expertise and efficiencies at scale of a rental provider, contractors can extract maximum value from their fleet.
With significant capital invested in equipment and vehicles, fleet management is critical to contractors. Yet for most companies, it's not a core competency. Detailed fleet data, including utilization and performance metrics, can enable rental providers to identify optimization opportunities within a contractor's unique fleet scenario and create a comprehensive fleet strategy.
Building a Smart Equipment Strategy
Equipment rental is no longer purely transactional. Rental providers need to offer comprehensive jobsite solutions, help contractors tackle unplanned needs and support safe work environments — rental providers deliver far beyond what was available just a few years ago. The leading equipment rental companies have become the ultimate solution partners for contractors to develop smarter equipment strategies to support jobsite productivity and business growth.