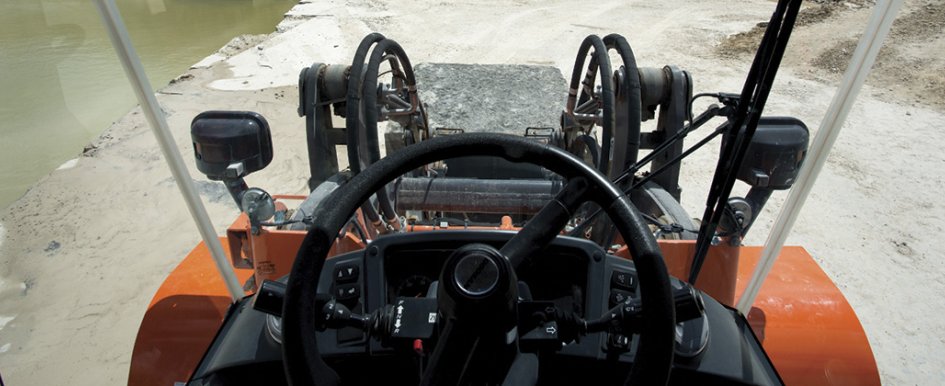 Use comfort features to recruit and retain qualified construction workers
Tuesday, December 15, 2015
The United States construction industry has rebounded in many parts of the country. According to the ADP Research Institute, more than 200,000 construction jobs were created in 2014. Although the construction industry has improved since the recession, some construction business owners are having difficulty recruiting, hiring and retaining qualified heavy equipment operators. In fact, in a recent industry-wide survey by the Associated General Contractors of America (AGC), an overwhelming majority of construction firms, approximately 86 percent, are actively searching for qualified workers.
Properly training your employees and creating a safe work environment are paramount to your success as a business owner. Equally important is investing in reliable heavy equipment with superior comfort features. Increased visibility to the work area, advanced controls, updates to the dashboard, quality seats and climate-control options are just a few advancements that have been made in the last 10 years to enhance comfort and boost productivity. By looking at these improvements, you can better invest in equipment that will be most beneficial to your business and help you hire and retain qualified operators for your projects.
Increased Visibility
Heavy equipment manufacturers have made numerous cab adjustments to improve overall visibility on jobsites. Some design improvements for crawler and wheel excavators include new front window designs for increased visibility to the work area. Many manufacturers offer optional sideview cameras and a standard rearview camera to help assist operators when visibility is limited.
Visibility should also be kept in mind if your business is in need of an ADT for nonroad hauling needs. An ADT with a sloped hood design provides greater front view and superior side view with lateral sight lines. Additionally, rearview mirrors provide a view of the center tires, while a rear camera can assist operators in seeing behind the truck. The ability to visually see front-mounted attachments on excavators and wheel loaders, machine corners and tires and tracks is crucial when using heavy equipment.
Improved Operator Station
A multi-function display panel provides operators the ability to review and adjust settings and reduces potential damage or machine failures. Operators can use the display panel to show video from the rearview camera. Some manufacturers offer a split-screen mode that can display machine information and the rearview camera screen simultaneously. LCD screens can also be beneficial to your heavy equipment operators. Before purchasing equipment, also consider the size and location of an LCD screen.
Upgraded Cab Comfort
Since your operators may work 12 hours a day or more, it is important for them to stay comfortable. An adjustable, high-quality, air-suspension seat comes standard on many ADTs, excavators and wheel loaders. The seat helps absorb the shock when the machine is in use and can be adjusted when operators need additional foot space. By having enclosed, pressurized cabs, you can keep unwanted dust and debris out and suppress machine noise. Lockable cabs add an extra layer of theft prevention. Advanced climate control features were once considered a luxury, but now, almost every manufacturer offers this as a standard or optional feature. Operators can set a desired temperature and enjoy it all day, which can make a huge difference in productivity. Other comfort features that can benefit operators include an adjustable steering column, heated mirrors and exterior lighting packages.
Advancements in Ergonomics
Joystick controls are not a new feature to heavy equipment. However, the ease and functionality of the controls has been improved. Excavators can be equipped with optional two-way auxiliary hydraulics, which can be activated by foot pedals or by buttons on the joystick. Many wheel loader models are equipped with forward/neutral/reverse (FNR) buttons on the joysticks that enable operators to change direction without removing their hand from the joystick. Additionally, ADT operators can use a fingertip-controlled, body-dumping lever, which allows for controlled lowering of the dump body. These controls have evolved from one switch on the controls to multiple buttons, controlled by either a finger or thumb, on each joystick.
By equipping operators with key, updated comfort features, you increase the likelihood of attracting, hiring and retaining qualified operators.