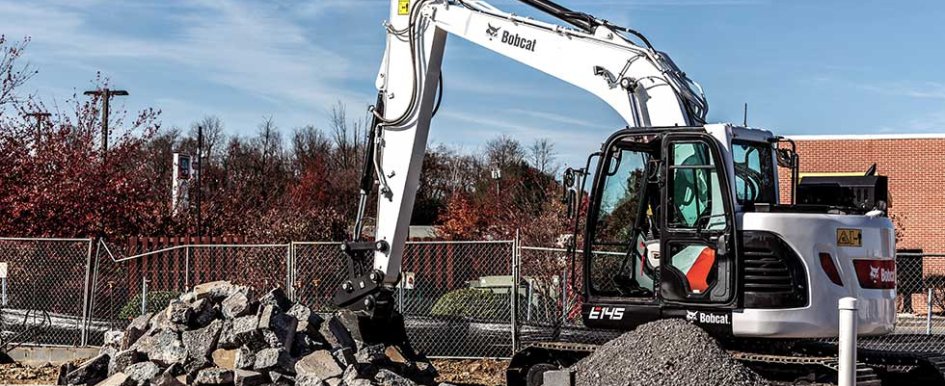 6 factors to help structure your search for the right equipment
Excavators are more powerful, productive and durable than ever before. To keep up with their continued popularity, equipment manufacturers have introduced models that can be tailored to your specific needs. But with so many options, how do you select an excavator that's right for you?
If you frequently rent excavators or hire subcontractors who use them, look closely at the tasks they perform. This will help you anticipate what you need from a machine of your own. It's also important to think about how adding a variety of attachments to your excavator could create new business opportunities. To get started, consider the following factors.
1. Size, Weight Class & Tail Swing
Size is one of the most important specifications to consider when comparing excavator models. To get the most out of your machine, ask whether the desired excavator is the right size to perform the tasks at hand. Can it access your required jobsites? Can it achieve the expected performance regarding dig depth, reach and dump height? Your ideal excavator needs to be able to access your jobsites, and it needs to have the bucket size and lift capacity to do the work once it's there. Each jobsite demands different performance capabilities. If you work in confined areas like residential properties or commercial jobsites, every inch matters. Larger excavators can weigh more than 10 tons, so make sure your jobsite can accommodate the overall size and weight of a larger machine.
However, height, width and weight are only part of the equation. Tail-swing configuration is another feature to assess before committing to a machine. A zero- or minimal-tail-swing excavator of a given size will generally be wider than its conventional-tail-swing counterpart. If you anticipate routine work where you or your operators must pass through narrow property lines or gates, a conventional-tail-swing excavator may be a better fit.
The typical width of a conventional tail swing, such as a 3- to 4-metric ton compact excavator, is about 60 inches, whereas a zero- and minimal-tail-swing excavator with similar weight and performance will have a width of about 70 inches. Some manufacturers also offer a retractable undercarriage in select compact models when you need a machine that won't sacrifice over-the-side lift capacity for accessibility through tight entryways like fence gates and doorways.
2. Jobsite Limitations
As jobsites become more diverse, selecting an excavator that meets the jobsite is crucial. With the advent of electric excavators, operators can now take on work in additional areas.
Producing no emissions, electric excavators can tackle tough jobs on environmentally sensitive sites, as well as operate indoors, where engine exhaust is restricted. Because electric excavators offer significantly lower noise levels and vibration, they can also work in urban areas and other sound-sensitive jobsites where noise restrictions can limit work hours.
3. Arm Configurations
Standard arm configurations provide maximum breakout force and greater digging performance, while long-arm options provide additional reach without sacrificing much digging power.
Extra reach, combined with higher dump height, allows you to do more work without repositioning the machine and makes loading trucks easier. The long-arm option includes a larger counterweight to enhance your excavator's lifting capabilities.
If you need even more reach, some manufacturers offer an extendable arm option for select compact excavators. It offers the best of both worlds: power and lifting performance combined with the ability to extend the machine's dig depth and reach when you need it.
4. Power & Performance
Next, you should consider the specific tasks you need an excavator to perform. Smaller compact excavators can bring precision and power to confined areas, but they will offer less digging force and lower lift capacity than midsize compact excavators.
Larger models can accomplish more demanding tasks with powerful hydraulics and higher horsepower. At this stage of the decision-making process, pay attention to equipment specifications like rated lift capacity, digging force, dig depth and horsepower.
5. Comfort Features & Technologies
Operators spend a lot of time in the cab, so it's important to consider comfort features when adding an excavator to your fleet. Simple features like an enclosed cab with heating and air conditioning, low-effort selectable control patterns and overall ergonomics go a long way to creating a comfortable work environment.
An essential feature in the compact equipment industry is wireless communication technology — also referred to as telematics — which allows you and your operators to maximize uptime and provide better peace of mind. The technology uses electronic sensors to collect machine-specific data which is sent via wireless network to a mobile device or computer and can improve security.
With some of the higher-end display technology, you can adjust hydraulic flow and monitor on-board diagnostics, which will allow you to optimize uptime and serviceability. Select displays also provide Bluetooth connectivity, rearview camera display, attachment monitoring capabilities and operator productivity information.
Hydraulic activated systems allow you and your operators to save time and energy: Secure attachments within seconds by pressing a switch inside the cab to connect the machine's attachment.
6. Transportation Considerations
The weight and size of an excavator is just as important when you're not operating. Double check the load capacity of any vehicle and trailer you plan to use to haul your excavator before selecting a machine size. Due to their size, large excavators require different transportation equipment than compact excavators. If you are used to towing your compact excavator behind a pickup truck, you'll have to adjust your line of thinking when looking at an excavator in the 10-ton and larger size range. The size and weight of these machines call for a larger truck-and-trailer combination compared to a compact excavator.
In addition to securing the proper transportation setup, it's important to take weight-limited roads or bridges into account. If your equipment is over the weight limit, alternative routes may need to be considered. Each model is different, so it's important to confirm and check the weight against all legal requirements and acquire appropriate permits if needed.
7. Jobsite Demo
Above all, the best way for you to compare excavator models is to operate them on your jobsite. Not all excavators are created equally, and operating a machine in everyday situations goes a long way in helping you see how it would perform as a member of your fleet.
During the demo, be sure to examine the machine's versatility, operator comfort, ease of routine maintenance and, of course, performance, so you know exactly what to expect from your most recent equipment purchase.
The addition of an excavator could drastically improve your fleet's productivity and versatility. But before you buy, make sure you have considered all the factors involved, so you can find the best fit for you and your equipment operators.