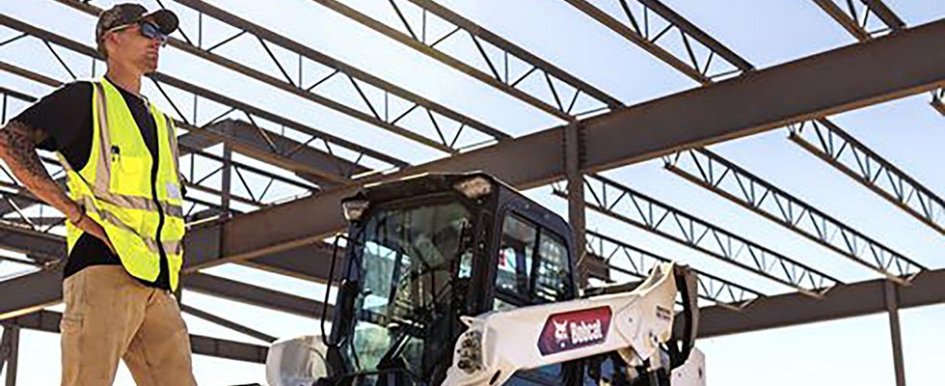 Guidance on the ins & outs of today's top options
Tuesday, December 6, 2022
Whether you're a longtime compact track loader (CTL) owner/operator or in the market to enhance your equipment fleet and offerings, there is no question that matching the machine to the job should be a top consideration. It's a first step that will offer increased efficiency and uptime, as well as easy regular maintenance. In addition, CTL attachment options offer versatility that's hard to match. With all the new CTLs on the market, owners have more choices than ever before. Take the time to evaluate your purchasing decision using the following guidelines.
Features & Benefits
When choosing a CTL, be sure to let the dealer know exactly what the machine will be used for. Do you need something that fits well in tight spaces, or do you have plenty of room on new construction sites? Are you picking up material and loading it into a truck, requiring extra lift and reach, or are you doing final grading work? These are all important parameters that help a dealer best understand your needs.
Lifting performance is one of the most important factors to consider. Larger track loaders are engineered with a higher-rated operating capacity, allowing them to handle heavier loads of aggregates and palletized materials, such as brick and blocks or bags of cement sand. If that's what you move on a daily or weekly basis, then rated operating capacity should be one of the top machine specifications being evaluated. When it comes to lift arm design, some manufacturers offer a choice between loaders with a vertical lift path and a radius lift path. A vertical lift path loader provides higher lift capacity and more reach at full lift height.
Because maximum reach is achieved at full lift height, a vertical lift path loader makes it easier to clear high-sided trucks and hoppers and perform jobs that require repeated lifting at taller heights. While a vertical path loader may have a higher initial cost, its utilization and resulting job profitability could be better for your particular operation, and these machines usually command higher resale prices.
A radius lift path loader, on the other hand, raises the load in an arc that provides maximum reach at truck bed height. A radius lift path machine excels at jobs with midrange or lower working heights, like dumping material over a wall, backfilling, loading and unloading flatbed trucks, and leveling or grading.
The length and width of a compact loader's tracks have a direct effect on ground pressure and traction. Narrow tracks provide better traction and maximize ground pressure on hard surfaces or slippery ground. Contractors may consider a wide-track option to lower ground pressure and increase floatation when working in wet, muddy or sandy conditions. It's also important to assess your auxiliary hydraulic flow needs. If a variety of attachment operations make up a significant portion of your work time, it increases your productivity and your overall return to have machines and attachments with good hydraulic capabilities.
Understanding Flow
Prospective buyers today have different auxiliary hydraulic options to choose from:
Standard flow for normal operating conditions and a wide array of attachment compatibility.
High-flow systems that offer increased flow at standard pressures or increased flow at higher pressures to enhance attachment performance.
High-flow, high-pressure systems result in greater productivity for attachments designed to work with the increased flows and pressures. Higher pressure adds up to greater hydraulic horsepower and faster, more efficient results in demanding applications. The environment the machine will be working in is another important consideration, including dust and debris in the summer or cold, and snowy conditions in the winter. Pressurized cabs provide the operator excellent protection from the elements while maintaining a comfortable temperature inside the cab.
Best Practices
When it comes to operation and maintenance of a skid steer loader, it's always best to follow the manufacturer's instructions that come with the machine. Match the machine to the job. Utilize smaller machines for tight work areas, and larger machines for those applications requiring more material to be moved or loaded.
If you're using hydraulically powered attachments like a breaker, be sure the auxiliary flow is within the appropriate range for the breaker.
Following the recommended operation and preventive maintenance guidelines will ensure a machine performs efficiently and will hopefully ward off any unscheduled repairs, providing the best return on your investment. Machine performance varies based on who is operating the equipment. If a foreman or owner notices one person operating more effectively than another, determine the differences and implement those efficiencies when training new operators.
In addition to daily greasing and fluid-level checks along with visual inspection of the machine and attachments, examining undercarriage components is an equally important maintenance item.
Most manufacturers' idlers and rollers are permanently sealed and lubricated; however, they — along with sprockets and tracks — may need to be replaced periodically depending on a machine's use. The occasional track tensioning can be done with a common grease gun, and tracks can be replaced in less than an hour on some machines.
Attachment Versatility
The breadth of attachments enables owners to utilize the CTL in various applications through low initial investment with great return and also provides the option of year-round operation.
If a one-off job opportunity comes along, it's easy to rent an attachment, and in many applications, compact equipment coupled with application matched attachments works as well or better than dedicated machines.
Compact equipment can perform a wide variety of tasks on most jobsites. Owners will realize the best return on their investment and maximize profits when they have the correct machines and attachments to complete the job.