Find the best equipment to avoid downtime & maximize ROI
Thursday, January 28, 2016
Contractors put a ton of faith into their equipment, tools and crews to complete projects on time and below budget. Whether purchasing or renting, contractors expect that the equipment will perform as promised and come with a relatively simple maintenance schedule. It just makes sense to find the best equipment available to avoid downtime and maximize ROI. This is especially true with compaction equipment.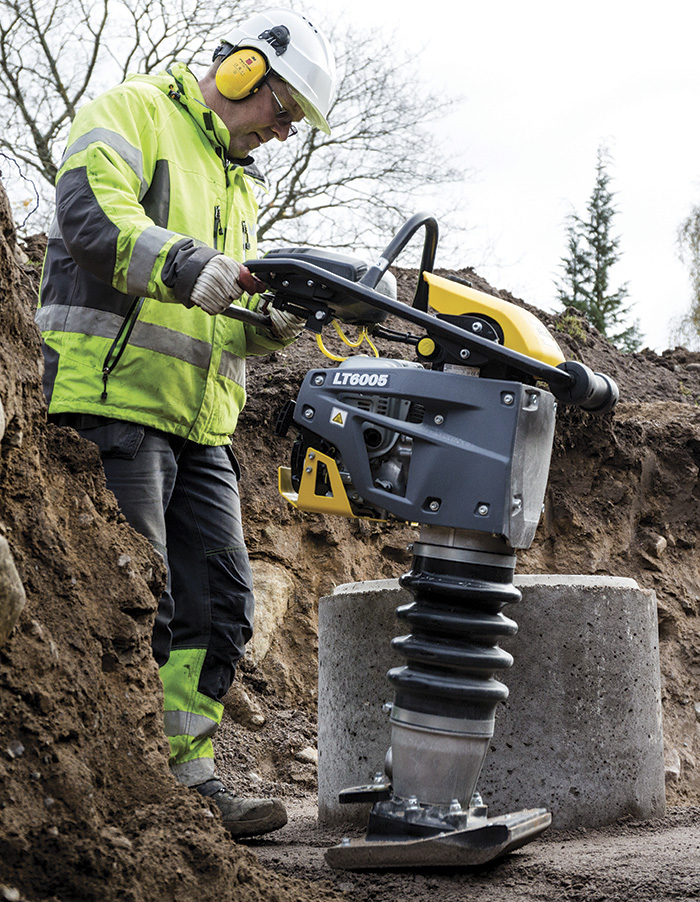 Why compaction equipment?
Compaction equipment is one of the fastest growing and most diverse product lines, from tampers to plate compactors and trench rollers to asphalt rollers. They compact materials in trenches, around foundations, and in landscaping and roadwork. Additionally, the growing need for housing developments and road construction repairs means more contractors will be looking to replace old equipment to tackle their growing project lists.
Small equipment, big results
Light compaction equipment is a good addition to a fleet because of its high ROI and the range of projects it can handle, including compacting soil in trenches and asphalt on pathways. Select compactors that are dependable and easy to use and maintain to ensure several years of use with routine maintenance. Such equipment also requires a relatively minimal investment. Look for units with productivity enhancing features that reduce service time and are highly maneuverable.
For forward plate compactors, choose units with integrated water distribution systems that don't require piping. This prevents the plate from collecting asphalt and virtually eliminates the risk of clogged or broken water systems.
When looking for reversible plate compactors for larger pavement jobs, choose models that feature eccentric weights. These types of weights do not require regular oil checks like standard weights, which minimizes downtime. For compaction work in the narrowest of areas, choose a rammer that allows workers to achieve maximum productivity. Lightweight units with narrow tamping feet make it easy for operators to maneuver close to obstacles. To minimize servicing downtime, some manufacturers incorporate large air filters in the top of the rammers that operators can change without using a single tool.
Contractors should also consider trench rollers, especially if they are assisting with utility projects. Operators can move the units by hand or a remote control. This allows them to compact soil in potentially dangerous areas. Trench rollers feature a smooth or padfoot drum for optimal traction and compaction on the toughest soils. Contractors can also use trench rollers to prep soil before laying concrete. Look for units that have easily accessible engines and components.
Big equipment, big potential
Light compaction equipment allows contractors to tackle small or midsize projects, but with larger soil and asphalt rollers, contractors can position themselves as a one-stop source for big applications, including city streets and highways.
Cross-mounted engines on soil rollers sit perpendicular to the frame, rather than parallel. This allows technicians to easily reach all necessary components and the hydraulic pump inside the engine compartment, so maintenance is easier and faster. Also, consider features than can prevent unnecessary maintenance altogether.
Corrosion-free water tanks and sprinkler tubes on asphalt rollers prevent rust from forming inside and clogging the water system. Some asphalt rollers—51-inch wide drums or smaller—feature self-draining sprinkler tubes and nozzles. During freezing temperatures, these can help prevent ice from expanding inside if water is left in the lines.
Contractors often use soil and asphalt rollers 8 to 12 hours per day, so if the operator needs to strain or bend to see the drum edge and working surface, it could impact their productivity. Choose units with sliding seats and user-friendly controls that move with the operator to provide optimal visibility of the working surface and drum edge and eliminate the need to lean or twist. Also consider what it will cost the contractor to run the unit. Rollers with rpm-management systems can reduce fuel consumption as much as 15 percent by automatically idling the diesel engine after 10 seconds in neutral.
Intelligent compaction (IC) systems on soil and asphalt rollers also enhance operator productivity. Having an IC system optimizes compaction by providing real-time data. Some IC systems use global navigation satellite systems to track the number of completed passes, and drum-mounted accelerometers measure the surface's relative material stiffness. This means the operator can review stiffness results to minimize the number of passes almost immediately.
The system also allows the contractor to set project parameters, which alert the operator after achieving optimal compaction levels. Contractors can also use the data from IC systems to prove to regulating agencies, such as state departments of transportation, that compaction standards were met.
This minimizes the risk of litigation or having to restart the project.
When considering IC systems, look for units that offer excellent mapping capabilities, which show missed areas, spots that need additional passes and where over-compaction occurred.
Additionally, look for an IC system that works on both asphalt and soil, allowing the accelerometers to measure the drums' responses to ground conditions about 3 to 5 feet below the surface, not just the asphalt mat. That way, as surface density increases, the frequency response of the drum changes. The accelerometers measure that frequency change, which registers on the display inside the cab.
After the Sale
As with any equipment, manufacturer support after the initial sale protects the contractor's investment and extends the service life of the machines. Equipment training from the dealer or manufacturer maximizes operator productivity and reduces the risk of premature equipment wear, especially on pavers, soil rollers and asphalt rollers. Most manufacturers include operator's manuals, but look for ones that also post them online.
Consider a manufacturer that offers a wide breadth of products. This eliminates the hassle of sourcing a variety of machines from numerous manufacturers to complete an equipment fleet. Plus, it's more convenient for contractors to order any replacement parts or materials.
Crush the Competition
Selecting the right compaction equipment might seem like an easy task, but taking the time to look at how each feature impacts the overall operation can have big payoffs. From cross-mounted engines to compact footprints, it's these features that will feed a contractor's productivity and profits.