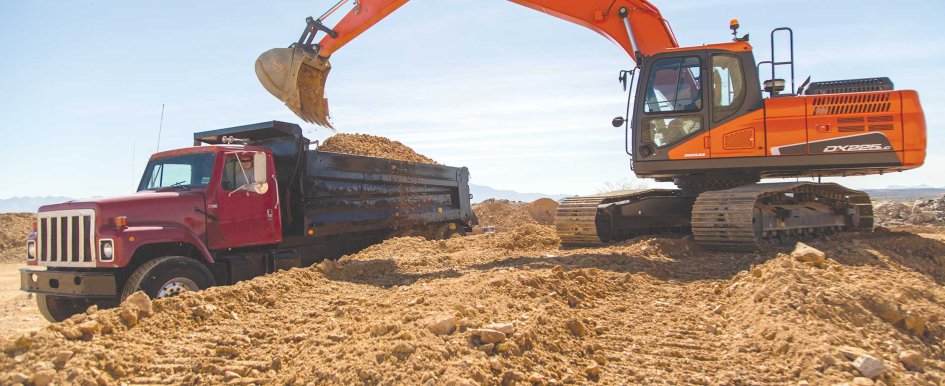 Evaluate criteria to decide between conventional & reduced-tail-swing crawler excavators
Thursday, February 2, 2017
Most contractors would agree that crawler excavators are a staple product in any construction company's fleet. These machines regularly handle the heavy digging, lifting and loading in a variety of construction applications. There are two tail-swing types: conventional tail swing and reduced tail swing. So which one is best for you? There are several key factors that may influence your choice between conventional-tail-swing crawler excavators and reduced-tail-swing models. You may be able to improve your jobsite productivity by closely evaluating your typical jobsite conditions and implementing a reduced-tail-swing machine into your construction equipment fleet.
The most common excavator type is a crawler excavator with a conventional-tail-swing configuration. Conventional-tail-swing excavators have a rear counterweight profile that extends beyond the machine's steel tracks when the house rotates, optimizing performance in digging, loading and lifting applications. However, some manufacturers offer excavators with a shorter/reduced tail swing to work on confined jobsites without sacrificing performance. A reduced-tail-swing excavator configuration is ideal for working in limited or restricted spaces, since the machine's counterweight profile typically extends inches, rather than feet, beyond the machine's tracks. Before selecting a conventional or reduced-tail-swing excavator, you should consider the following: typical jobsites, key machine specifications, attachments, machine efficiencies and maintenance considerations.
Jobsite Location
Excavators are routinely operated on a variety of small- and large-scale construction projects. It is important to properly match your machine to its work to maximize productivity. Conventional-tail-swing excavators are most often operated in excavating, grading and site development, where space constraints are not a concern. They are also commonly used on infrastructure commercial building site projects to load material into trucks. However, it is not always possible to put a conventional-tail-swing excavator on every jobsite. In many cases, space is limited and your crews and equipment are maneuvering around several other pieces of equipment or permanent structures. For these reasons, excavators designed with a reduced-tail-swing configuration are gaining popularity. Reduced-tail-swing excavators are used primarily in congested urban areas, such as road and bridge construction projects, where traditional excavators cannot fit as easily. For example, the reduced-tail-swing radius may allow excavator operators to work in one lane of a street or highway without blocking traffic in the adjacent lane. Reduced-tail-swing excavators are ideal when digging and backfilling trenches in a confined area.
The trend with reduced-tail-swing excavators is on the smaller side of the crawler excavator spectrum, typically between the 14- and 30-metric-ton size class. The smaller stature, coupled with reduced tail overhang, creates a popular combination for both transporting the excavator and operating it. Available as an option for some reduced-tail-swing models, the crawler excavators may be equipped with rubber track pads. This option may be popular if you are working on established surfaces to minimize ground disturbance, especially when compared with traditional steel tracks on crawler models. It may also save you and your crew time because you may not need to lay down plywood or other types of mats to minimize surface damage.
Dozer blades are another option available for some smaller crawler excavators. Simplify backfilling and use your excavator to fill, smooth and level trenches more efficiently. A smooth cutting edge on the excavator's bucket allows you to clean right up to the edge of the dozer blade, reducing further cleanup.
In addition, the design of the dozer blade is suitable for moderate site grading, reducing the need for other equipment to complete the task.
Key Specifications
You should also review the machine's specifications and determine what configuration will meet your expectations. It can be difficult to narrow down the specifications of conventional and reduced-tail-swing excavators, but reviewing the machine's specifications is as fundamental to a purchase as a hands-on demonstration. Core excavator specifications that should be taken into consideration include:
Arm breakout force
Engine horsepower
Hydraulic flow
Lifting capacity
Maximum digging depth
Maximum loading height
Maximum reach, ground level
Operating weight
Attachment Versatility
You may think conventional-tail-swing excavators are more versatile than reduced-tail-swing models. However, reduced-tail-swing excavators can be just as versatile when paired with the right attachments. In addition to standard buckets, three of the most popular attachments are quick couplers, hydraulic clamps and hydraulic breakers, which offer a low initial investment with a high rate of return. For example, clamps enable precise movement and positioning and help secure material for superior loading and material-handling applications. When not in use, clamps can be retracted, making the attachment excellent for demolition, site preparation and land-clearing applications, as well as when the excavator operator is using a lifting mode to lift and place materials.
Machine Performance
Many excavator manufacturers continue to refine their designs and improve the optimization between the engine and hydraulic system for greater efficiencies and improved fuel economy. Some machines, both conventional and reduced tail swing, are designed with variable-speed-control technologies to reduce engine rpm during low workload requirements. This reduces the total energy required to perform a task and can measurably improve fuel efficiency. With pump torque control, your operators can effectively match a machine's hydraulic pump torque and engine response to the task, preventing engine overload and excess fuel consumption.
Maintenance Considerations
Both conventional and reduced-tail-swing crawler excavators have similar maintenance considerations, especially when used in construction applications.
Excavator owners should closely follow the maintenance interval schedule provided by the manufacturer in its operation and maintenance manual. As a general guideline, it is a good idea to clean your excavator on a regular basis, especially when performing service or maintenance procedures. Perform daily lubrication duties in addition to other key maintenance intervals recommended by manufacturers. It is also important to routinely complete a full undercarriage inspection for excessive or uneven wear. The tracks should also be inspected to see if any components look out of place. If so, this could indicate a loose trackpad or a broken track pin. Rollers, idlers and drives should also be inspected for oil leakage. Oil leaks could indicate a failed seal, which could lead to a major failure in the rollers, idler or drive motor.
The best method for comparing conventional-tail-swing and reduced-tail-swing excavators is to demo them side by side in your specific application. You should operate the two types of excavators in real-life applications, so you can better assess which tail-swing configuration will have the most benefit on your jobsite.