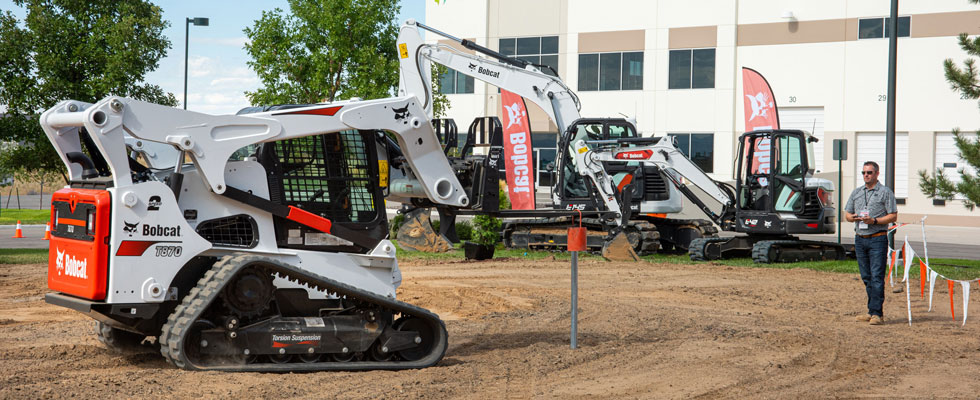 The innovation offering equipment operators a new way to perform old work
Tuesday, December 10, 2019
The childhood dream of having life-size, remote-controlled compact equipment is now a reality. In fact, remote-control technology has become a new market segment for most major compact equipment manufacturers.
But what exactly is a remote-controlled machine? Precisely what it sounds like: The advanced technology allows you or your compact loader operators to control your machine and the work it does from outside the cab, through the use of a transmitter strapped around the neck or a smartphone app.
Benefits of Remote Control
Most remote-control technology is completely portable, designed to work in even the harshest of working environments, and used primarily for skid steer and compact track loaders with joystick controls. One of the main advantages of remote-control operation is the ability for you and your operators to have complete visibility of the machine without having to be inside the cab. 
Being able to stand outside of the machine allows you to see every angle and adjust accordingly. You can also operate more effectively by navigating confined jobsites from outside the cab and by having more control when operating various attachments. 
Additional benefits of this technology are the opportunity for enhanced operator comfort and a more flexible working environment. For example, if you or your equipment operators are unable to sit in the cab of a loader for a full 8- to 10-hour shift for any reason, you can work outside of the cab without losing any productivity for the day.
With remote-control operation, you can keep projects on the established timeline regardless of where you're operating. This technology also brings opportunities to individuals who are unable to climb into the cab due to injury. 
Life-Changing Technology 
Trevor Brown had run a successful cabinetry business with his wife out of a shop on their family acreage for 15 years when he underwent a routine surgical procedure to fix a neck problem. When he woke up in the intensive care unit, his world was rocked by the news that he was paralyzed. He could no longer perform the work he loved and did every single day, leaving a majority of the acreage maintenance to his wife and kids. 
He and his wife were determined to stay in the woodworking industry and were able to rebrand their cabinetry business with other forms of technology in the shop. This, however, did not address the major workload still left on their acreage. Brown questioned whether or not the life they had known for decades was sustainable. But then, his and his family's lives changed when he upgraded to a compact track loader with a radio remote-control kit. 
"I can grab this thing off the countertop and put it over my shoulders, start the machine and go," said Brown. "It's been a game changer for me because, for quite a few years, I've had to sit here not able to tackle the jobs that I'm looking at on the yard. And now I have a way to do it." 
New Ways to Work  
For work that often requires two people, remote-control technology can be immeasurably helpful because it changes those jobs to one-person tasks. A single operator can load trucks without making countless trips in and out of the cab, and use a pallet fork to lift, carry and place building materials.
Compact loader operators can also utilize remote-control technology when working on jobsites with a higher safety risk, when using a breaker attachment during demolition or when unloading hazardous materials on a barge, for example. By utilizing remote operation of machinery, contractors improve their time savings and efficiency. It's also advantageous for recruiting new operators and retaining current employees, as crew members want to work with the latest technologies that make their jobs easier.
Latest Advancements 
Every year, technology has a way of innovating and advancing faster than other segments of the industry. Remote-control technology is no exception. Instead of using a large remote control that straps over an operator's neck, some manufacturers have developed systems that provide a convenient, easily accessible way to operate compact equipment using an app on a smartphone or tablet.
By having the system literally in your pocket at all times, you don't need to plan out when you're using remote-control technology on a jobsite—you can pull it out of your pocket at a moment's notice, enhancing your productivity and service offerings. You also don't need to purchase multiple remote controls for your crew, as each of them likely has a smartphone already sitting in their pocket.
The addition of remote-control technology could improve almost every aspect of your business—from your bottom line to the way you recruit and retain employees. And for those of you like Trevor Brown, who find yourself questioning how you'll continue operating the machinery necessary to complete the industry work you love, remote-control technology may have the power to save your business. 
In today's business landscape, it may be ideal to expand your fleet, not with another piece of machinery, but with one of the latest forms of compact-equipment technology. You can never go wrong when you're moving forward—especially remotely.