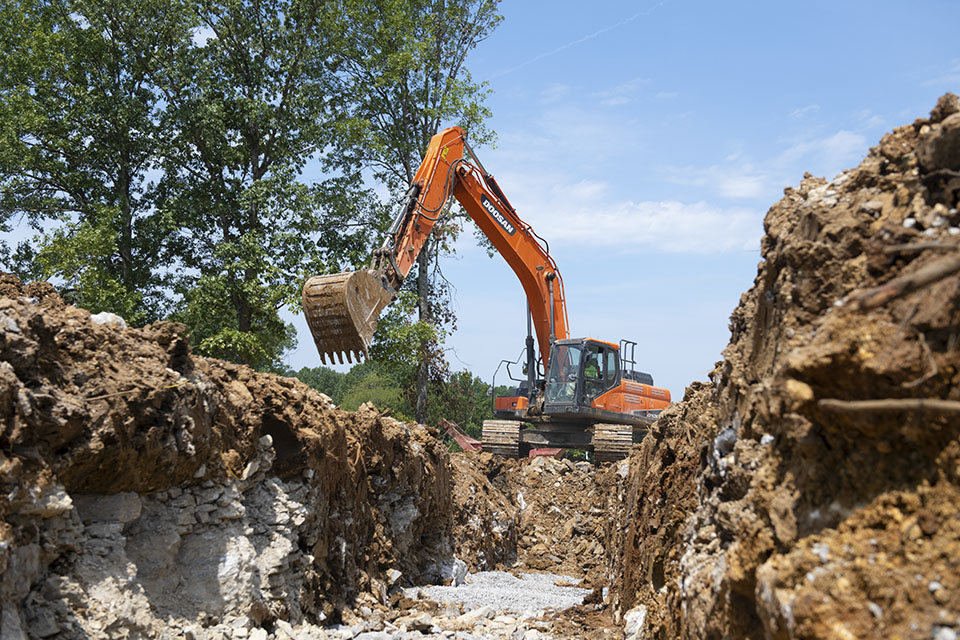 Exploring equipment options designed to best suit your business
Excavators continue to hit the market in increasingly bigger and smaller sizes—as exhibited at CONEXPO-CON/AGG 2020 earlier this year—reflecting a fundamental truth about equipment buying: not all contractors need the same excavator. And not every contractor needs the same 42-ton machine. 
That's why manufacturers now offer an array of configurations and customizable features for their machines. Long-arm configurations, added counterweights and rubber track pads are a few options that allow excavators to be tailored like never before. Today, many equipment manufacturers employ customization centers that let customers get the exact machine they need through their dealer—avoiding the added costs and wait times of aftermarket parts centers. 
With all the options available, exploring all the possibilities for your next excavator is key. Here's what to consider when it comes to matching configurations with your company's needs.
Two Questions for Arm Configurations
Matching an excavator's configuration to your jobsite tasks starts, of course, with your tasks: What work will this machine primarily do? This question can help inform your decisions on arm configurations and, accordingly, counterweights. Ultimately, you're looking at two questions: 
How quickly do you need to move materials? 
How far do you need to reach to dig or lift those materials? 
If you need to move a lot of dirt fast, you'll benefit from a shorter arm that packs more breakout force. Such an arm will handle a larger bucket more easily too, helping you move more material per pass. Need to dig lower, though? Dump higher? Then you'll want to consider a longer arm option. 
The difference between a standard arm and a long arm can be 2 feet or more. For example, Doosan's DX225LC-5 crawler excavator comes standard with a 9-feet-6-inch arm, but the long-arm version extends to 11 feet 6 inches—an addition of two feet. Adding the long arm improves your dig depth accordingly, from the standard arm's 24 feet 8 inches to the long arm's 27 feet, 2 inches.
Jobsite environment should be considered, too. If you're cleaning up shorelines on a coast or need to work over a retention pond, a super-long-reach arm configuration may prove crucial. Just remember that a longer arm could result in less stability and less breakout force—it's always a trade-off.
Determining that ideal give and take between speed and reach for your next excavator will help you find the best arm configuration. That, in turn, will guide your decision on counterweights.
Weighing Counterweight Options
Adding a longer arm option to your excavator will almost always require a heavier counterweight. That ups the overall weight of your machine. So if you plan on transporting your machine often, you'll want to consider the removable counterweight option available on some crawler excavators.
Precise mechanisms vary by manufacturer, but removable counterweight options can let you lower a counterweight away from the machine and to the ground or a flatbed trailer. This added convenience lets you move the machine more easily without needing a crane on-site to move the weight: just lower the weight, secure it to your trailer and go.
Beyond arms and counterweights, there are myriad other configuration options to consider. These include rubber track pads for work on established pavement, rain shields for inclement weather, and even side-view cameras. Such cameras prove especially helpful on sites with several machines, or even several contractors, by adding visibility and safety for operators.
More Options, Less Waiting With Customization Centers
Taking advantage of these configurations has never been easier, thanks to the customization centers in North America employed by equipment suppliers. Such centers import stock base machine configurations from overseas factories before adding specific configurations on a made-to-order basis stateside, letting customers get their customized machines sooner—often months in advance. 
Whether a customer needs a specific boom or arm—or even wipers, an added working lamp or a beacon—customization centers let contractors receive their machines when and how they want them. That eliminates the need for aftermarket service, saving time and money. Ask a dealer whether a prospective machine's manufacturer employs a United States-based customization center and what options are available.
Knowing the full gamut of configurations available to you and fully assessing your specific needs during upcoming work will empower you to make the smartest choice for your new excavator, resulting in a customized machine that's more productive (and profitable) for you.