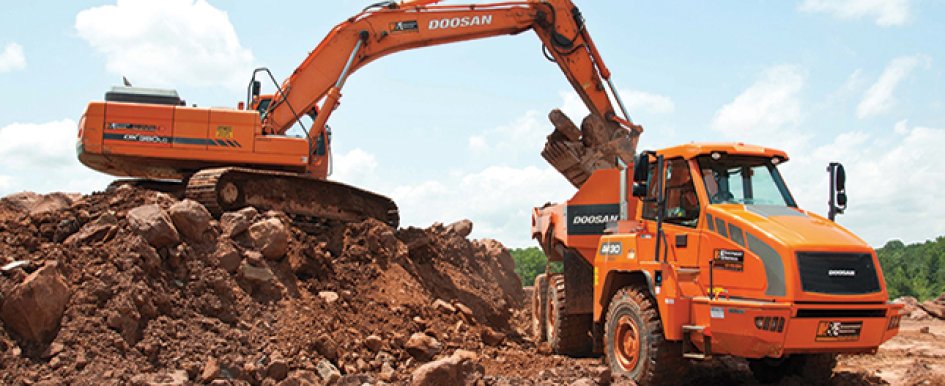 Emissions standards are building a bridge from compliancy to productivity.
Without question, the journey toward federally mandated Tier 4 emissions-compliant engines has presented construction equipment manufacturers with challenges and opportunities at a magnitude the industry has never experienced before.
The Environmental Protection Agency's (EPA) Clean Air Act introduced Tier 1 standards for equipment starting with the 75.1 to 175 horsepower class in 1998. Increasingly more stringent standards were introduced with the Tier 2 and Tier 3 stages. Most recently, interim Tier 4 and Tier 4 phases have been launched and will be applied to engines ranging up to 750 horsepower through 2015.
As equipment owners, you're likely familiar with at least one or more of these five phases. Their influence on today's advanced systems has created a great number of communications from manufacturers explaining their emissions technologies, why these advanced systems are required and how new maintenance procedures may impact your business. An overlooked message in these technical discussions is that, while environmental improvements are driving each phase of the standards, both compact and heavy classes of construction equipment also have been enhanced with more machine performance.
During this time of great innovation, some manufacturers are making performance features standard, while other manufacturers are providing enhanced features as options on their equipment. No matter who you choose to partner with, make sure you know if you're getting more than an emissions-certified engine for your investment.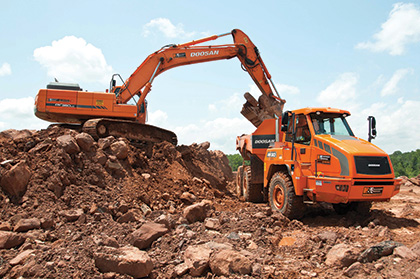 The Doosan DX350LC (left) now features a combination of structural design enhancements, productivity increases and the addition of various power and lifting modes. The DA30 (right) offers increased engine power and torque, higher payloads, lower fuel consumption, enhanced operator comfort and faster travel speeds.
Streamlining Emissions solutions
Each compact and heavy equipment manufacturer—whether producing fuel-powered machines or hybrid models—has selected an emissions solution for its products. The majority have adopted a strategy that includes some (or possibly all) of the following items: diesel oxidation catalyst (DOC), diesel particulate filter (DPF), cooled exhaust gas recirculation (CEGR) and selective catalytic reduction (SCR) system.
While all of these technologies are changing the equipment landscape, one of the industry's newest developments involves eliminating the diesel particular filter. With the recent progression of technology, compact equipment manufacturers have started to streamline the overall diesel engine solutions needed to eliminate harmful toxins. New non-DPF designs have emerged recently, providing unique advantages—most notably, machine operation simplicity. Without a DPF and the necessary regeneration process that accompanies it, maintenance costs and machine downtime can be reduced.
Expanding Compact Equipment Performance
Compact loader and excavator manufacturers who have planned key design changes in conjunction with their emissions initiative, have leveraged the compliance time line to build in more than just engine performance. These enhancements include increased torque, reduced noise levels, increased fuel efficiency and panoramic serviceability.
Some recently released Tier 4 compact loaders and excavators also feature upgraded machine protection systems. Prior to Tier 4 regulations, these machines monitored engine coolant and hydraulic oil temperatures. If these functions fell outside of their normal operating ranges, the system alerted the operator and shut down the machine to prevent catastrophic damage.
With the Tier 4 engines, machine shutdown is still possible when needed. However, instead of shutdown being the only solution, the system monitors coolant and oil temperatures and manages the engine to prevent temperatures from reaching a point where the machine must be shut down. This prevents engine damage, minimizes engine wear and keeps operators working.
Emissions compliance also drove the exploration of engine enhancements that solve traditional cold-weather operating issues. With some new designs, a machine will temporarily limit the maximum engine speed (rpm) if engine temperature gets too low in order to prevent premature component wear or failure. At the same time, an engine's idle speed is also raised slightly to help it reach its operating temperature faster. Once the engine oil reaches a specific temperature—generally within a few minutes—the process will deactivate, and the machine will function normally.
Increasing Heavy Equipment Productivity
Customers continue to share feedback that their ability to increase productivity and decrease operating costs is in direct proportion to their ability to reduce downtime. Many brands are receiving this same response.
While most heavy equipment manufacturers have adopted solutions for the final phase of emissions compliance, many more strategies are still being tested. However, as our industry collectively has focused on upgrading emissions technologies, we've simultaneously made big strides in improving the structural design of our machines, instrumentation systems, quality-control processes and fleet management methods to provide owners more value for their investments. The result is a number of productivity enhancements that are coinciding with reduced emissions including increases in swing torque, digging force, lifting capacity and diagnostics systems. These enhancements vary from manufacturer to manufacturer and are important discussion topics for your local dealer.
New excavators and wheel loaders now often feature different lifting modes that provide greater efficiency for specific applications such as digging, breaking, shearing and lifting. Additionally, some new machines include power modes that are designed to provide improved performance and a better balance of fuel consumption and machine power in specific working conditions. In heavy-duty applications, power modes will also provide faster speeds for work groups, such as an excavator's boom, arm and attachment.
Advancements in hydraulic attachment management allow owners and operators to configure several different attachment presets for one-way and two-way flow options and more compatible attachment couplers and changing mechanisms, further enabling operators to tailor their work tools to their tasks. Options such as intelligent floating booms for finishing work and straight travel features allow operators to streamline their work and travel in a variety of applications.
Manufacturers are also incorporating satellite-based platforms or "telematics" to help owners and operators strategically manage maintenance, monitor critical system outputs and failures, and speed up theft recovery, which are all important in lowering the cost of ownership.
What Innovation Means for You
If your business is in a position to expand its fleet in 2014 and 2015, you must grasp the Tier 4 strategy that the manufacturer of your preferred brand has adopted to ensure their focus aligns with your needs. As that company takes its next steps toward complete compliance, be aware of the additional advancements that are complementing their machines.
Only with this full picture can you clearly see that today's emissions-compliant equipment has ushered in an era of revolutionary benefits that can add greater value to construction equipment ownership.