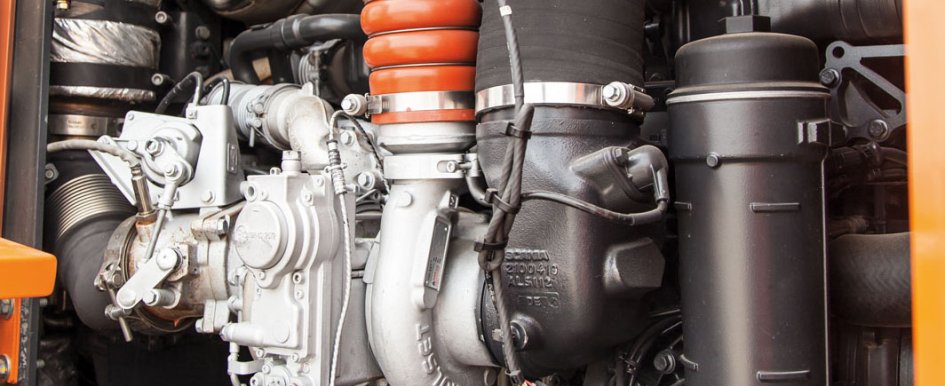 The tech, fluids & maintenance required for achieving better air quality
Without question, the journey to achieve Tier 4 emission requirements in nonroad machines—specifically crawler excavators, wheel loaders and articulated dump trucks (ADTs)—wasn't an easy one. In fact, it presented some significant challenges for equipment manufacturers to incorporate these new strategies and raised concerns about how the emission standards would impact business owners.
Today, many of these challenges have become opportunities. The development of more efficient technologies has promoted improved machine performance, better fuel economy and longer engine life—all benefits to your construction business. With a better understanding of Tier 4 diesel engine technologies, maintenance intervals and fuel management, you can become more knowledgeable about today's emission standards and their impact on your equipment.
Advanced technologies
Today, most nonroad construction equipment is Tier 4 compliant, as the machines have undergone testing on five different United States Environmental Protection Agency (EPA) emission tiers (Tiers 1 through 3, interim Tier 4 and then Tier 4), helping to lower harmful exhaust emissions and promote cleaner air. To meet strict EPA emission standards, multiple technologies—ranging from mechanical fuel-injection systems to electronic injection systems—are incorporated in various tier levels. 
Advanced technologies, such as electronic control units, high-pressure common rail systems, diesel-oxidation catalysts and diesel-particulate filters, have been added to help reduce particulate matter, thus leading to cleaner exhaust. Many Tier 4 machines have an additional system called selective catalytic reduction (SCR). SCR uses an ammonia- and water-based liquid called diesel exhaust fluid (DEF). Combining exhaust with DEF causes a chemical reaction that converts nitrogen oxide into harmless nitrogen and water vapor.
Diesel Exhaust Fluid
To help meet Tier 4 emission standards, many heavy-equipment manufacturers use DEF—a colorless, nonhazardous chemical—in most engines that have 75 or higher horsepower. The aqueous solution consists of 67.5% deionized water and 32.5% pure urea and is susceptible to variations in temperature.
If you store bulk DEF, keep the fluid in an airtight container that is out of direct sunlight, ideally between 12 degrees and 86 degrees Fahrenheit. When the fluid is exposed to heat and direct sunlight, its shelf life may be shortened. DEF can also freeze inside tanks, so it's best to keep the fluid above its freeze point of 12 degrees Fahrenheit. To thaw DEF tanks, engine coolant is used to heat the tank, allowing operation of the machine in subfreezing temperatures.
To help reduce contaminants, like dirt and dust, that are often introduced during fueling, fill the DEF tank directly from the DEF container with a funnel. When using a funnel or intermediate containers, keep the containers clean and use them strictly for DEF. Contamination can damage the catalyst in your SCR system and cause you to use more DEF than you need. Purity and concentration are critical, so work with your local dealer to better understand how to store and handle DEF.
Every 6 months, you or a professional diesel fuel cleaning and inspection service should test your diesel fuel supply tanks for contaminants. To help monitor your supply tank, maintain a preventive maintenance log that includes maintenance history, filter changes and particle counts.
Fuel Management Requirements
Improvements to Tier 4 engines help burn fuel in a cleaner manner and reduce harmful emissions. However, it's important to learn how to best adjust to this significant fuel-chemistry change (especially in relation to how water acts in the fuel) during each season and in all temperatures. Water can be introduced into fuel as early as the refinery stage and can continue to be present through the terminal, distributor and pump stages. 
During extremely cold weather conditions, water molecules can detach from diesel molecules. Since they are heavier than diesel molecules, they tend to settle at the bottom of diesel fuel tanks in machine and bulk-storage tanks, which can cause potential equipment engine problems and lead to bacteria growth within the tanks.
Today's lower sulfur amounts in diesel fuel, aiding in reducing harmful sulfur oxides, can lead to what is called "cold saturated fuel," which increases the tendency of fuel to gel and plug, or block, the fuel filter during cold weather conditions. To identify minor issues before they become major repairs, follow these fuel best practices:
Test bulk fuel tanks every 6 months.
Keep supply tank fuel filters clean.
Fill machine tanks at the end of each workday.
Use 2-micron fuel filters.
Prepare for cold weather and remove trapped water from your machine's fuel filter daily.
Attend a fuel-management clinic.
Ask a fuel supplier to confirm the fuel's cloud point.
Identify the market's high-quality fuel suppliers.
Matt Quinnell of Advanced Wall Structures in Prior Lake, Minnesota, says he uses fuel filters on his company's transfer tanks to ensure the fuel is clean before it goes in his excavators. The company uses crawler excavators with hydraulic rotating grapples to build boulder retaining walls.
In addition to clean fuel, Quinnell says his company keeps a readily available supply of DEF on hand. As the company's construction fleet has grown, he has considered buying a bulk trailer to keep more diesel fuel and DEF on-site. Although they're convenient to have on-site, it's critical to keep the tanks clean to avoid any issues with Tier 4 engines and aftertreatment systems.
Proactive Maintenance
When it comes to maintaining Tier 4-compliant machines, always follow the manufacturer's operation and maintenance manual. Staying on a routine maintenance schedule for engine oil and filters, and hydraulic filter changes, helps promote your machine's long-term durability.
Although most equipment maintenance schedules have not changed in the move to Tier 4, recommended oils have changed to CJ4 engine oils. These fluids are designed to work properly with aftertreatment systems while maintaining expected engine performance under proper service intervals.
Additionally, a non-diesel particulate filter (DPF) engine eliminates the regeneration process required to clean the accumulated soot from the filter. Since your machine doesn't have to burn extra fuel to heat up the filter during the regeneration process, you can continue operating without parking the machine for forced regeneration.
By understanding the technologies needed to make the shift to Tier 4 emission standards, the required maintenance, and how to properly store and handle DEF, you can better make the necessary changes to your diesel engines and perform the required maintenance procedures that accompany these technologies, allowing you to meet higher air quality standards.