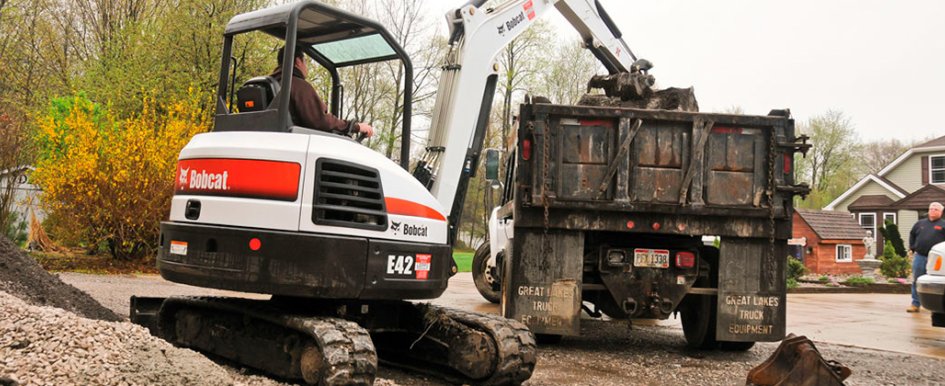 Connecting the dots between owners, operators & compact equipment
Tuesday, October 24th, 2017
Whether you are a veteran business owner or a newbie, now is more important than ever to understand emerging compact equipment technologies. If you have not researched or previously purchased compact loaders or excavators, you may be surprised at the amount of innovation and smart technologies available in today's machines. Depth guidance systems for compact excavators, grading systems for compact loaders and continued refinements to the instrument panels are three technologies that have helped make these machines considerably more and productive. These technologies monitor a variety of diagnostics and equipment functions as well as provide in-depth machine and operator performance metrics. When planning your next construction project, explore some the following innovative technologies found in compact equipment and see how these advancements translate into productivity gains.
Excavators Accurately Track Depth & Grade
Manually checking the grade or dig depth with a tape measure or stick receiver can be time consuming. With the implementation of depth guidance systems, compact excavator operators can set a desired dig depth and work against that benchmark using multiple on-board sensors that are built in to a forward-mount instrument panel inside the cab that can detect the exact position of the bucket's teeth. The instrumentation panel continually references the current and desired depths, while audible and visual alerts indicate whether the
operator is approaching the target, at the target or beyond the target.
The base system is laser-compatible and can be operated with a basic laser system, allowing the operator to benchmark off a laser signal instead of the trench grade. Plus, the laser helps excavator operators to grade or slope with a beacon or grade at multiple on-site locations.
Depth guidance systems can help prevent under-digging and over-digging and minimize the cost and time associated with backfilling, compacting fill material and completing manual labor to finalize depth or grade. The system is ideal for trenching utility lines, placing drainage ditches, digging basements, installing sewer lines and drain fields and preparing a site for footings or pads.
Loaders Precisely Grade Using Sensors
Manufacturers are also emphasizing loader technologies, including adding automatic grading solutions for more accurate results. Previously, loaders could be equipped with 2-D grading systems that would allow operators to set the desired grade from inside the cab and work off a single plain—either flat, single or dual slope. The 2-D systems work well when job conditions and applications rarely change.
Recently, manufacturers made modifications to grading solutions, making them more robust and leading to 3-D grading solutions. The 3-D grade control system has a variety of measurable benefits, including its ability to work off elevation coordinates set up around the jobsite, giving operators the ability to grade valleys, ditches and contours. In addition, the system can display point data, machine diagnostics and jobsite progress live from the field to an office computer.
This type of grade control system makes it easier for operators to complete construction applications: residential and commercial development, coastal engineering, road and highway building and land reclamation. Less rework, less staking and checking, lower operating costs, improved material usage and faster job cycles can improve productivity, allowing for a stronger bottom line.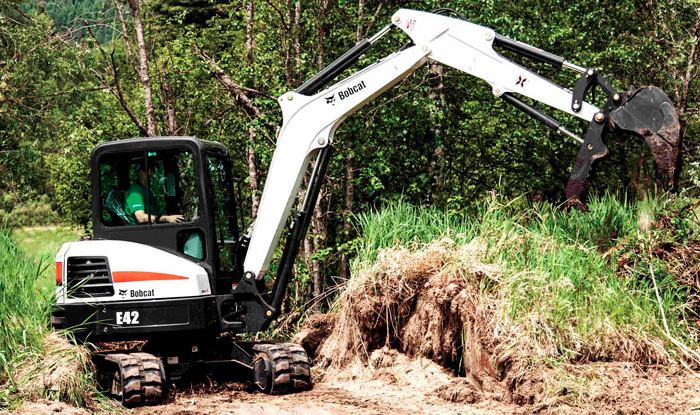 Display Provides More Details
In addition to depth and grade control technologies, multiple functions and controls are integrated into excavator and loader instrument panels, enhancing a machine's functionality to provide critical information to the operator.
For example, instrument panels can track individual fuel usage, real-time fuel consumption and idle time intervals in compact excavators and loaders. With this data, owners and operators can assess a particular type of job and more accurately estimate what aspect of a job requires more fuel.
Machine diagnostic and management technologies can be integrated into some instrument panels to monitor engine coolant temperature, engine oil pressure, hydraulic oil temperature and other essential machine functions. By having this onboard diagnostic tool, operators can potentially identify and solve problems while on the jobsite and help prevent issues before they occur.
Another benefit of advanced instrument panels is keyless start systems. Keyless systems prevent authorized use and help owners minimize the risk of theft. Only operators with preassigned passwords can start and run the machine. Passwords can easily be changed, and multiple passwords can be assigned to other employees.
Attachment communication on the instrument panel is yet another timesaving feature. An hour clock is displayed on the attachment screen and a special screen relays laser transmitter, receiver and blade position information to the operator. The panel also monitors specific activities for certain attachments.
A growing number of businesses employ operators who speak different languages. Some manufacturers have equipped compact equipment with operator instructions in multiple languages. Panel readouts of leading loader and excavator control systems can be accessed in English, Spanish, French and a variety of other languages. The language preference can be used throughout all panel communications, including startup, machine and attachment operation, diagnostics and troubleshooting.
Onboard technology continues to move toward greater sophistication, efficiency and ease of operation. Instrumentation improvements can translate into measureable efficiencies on the jobsite, so it is important to take time to understand how these technologies can increase operator utilization, cut operating costs and enhance operator productivity.
Remote-Ready Technology
When operators are working in adverse environments, they have the option to control a skid steer loader and compact track loader without having to be in the cab. An optional radio remote control system allows the operator to operate the loader from a distance, free from dust and noise. Advantages of radio remote control include:
Remote control system can be moved from one loader to another
Ability to start the loader engine and operate the drive, lift, tilt and auxiliary hydraulic functions using the radio remote control transmitter
Transmitter guard bar provides protection against bumping or damaging controls
Includes emergency stop (e-stop) buttons
If the operator trips and falls down, the system shuts down the machine