Consider incorporating this machine into your fleet for versatile performance.
Friday, December 14th, 2012
Mike Crimaldi knows track carriers. He was working with crawler-mounted drills before he had a driver's license, starting out as a driller's helper at age 15. As his company's drilling fleet grew, so did its service and repair capability. Eight years ago he transitioned out of direct drilling services to found Rig Source Inc. in Elburn, Ill. Since then, more and more customers have wanted to put crawlers under a variety of equipment that spanned the construction industry. By now Crimaldi has just about seen it all. Speaking from his 35 years of experience, he sums it up: "If you can mount it to a truck, you can put it on tracks."
Tracks provide a stable, versatile platform that can turn about in place to maneuver equipment precisely where it needs to be, and they do this with significantly less threat of damage to the worksite's surface. Additionally, tracks allow owners to keep equipment in the field when soil and weather conditions would park truck-mounted equipment, thus improving productivity.
Tracking the Industry
Though the most common mounts still tend to be flatbeds and dumpers, Crimaldi says, "One customer might have a flatbed to mount on a tracked undercarriage, the next a scissor lift. That's the exciting thing for us—the new uses we keep seeing for it." He has seen customers use the unit for mulch blowers, mat carriers, mobile epoxy coating machines, hydro-seeders, mobile cranes, tracked welding units, personnel carriers, water tank carriers and off-road service vehicles.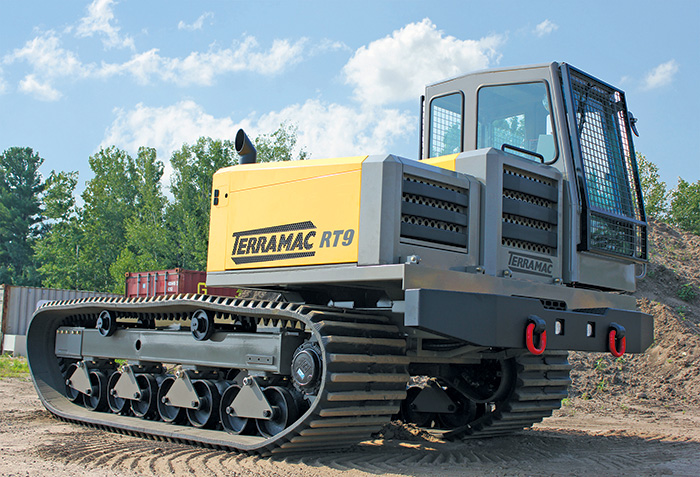 Crimaldi says the roots of the tracked carrier market can probably be traced to tracked dumpers. Contractors noted how they could be used on soft, wet ground when trucks would either cause too much damage or get stuck. As trucks wore out, owners found they could extend the life and utility of their equipment by remounting it to similar tracked carriers.
"They would get maybe another five to ten years of use out of their equipment," Crimaldi says, "but they were also finding that tracks gave them more flexibility for all ground and weather conditions."
Tracked carriers were originally designed for off-road use. Using rubber tracks eliminated the need to lay down lumber or matting to protect paved surfaces the rig might have to cross or work from. Advances in rubber track technology have made them highly durable and long lived. "Manufacturers don't bother much with steel anymore," Crimaldi says, "since so many customers have gone to rubber."
Choosing a Carrier
For customers deciding whether to mount certain equipment or which manufacturer to purchase from, Crimaldi defers to Rig Source's director of sales, Matt Slater. Are there cases where he'd advise against upgrading to tracked equipment? Slater couldn't think of any offhand. Rubber track carriers exert as little as 3 psi of pressure on the surface, and their terrain-traversing capabilities surpass those of trucks and trailers. Though they can't be driven to and from a worksite, transportation isn't a problem. Slater explains, "Most contractors already have a trailer to haul their equipment to the site, so they're set."
One potential limitation is size. Track carriers come in almost any size class imaginable, he says, but the greatest customer demand has been for what Crimaldi describes as "the largest carrier possible without requiring special permitting to transport it." Trailers with loads 8-feet and 6-inches wide or more require oversize permits.
Slater explains that, as far as manufacturers are concerned, most North American customers prefer to buy from North American vendors. The issue is not one of nationalism or even of technical superiority, however, and Slater notes that many of the overseas models are well made. Instead, it's a matter of maintenance. With many foreign models, he says, "The parts are proprietary to that manufacturer." He explains that the advantage of a wholly North American-made carrier is that parts and service can be found locally throughout the U.S. and Canada.
The degree of modification that an undercarriage needs in order to accept a given mount can also be an issue, as not all manufacturers can be accommodated easily. "We've had customers in the past who wanted to use a certain kind of winch on the front or rear of their rubber track carrier. The problem with some models was they had to literally cut off the carrier's bumper to be able to mount the winch."
Tracked carriers directly contribute to increased productivity, since they extend the company's onsite calendar. They provide a stable, highly versatile platform that can turn about in place to maneuver equipment precisely where it needs to be, and they do this with significantly less threat of damage to the worksite's surface.
When you think about it that way, putting a rubber track carrier under your equipment does exactly what you expect any equipment upgrade to do: reduce the pressure and get you from one job to the next quicker.