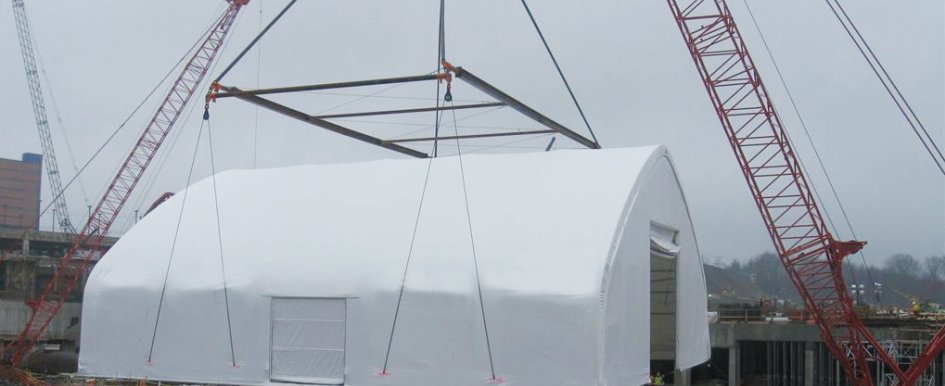 Understanding the benefits of transportable structures on your projects
When an operation needs to mobilize and demobilize quickly, it is crucial that the building itself is both highly durable and safe to transport. Conventional buildings made from steel, red iron or wood can have numerous obstacles when it comes to safe relocation. Disassembling a traditional building before transport requires disconnecting the water mains, electricity and other utilities, which can be dangerous if done improperly. While metal buildings can go up quickly, they do not reassemble well because of the bent metal and holes that are made during the initial build.
Fabric building installation and reassembly can take as little as three days, significantly less than it takes to construct a traditional building, and fabric buildings provide many advantages when it comes to safe working environments and portability.
Having a solid yet transportable foundation is the touchstone of every portable building project. Many fabric buildings can be built on pre-cast or poured concrete, blocks, piers or helical anchors, but for many businesses, these aren't the best solution for structures that need to be transported. A good option is a helical anchoring system, which requires little to no site preparation. The spiral-shaped anchors are drilled directly into the ground in a matter of minutes, and for structures that need to be transported they can be just as easily removed. While these anchors are ideal for temporary projects, helical anchors create a secure hold that is strong enough to be used permanently.
When businesses find that their job needs suddenly necessitate more space or storage, fabric buildings offer a number of useful options. Many fabric structures can be mounted on pony walls, shipping containers or concrete blocks to add extra height in a manner that is both fast and risk-minimizing. For additional storage, metal containers provide a sturdy foundation, while also creating a secure storage space that protects valuable equipment and tools.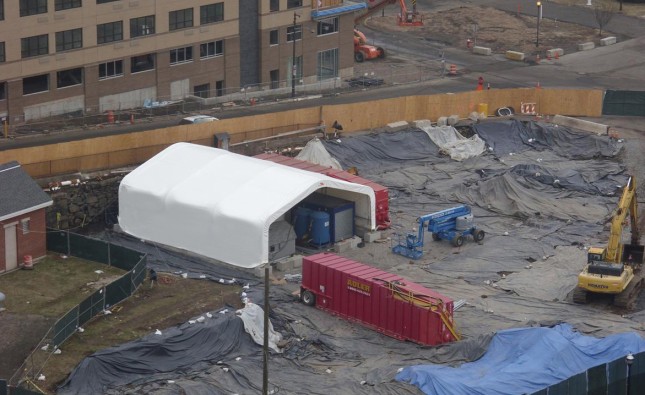 Flexibility in building design makes modifying transportable buildings simpler and safer for business owners. Geoff Ching, who has been involved with countless fabric building projects for ClearSpan Fabric Structures, said, "Being able to adjust the shape, sidewall height or interior peak height of a fabric building to someone's size requirements is invaluable."
When it comes to roof design, some fabric building companies offer a wide array of styles to meet different needs. For instance, a gable style truss arch provides plenty of clearance, while rounded truss arches are a great option for spaces that require more width. Ample vertical space is essential for operating, moving and storing heavy machinery safely. Fabric building owners in the construction industry value the high clearance that a fabric building provides, because vehicles, forklifts and other equipment can be organized and operated securely. Some fabric building manufacturers are able to construct buildings up to 300 feet wide and at virtually any length that is desired, and even after construction is complete, a fabric building can be expanded on.
To ensure that transport of a portable building goes smoothly, hiring a team of experienced specialists can give business owners security and peace of mind. Upon request, certain fabric building companies will dispatch their own construction crew and on-site project manager to oversee the installation process. Professionals like these have extensive knowledge, the proper equipment and hands-on experience, thereby maximizing project safety and efficiency. For projects that require adherence to strict building codes or municipal building requirements, it's possible to have an engineer fully customize a building from top to bottom. Stamped engineered drawings can be given to the customer as well, provided that the company designing the structure can work with a licensed engineer from the proper state.
One of the most striking aspects of fabric buildings are the tent-like rooftops. White fabric covers let in an abundant amount of natural light, which cuts down on humidity, mold and bacterial growth inside buildings. Superior air quality makes for safe work environments that are also comfortable to work in year-round. Equally important to proper ventilation is good visibility. From his experience, Ching said, "Many accidents happen because lighting is insufficient." The interior of a fabric building is full of natural light that is bright yet soft on the eyes, ensuring a well-lit workspace that maintains high visibility.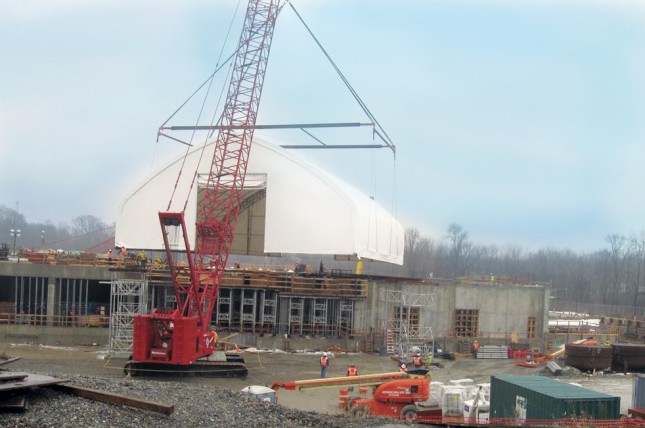 Additionally, fabric covers made from polyethylene or vinyl do not require harsh chemicals for cleaning. Dust, dirt and other pollutants can be washed off with water alone. Some fabric building owners simply let the occasional rainfall keep the building clean.
Companies often use transportable buildings, because they're located in remote or harsh environments. Fabric buildings may be highly portable, but high-end fabric structures are renowned for their structural integrity and resistance to extreme weather. High-quality truss arch frames are made of triple-galvanized, corrosion-resistant structural steel. Coupled with a fabric cover that has a ripstop scrim to prevent tearing, the roof of a fabric building can easily withstand balanced and unbalanced snow and wind loads. Many fabric buildings can be engineered to meet local wind and snow load regulations, assuring that business owners won't have to worry about inclement weather endangering their structure or employees.
Safety management cannot be overemphasized in the construction industry. Removing as many hazards as possible on the jobsite will reduce injuries, while maintaining time and cost efficiency. Fabric buildings offer a unique way to eliminate numerous hazards during both construction and relocation. Through design alone, fabric buildings provide the ruggedness, protection and dependability that guarantee a safe workspace for every type of business in any region. With strong, but transportable, foundation options, excellent interior lighting and far less potentially-hazardous building materials, every operation should consider a fabric structure for its temporary or permanent business needs.