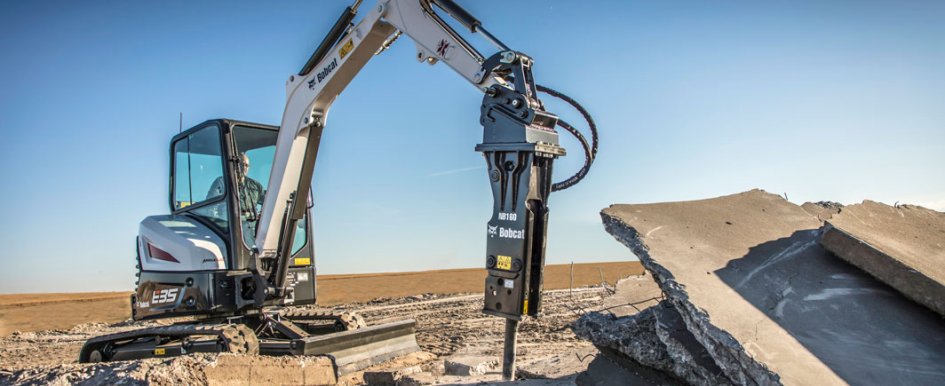 5 new jobs to take your project potential beyond just digging
Compact excavators are known for being efficient digging machines. But, when paired with the right attachments and a coupler system, compact excavators can perform a wide variety of tasks (beyond excavation) and generate new revenue sources. If you're looking for untapped streams of profit, consider these five jobs that use a compact excavator for more than digging.
1. Breaking
Compact excavators are ideally suited for demolition work and can often complete small-scale demolition jobs in a day. The combination of an excavator and breaker can be used to bust up concrete and asphalt driveways, sidewalks, trails, and swimming pools.
This powerful pairing can also reduce smaller structures, such as garages, sheds and retaining walls, into manageable piles. When an operator is done breaking the material, a quick switch to a bucket and clamp makes it easy to load debris into a truck or roll-off container for processing. 
2. Clearing 
Clearing areas zoned for new development is an opportunity to generate additional income with your compact excavator. When outfitted with a tooth bucket and a clamp, or with a three-tined grapple, compact excavators are capable of grabbing, pulling and dragging rooted undergrowth from the ground.
Additionally, a compact excavator paired with a clamp has the lifting force to move large obstacles, such as fallen logs, stumps and boulders. And a flail-mower attachment can efficiently clear thick brush and saplings up to 4 inches in diameter. 
For clearing in hard-to-reach areas, compact excavators configured with an extendable arm can provide more than 2 feet of additional reach beyond the standard excavator arm length. This helps minimize the need for the operator to reposition the machine when digging or handling debris.
3. Compacting
An excavator fitted with a plate compactor becomes a dual-use machine for increased return on investment. After digging with a bucket, a plate compactor attachment can be used to compress soil, eliminating the need for a crew member to pack down the dirt with a hand tamper or to man a walk-behind unit. 
Plate compactor attachments are more powerful than hand compactors and more effective in sloped, hard-to-reach areas. Thus, the job is done in less time, reducing overall costs.
4. Lifting
Compact excavators are ideal for loading and unloading trucks containing heavy items, such as pavers, lumber and retaining wall blocks. When outfitted with a grapple, compact excavators provide precision grasp, allowing operators to not only move, but also sort materials. 
Moreover, this combination can replace a tractor loader backhoe on horizontal directional drilling (HDD) projects to lift and hold components in place for borehole entry as well.
5. Site Prep
Prepping a site for paving or planting before it's too early to dig in spring is another way to increase revenue with a compact excavator. A ripper can be used to scarify ground frost and hardened terrain, while a standard bucket is needed to haul in aggregate base material. 
Combining a bucket with swing accessories adds significant range of motion for more versatility on a jobsite. The wrist-like action moves the excavator bucket to either side — improving productivity by tilting the bucket instead of moving the entire machine — to cut swales, shape contours and create slopes. 
Compact excavators have proven themselves a popular machine for traditional digging tasks. However, the compact size, attachment versatility and proven performance have taken compact excavators beyond their traditional role as digging machines and turned them into a new revenue stream.