Four manufacturers discuss factors influencing the decision to purchase or rent in today's equipment industry.
It doesn't take a rocket scientist to recognize that the construction industry has experienced significant changes during the last six years. Between depressed housing markets, a shortage of highway funding and environmental policies such as Tier 4 emission initiatives, both contractors and equipment manufacturers have seen their fair share of challenges.
But amid all the changes and challenges is a constant: As long as construction contractors expect to run a successful business, they are going to need equipment to get jobs done. The question, of course, is how contractors will obtain that equipment. Is it a wiser choice to rent or buy?
Depending on a contractor's projects and the equipment required, numerous factors impact this decision.
To provide multiple viewpoints on the current state of equipment procurement, four equipment manufacturers—BOMAG, General Equipment, Jenny Products and ReachMaster—analyzed recent and potential future trends and some of the critical considerations for businesses in making the decision to rent or buy.
The Industry Today
Discussing today's equipment rental market is nearly impossible without first examining the state of the economy. As a manufacturer of compaction, paving, milling and other road-building equipment, BOMAG Americas Inc. has seen firsthand the effects of stagnant highway construction funding and uncertainty about the job market.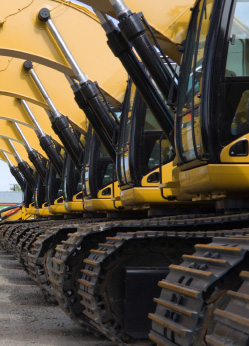 "A lot of contractors are saying they're better off renting than buying, and our business, through the rental industry, keeps growing by leaps and bounds," says Bert DeJong, vice president of sales for light equipment and rental for BOMAG Americas. "Part of that is the economic environment and gaining market share, but it's also the case that rental's slice of the pie is growing. There's a vicious circle where contractors have created a higher demand for rental equipment, rental companies are growing their supply to meet that demand, and this keeps allowing contractors to rent more."
Dennis Von Ruden, president of General Equipment Company, a manufacturer of earth augers, ventilation blowers and surface preparation equipment, believes that cash flow is an important factor in the decision to buy or rent. "The recession made any proactive business put greater emphasis on managing cash flow dynamics," Von Ruden says. "Five years ago, contractors considered utilization rates the determining factor when deciding to purchase or rent. Utilization rates are still critical, but we see more importance being placed on balancing cash flow and maintaining cash reserves."
Dan Leiss is the president of Jenny Products Inc., a manufacturer of portable and industrial stationary air compressors, as well as Steam Jenny pressure washers. Leiss believes contractors tend to evaluate equipment needs differently than other business expenses. "It's about figuring out what is and isn't a necessity," Leiss says. "Vehicles, cellphones or even a business dinner might all be deemed necessary, and those things tend to cost what they cost. When it comes to equipment, people want to negotiate a better price. They figure that's an area where they have more control over spending, and they'll decide to rent or buy accordingly."
Product Utilization
The economic challenges of recent years have caused contractors to shift their priorities in regard to purchase versus rental decisions; however, most tried-and-true principles have not changed. For example, most businesspeople will start by simply asking themselves about utilization rates in an attempt to determine if and when the cost of owning will become less than the cost of renting.
"Contractors should look at the expected short-term or long-term demand," Von Ruden says. "Do they need the equipment for a unique job, or will there be future opportunities that justify making a purchase? . . . It's more cost-effective for contractors with specific jobsite needs to use rental as a supplemental solution than it would be for them to purchase additional equipment. In some cases, they might even consider purchasing used equipment inventory from the same rental dealers to minimize capital acquisition costs."
DeJong agrees that a lot hinges on whether a contractor has a temporary or permanent need. "If a large compaction job dictates that you operate 10 rollers at certain times and only two or three during others, you're clearly going to rent the additional rollers during those peak production times, rather than saddle yourself with extra equipment costs," he adds. "On the other hand, there may be situations where a machine is needed for one specific job and a contractor has the ability to expense the machine toward that job. In that instance it could make more sense to purchase."
The applications for customers of ReachMaster, a supplier of compact aerial lift equipment, tend to be less frequent, such as scheduled annual maintenance tasks or one-time projects where lift equipment is needed to reach high areas. "It makes little sense to buy anything if you have limited use for it," says Ebbe Christensen, president of ReachMaster Inc. "Even for contractors who own a lot of equipment, rental can be a good, flexible option to address periodic needs for specific jobs when they arise."
Christensen adds, however, that now everything is based solely on a utilization equation, especially for operations that simply can't afford to experience any interruptions. "If a facility suddenly needs to address an emergency or some other problem that requires a lift, having to wait days or weeks for a rental unit to become available could jeopardize the normal operation," he says. "Purchasing may be the only viable solution to ensure a lift is always on hand. In circumstances like that, however, equipment would likely be budgeted from the beginning as a necessary part of the operation."
Type of Equipment
Frequency of use is rarely a determining factor for purchasers of Jenny air compressors. Homebuilding contractors and other air compressor users depend on that equipment on a daily basis, whether to operate nail guns or perform vehicle maintenance in a service shop.
"For air compressor manufacturers, rental has become less and less a part of our business," Leiss says. "Competition out of China has kept compressor prices lower, so contractors who need our products are much more willing to buy than rent."
On the other end of the spectrum, a compact aerial lift or mini crane is a much larger financial investment. But that doesn't mean the price tag is the only reason users typically prefer to rent, rather than own.
"A lot of companies aren't geared toward the maintenance aspect of owning equipment, and they don't want the liability on it," Christensen says. "Between annual safety inspections, degree of liability based on who is actually using the equipment, and even the logistics of moving it around, owning brings forth a lot of legal responsibility. Depending on your operation, it might be preferable to let a rental company cover those issues."
Von Ruden sees rental as a good option under certain circumstances for a similar reason—avoiding the effort required to maintain or replace a wide range of specialized replacement parts and having the machine properly set up from the start. "High maintenance tools like a concrete surface planer might be more efficiently utilized through a rental center," he says. "The dealer can supply the correct flail type and planer drum configuration for a specific application. And, by renting, you're effectively eliminating the cost of performing proper machine maintenance."
Avoiding maintenance concerns or liability by renting can be advantageous under the right conditions, but there's also a case to be made for buying equipment in order to establish operator familiarity, which could ultimately result in better jobsite performance.
Contractors have primarily rented BOMAG light compaction equipment and heavy soil rollers for years, but asphalt rollers have mostly been purchased, probably because of how paving companies are paid. Bonuses are based on performance criteria like asphalt mat smoothness, density and even appearance, so contractors try to control the environment for their operators by owning their asphalt compaction equipment.
"Traditionally speaking, contractors have had no problem renting the dirt equipment that's compacting the base," DeJong says. "However, because asphalt rollers are doing the actual finishing work on the highway or parking lot, contractors typically have seen more value in owning that equipment. Operators are more familiar with the machines and have greater confidence they're achieving the correct end result. Just within the last few years, we have seen an increase in the rental of asphalt rollers, but it remains to be seen if that will continue. It partially depends on how well the rental companies do with handling that product line."
Rental Accessibility
As rental has grown as a primary source of equipment to the construction industry, rental centers themselves have naturally been forced to increase the supply of certain product lines to keep up with demand.
"Rental companies have been buying heavily, both to keep up with growth and to replace outdated equipment in their fleets," DeJong says. "The average age of a piece of equipment is lower than it was six years ago, and equipment has become more readily available through rental. The centers are also typically able to provide better service and deliver products further than they could before. All in all, it's simply easier for contractors to rent these days."
As much as the rental industry has been enhanced, however, DeJong adds that specialized equipment may not be universally available. "If a contractor works all over a large state or region, rental companies in certain areas may not have the machine you need," he says. "That's a risk of relying strictly on rental. In those situations you might be better off to purchase."
Von Ruden notes that even if a rental location has the correct equipment, contractors might not always be able to obtain it at a convenient time. "Convenience and access can be vitally important," he says. "Contractors can usually increase productivity by owning a product and having it available on their own schedules, rather than a rental dealer's. Ultimately, this can even lower project costs, especially when using a product that is already paid off."
Though the condition of rental fleets across the industry as a whole has been enhanced, Von Ruden and Leiss caution that the fleet condition at individual rental stores could be lacking. "All equipment requires a certain degree of maintenance," Leiss says. "If products in a rental center's fleet haven't been properly maintained or have simply aged past their useful service life, they may not deliver the performance needed for the job."
Christensen feels that the rental industry was too focused on its core market of construction six years ago. "There was a dependency on construction that made rental centers vulnerable," he says. "Today the product base is much more diversified, and they'll take on more specialized product lines as a result. So there's a better balance and more availability for a wider range of machines."
What's The Price?
A contracting company's decision to rent or buy often comes down to the bottom line. "The only thing that really matters is price," Leiss says. "There are a lot of factors involved, but when you add them all up and look at the options, the question always revolves around what it will cost to buy or rent a given product or complete a given project and so on."
Christensen adds, "All things being equal, it's a straightforward cost-benefit analysis. It comes down to knowing the capacity for utilization and finding the point in either direction where it becomes more logical to rent or purchase."
Not every situation will rely on a financial calculation, however. Another potential wrinkle exists for smaller contractors who might be forced to make decisions based only on the immediate future. "In this business climate, many contractors are more concerned about getting the next job over what equipment will be required," Von Ruden says. "Maybe a job warrants the purchase of a specific product, but the current cash flow doesn't allow it. Spot economics may force contractors out of an otherwise good purchasing decision, since things like truck payments or a house mortgage have to be the priority."
Von Ruden, DeJong and Christensen all cite the importance of due diligence. This involves gathering and analyzing financial information appropriate to the purchase versus rental debate:
Section 179 depreciation considerations and other tax ramifications
Total cost of ownership, operation, maintenance and personnel
Utilization and ROI rates needed to be profitable
Cash flow, financing and terms for equipment acquisitions
According to DeJong, the rapid evolution of the rental industry is a factor that makes remaining vigilant even more important. "Contractors who did their research a few years ago may want to take another look and see how the environment has changed," he says. "Availability may have increased in a certain region, or other variables may now come into play. The decision you made last year may no longer be valid."
"It's about focusing on good, sound business decisions," Von Ruden says. "Contractors who develop and maintain accurate financial cost-to-operate data can put together a well-defined, mechanical process to go through when deciding to purchase or rent. Keeping that information readily accessible can go a long way toward maximizing your profit potential."