Use guaranteed equipment inspection reports when buying through this route
It's every used heavy equipment buyer's worst nightmare—purchasing a machine and realizing that it's a lemon. Although many equipment owners properly maintain their investments over time, a buyer wants the peace of mind that a machine will operate the way it has been advertised. Unfortunately, what you see is not always what you get.
At a physical auction, buyers don't always have the opportunity to inspect equipment, operate it and review fluid analysis results. Additionally, the information provided during the sale may be inaccurate or incomplete. This can create reservations about purchasing used heavy equipment at an auction. Buyers looking to acquire used heavy equipment via the Internet may be apprehensive because they can't run the machines before purchasing them.
Thankfully, buyers using an online marketplace can ensure that the used equipment they're purchasing is in good condition. The solution: guaranteed inspection reports.
Creating the Inspection Report
An inspection report provides proof that a piece of equipment has been thoroughly reviewed and operated. It includes all the information buyers would look for if they were inspecting the equipment themselves, including descriptions of the item's features and condition. The mechanical, structural and cosmetic aspects of the equipment should be inspected, as well as the features and wheels.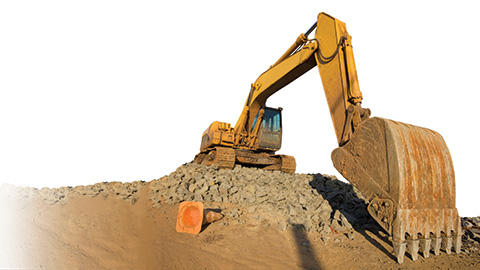 Inspection reports are higher in quality when they are created by unbiased and experienced individuals. Some auction companies employ inspectors in-house, while others hire independent contractors to complete inspections. To reduce the cost for sellers, it is ideal when inspectors conduct the inspection at the seller's site so that the owner does not have to move the equipment until the transaction with the buyer is complete.
Buyers want the inspection report to act as their eyes and ears. But they need to make sure that the information in the report is not simply opinion. Ideally, an inspector would use a standardized process to evaluate the equipment so that reports are reliable and consistent from machine to machine. Auction companies that utilize advanced technology in order to conduct inspections can provide more detailed reports with higher quality images and more thorough content. For instance, reports can be created using a mobile application that guides inspectors through the process to ensure all of the correct data is included in the report. This approach reduces error, making the reports more reliable and comprehensive than handwritten reports.
What should an inspection report include?
Because buyers using online auctions will not be on-site to see the equipment, the inspection report must be comprehensive in every aspect.
The ideal report should include the following:
Equipment Verification - The report should confirm the equipment's make, model, serial number and age.
In-depth Analysis - The guaranteed inspection report should have multiple sections and include line-item ratings and comments from the inspector to emphasize the condition of specific subsystems and components. Here, the inspector can call attention to potential issues or damage, providing expert opinion for each part of the machine.
Photographs - Photographs should show details of the exterior and interior of the equipment. The pictures should also highlight the machine's general appearance and any special conditions such as oil leaks, blowby and welds.
Lab Results - Oil and fluid analyses give an inside look at how the equipment has been maintained. This data can provide important information about oil and coolant conditions, component wear and more.
The Impact
Guaranteed inspection reports are becoming increasingly important as more buyers are using online marketplaces to purchase used heavy equipment. The reports benefit both buyers and sellers because they build confidence between both parties, enabling a successful transaction.
When a listing is accompanied by a guaranteed inspection report, buyers have all the information they need to make a smart decision, from the number of hours on the machine to its features and location. They can also purchase with confidence because the report is guaranteed. Gone are the days of blindly purchasing a machine without fully understanding its true condition. With a guaranteed inspection report, buyers have more information than they would have if they were to visit the equipment at a physical auction. If equipment is damaged, dented or missing specific components or attachments, the buyer will be aware of this before bidding begins.
How do buyers know that the inspection report is a true representation of the condition of the equipment? They should look for an auction company that provides guaranteed inspection reports to make them more confident in their purchase. If the buyer sees any discrepancies between the equipment and the report, the auction marketplace should work with the buyer to reach a resolution.
Going Global
Today, buyers in South America, Europe and the Middle East are dealing with sellers in Canada, Australia, the U.S. and other parts of the world. No longer is equipment buying and selling a localized transaction. Guaranteed inspection reports are especially helpful when dealing with international sellers. Even with language barriers between buyer and seller, the inspection report serves as concrete proof that the equipment has been reviewed and that the buyer will receive what is outlined in the report. Buyers can also avoid traveling great distances for the right piece of equipment.
When international buyers trust the online auction model and the inspection process, they tend to be more comfortable bidding on equipment via the Internet. This allows sellers to generate greater interest in their items through a global audience and potentially drive the final selling price higher, sometimes above market value. Smooth transactions keep sellers happy and returning with their inventory, enabling buyers to bid on a steady supply of equipment.
Safeguarding Online Transactions
Online equipment auctions are here to stay. They make equipment buying and selling convenient and efficient because neither party has to travel in order to acquire or dispose of equipment. Additionally, they connect buyers and sellers around the world, delivering buyers the used equipment they want and providing sellers faster time to cash. However, some buyers may be hesitant to purchase heavy equipment without seeing it in person. Guaranteed inspection reports play a major role in increasing buyer confidence, helping sellers achieve a satisfactory price for their equipment. Buyers should understand how inspections are conducted and what they should include and confirm that they are backed by a buyer protection program. With these details in mind, buyers and sellers can more easily engage in a stress-free transaction.