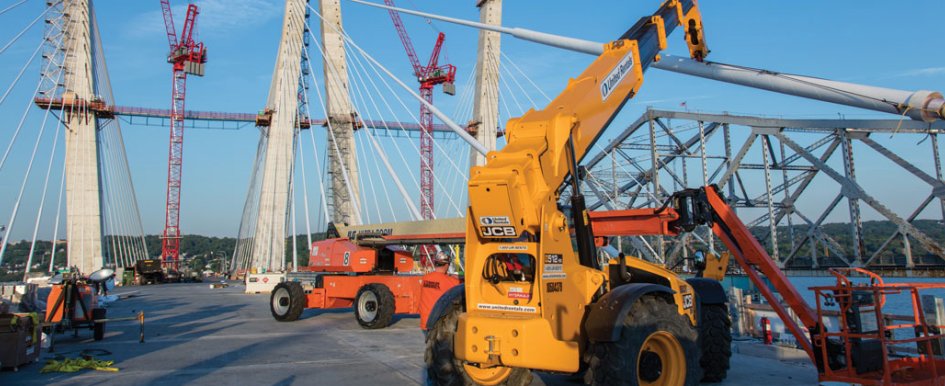 4 areas that hold the largest potential for savings & strategic value
Tuesday, October 16, 2018
In today's complex, high-stakes construction environment, information about equipment—its cost, whereabouts, utilization and operating condition—can be just as important as the equipment itself when determining project success. Business leaders in the infrastructure space understand the value of taking a holistic view of information to create synergy across field offices and jobsites. Business processes, including construction fleet management, need to be based on informed decision making. By applying technology to fleet management, your company can boost productivity and, ultimately, the bottom line.
When you harness the data in a fleet management system, it will become apparent that every piece of equipment has a meaningful story to tell. Stakeholders, the chief executive officer (CEO), on-site managers, equipment operators, project planners, accounts payable and administrative personnel will have vital information that helps them do their jobs more efficiently. Both office and jobsite personnel can work together to improve project efficiency—a key business goal.
A recent PwC survey that found that 85 percent of CEOs cite operational efficiency as one of the best returns on their digital technology investment. When you leverage a fleet management system and the valuable data it generates, projects benefit from a multiplier effect. And the more the decision-making process evolves to maximize efficiency, the more value per dollar the equipment fleet contributes to the business. This is especially true of rented equipment, which is sometimes driven by time-critical and unanticipated construction project needs.
Rental is a responsive solution, but it can also tamper with a predetermined fleet plan and result in a lack of visibility into costs and utilization. This makes it easy for projects to go off schedule or over budget, particularly if rentals need to be added midstream. A recent McKinsey & Company survey found that 90 percent of contractors are worried about the extra cost of the overuse of their rented equipment. A rental strategy, integrated with owned equipment and managed cohesively across the business, gives everyone the visibility they need within context they need it. And doing so helps contractors get more value from rental expenditures. The following offers a closer look at four business areas that hold the largest potential for value creation in succession of their level of efficiency, savings and strategic value offerings.
1. Administrative Efficiency
When identifying best practices for construction productivity, McKinsey & Company cited moving to more holistic systems to enable digital collaboration—specifically, "tracking of equipment and materials and, therefore, greater transparency."
A fleet management system can provide billing data, past and current contracts, invoice history, open and closed work orders, inventory on rent, project locations, and return dates for rental equipment usage. The system can simplify how purchasing and procurement departments initiate and manage orders and how billing and accounts payable departments allocate and pay those orders.
Historically, most billing problems with equipment rentals occur at order entry and often result in damage to the relationship through incidents, such as late equipment returns and rate disputes. A rental contract that is correctly defined from the start can dramatically lessen the administrative hours associated with mismatched rental invoices and orders—a problem that can drag on for weeks or even months after the transaction.
Additionally, when administrators all have the same access to data to manage rentals, it speeds information to business decision-makers and helps the entire team engage more easily. These process improvements can translate into substantial cost savings and better utilization of equipment options. With equipment administration processes in order, contractors can extend the benefits of efficiency beyond office walls to the jobsite. This is where the next level of value—operational efficiency—is achieved.
2. Operational Efficiency
Orchestrating the use of equipment on a busy, sprawling jobsite is no small task, and rented machines tend to fall off the radar. It's not uncommon for expensive equipment to get lost in the shuffle and sit idle, forgotten and neglected. A fleet management system solves this problem by ensuring that site superintendents and equipment operators can locate rental equipment easily. Through telematics, the system can provide a real-time profile of each unit, including, where it's located, what project it's allocated to, if it's being utilized, the rental rate assigned to it and the date it needs to be returned.
Access to real-time information like this leads to improved performance and tangible savings. Data analysis also puts decision makers in a position to manage jobsites more holistically, drive continuous improvement and gain a competitive advantage. These are the key goals of the next level of value—consumption management.
3. Consumption Management
Armed with up-to-date data, managers can rank every piece of rental equipment by measuring utilization and days past due against industry or company norms and act accordingly. Better data leads to more agility in the planning process. Telematics can ensure that a given machine generates enough return on investment. With this level of detail in data, project planners can move machines between jobsites as demand picks up and just as readily call equipment off-rent as demand cools.
Ultimately, contractors who effectively integrate equipment data into their planning processes find they can do more with less—more utilization of the equipment they have (rented or owned) and less need for add-on rentals or capital purchases, reducing spending. This strategic leveraging of equipment underpins the highest level of value to be gained—systems efficiency.
4. Systems Efficiency
Most leaders are aware of the danger of silos (those corporate functions and field operations that tend toward isolation rather than collaboration). Operational silos are inefficient, and siloed technology systems are just as harmful to synergy.
Enterprise resource planning (ERP) systems have long been recognized as an important tool for operational planning and management of construction companies, when it comes to aspects, such as controlling costs, lessening risk, managing labor productivity and building forecasts. ERP systems bring all operations under the same umbrella.
The marriage of ERP and equipment rental is a natural next step for contractors, as it creates a unified procure-to-pay process and integrates the rental transaction into the financial modules.
The scope of the integration varies by business. For example, it can be comprised of front-end processes and the software supporting those workflows, such as order entry and purchase order generation, as well as back-end processes, such as billing and accounts receivable management.
A robust fleet management system allows contractors to manage equipment costs by providing real-time visibility into equipment. It can also strengthen relationships with rental partners and lead to better capital allocation decisions. If you want to create a network effect that delivers value to your company at every level, your best strategy is to take a digitally enabled, integrated approach to equipment management.