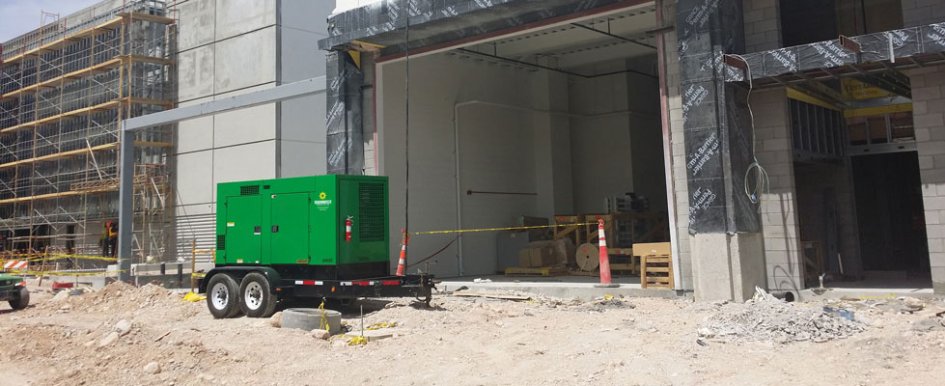 Why you should consider renting this option
Wednesday, April 29, 2020
At a basic level, all contractors want the same thing: to grow a safe, successful and profitable business. However, the approach to achieving that goal may vary.
For some, it may be a matter of making more capital investments or increasing the number of employees in an effort to take on larger projects. Others might look for ways to make project bids more competitive to gain an edge in the marketplace and generate more revenue.
Renting equipment is another growth-friendly tactic—one you may be overlooking. It's common for contractors to supplement their fleets with general rental tools and heavy equipment, such as skid steer loaders, boom lifts, backhoes and attachments.
Renting is helpful when you don't have the equipment, when a job ends up being larger than expected, or you want to preserve capital funds. It can also help when new jobs present themselves and more equipment is needed, such as in a booming economy or during seasonal upticks.
Specialty equipment rental, in particular, can do all that and more. It allows business owners to take on unique jobs out of the scope of their current projects without the burden or risk of making an equipment purchase. And in doing so, it can help expand your construction business.

What Is Specialty Equipment?
Specialty equipment is one of the largest growth segments in the rental business today, and the options go far beyond general tools and heavy equipment. Specialty equipment is tailored to specific applications and often includes an engineered component. It's an overall solution that can help you take on nontraditional jobs—all with the guidance of experts from the rental company.
These rental specialists can help spec out the new project once it's been identified and guide you toward the most efficient solution. The goal is to address the equipment needs in a manner that makes the bid most profitable. So, what is considered specialty equipment and how can renting it help grow your business?
Ground Protection
Projects in environmentally sensitive areas may have rough, torn-up terrain that makes it difficult to bring in heavy equipment to complete the job.
Ground protection, including industrial ground mats, can protect these surfaces, allowing access to finish jobs that you may have previously passed up. And this turnkey solution does so without damaging the jobsite. To ensure proper selection and use, rental specialists can conduct a site visit, oversee installation, monitor execution and provide teardown.
Climate Control
Geography and weather can impact your ability to take on new jobs. For instance, establishing and managing a jobsite in desert temperatures often isn't feasible because of employee safety concerns due to the heat. Likewise, many contractors who face harsh winters choose to forego taking on new projects during the coldest, snowiest months.
However, passing up bids due to temperature extremes and the associated challenges can limit business growth. Renting climate control solutions can increase revenue by allowing your team to work year-round and in extreme locations. These products include large-scale cooling and heating systems, such as freeze protection, ground thawing and curing, comfort cooling and dehumidifiers.
Noise Reduction Barriers
Noise from a construction site can become a real issue in both residential and commercial areas. It can also potentially violate noise ordinances and result in fines.
Noise reduction barriers are a solution that can help you get the job done with minimal disturbance to those around the site—making it possible to take on new jobs in areas you previously may not have considered.
And with more projects comes more growth. In addition to being a cost-effective rental option, these barriers also cut noise from heavy equipment and jobsite tools by nearly half.

They make the jobsite quieter for your employees, which can reduce work-related accidents from noise distractions and create a more comfortable work environment.
Power Generation
From simple portable generator fleets to full construction site electricity, having access to the right power solution can give contractors the edge needed for growth. Rental options are available to supplement the job, for primary or backup power, regardless of the status of local utility options.
Temporary power can make even the most remote jobsites accessible and can help to ensure easy and timely finishes to projects. As with other specialty equipment, rental experts can assess the power needs for a given site and provide the best specification.
Making the Decision
As with general equipment rental, specialty equipment rental reduces the risks associated with owning equipment. It can help you manage cash flow and enjoy the predictability of fixed costs. It also affords the opportunity to demo new solutions while bidding and taking on more nontraditional jobs.
Deciding to leverage specialty equipment rental to generate growth is like any other aspect of your business. It takes time, research and careful consideration. But you don't have to take on this task alone. You can rely on rental specialists for guidance. These experts can steer you toward the most profitable and efficient solution to tackle the job.