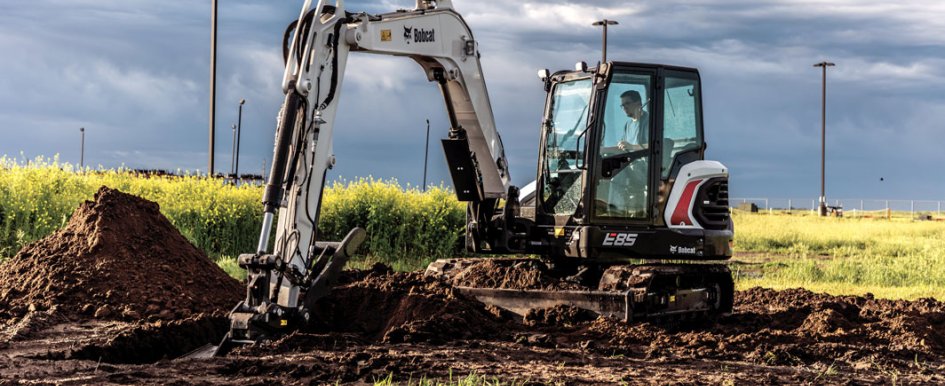 6 tips for snagging perfectly tailored equipment to perform those detailed duties
The productivity and maneuverability of a compact excavator makes it one of the most versatile machines on any jobsite. Equipment manufacturers have introduced new compact excavator models that can be tailored to your specific needs. But with all of these options, how do you select the compact excavator that's right for you?
1. Pick a Size & Tail-Swing Configuration
To get the most out of your machine, ask whether the desired excavator is the right size to perform the required tasks. Can it access your required worksites? Does it achieve the expected performance in regard to dig depth, reach and dump height? Make sure it can access your jobsites and has the necessary capacity in terms of width, height and weight to do the work once it's there. 
The tail-swing configuration you choose is critically important. Minimal-tail-swing and zero-tail-swing excavators provide more unrestricted rotation and flexibility when working close to objects or against a wall.
The zero-tail-swing feature virtually eliminates the chance of the excavator's tail (house) inadvertently contacting surrounding objects and potentially damaging the structure and machine.
The minimal-tail-swing feature significantly reduces the chance of inadvertent contact, minimizing the likelihood of damage to nearby objects or structures.
A zero- or minimal-tail-swing excavator of a given size will generally be wider than its conventional tail swing counterpart. If you anticipate routine work where you or your operators must pass through narrow property lines or gates, a conventional tail swing may be a better fit. 
The typical width of a conventional tail swing on a 3- to 4-metric ton compact excavator, for example, will be about 60 inches, whereas a zero- and minimal-tail-swing excavator with similar performance will have a width of about 70 inches.
In addition, some manufacturers offer compact excavators with retractable undercarriages. Operators can retract the undercarriage, pass through a gate or fence, and then expand the undercarriage before they start working.
2. Choose an Arm Option
Next, choose the right arm configuration for your excavator and your jobsite. Standard arm configurations provide maximum breakout force with greater digging performance. However, if you need greater reach and dig depth, consider an excavator with a long-arm option.
Extra reach combined with higher dump height allows you to do more work without repositioning the machine and helps load trucks easier. The long-arm option typically includes additional counterweight to enhance your excavator's lifting capabilities.
If you need even more reach, some manufacturers offer a clamp-ready extendable-arm option for select compact excavators. It offers the best of both worlds: power and lifting performance combined with the ability to extend the machine's dig depth and reach when you need it.
3. Consider Comfort Features
Your operators spend the majority of their time in the cab of a machine, so it's important to consider a compact excavator's comfort features before adding it to your fleet. Simple features like an enclosed cab with heat and air conditioning, operator-friendly controls, and overall ergonomics promote a comfortable work environment.  
4. Add Versatility with Attachments
A popular and practical compact excavator feature is an easy-to-use attachment quick-tach mounting system. Many manufacturers offer their own type of attachment mounting system for common work tools, such as trenching buckets, grading buckets, plate compactors, hydraulic breakers and augers. 
A user-friendly attachment mounting system encourages operators to use the right attachment for the task at hand. Some hydraulic-powered quick-attach mounting systems enable operators to change attachments, like buckets, from inside the cab to best match the digging requirements and prevent over- or under-digging.
Building a healthy inventory of versatile attachments can allow you to expand your excavator's services and create additional revenue. For example, Ontario contractor Rick Alischer expands his company's offerings with excavator attachments to perform landscaping and grounds-maintenance projects throughout the year.
In addition to many common construction tasks, his company uses its compact excavator with a ripper attachment to extend his working season. He says the ripper can easily dig through the frost in March to install drain tile, sewer lines or water pipes, and is a natural complement to his compact track loader on many of his construction and landscaping projects. 
5. Pay Attention to Safety & Maintenance
Manufacturers have incorporated safety and maintenance features in their compact excavators to enhance uptime protection. Take, for example, safety features like a control console lock-out system to help avoid unintentional activation of the machine's hydraulic systems. 
Most manufacturers also provide lift charts to assist operators in understanding their machines lifting capabilities. Check if the manufacturer offers tip-over protective structures/roll-over protective structures/falling-object protective structures (TOPS/ROPS/FOPS), rated cabs, and/or canopies and retractable seat belts. Evaluate ease of entry into and exit out of the operator station, grab handles and other related machine amenities.
When comparing compact excavators, investigate to see if routine maintenance items can be easily accessed. Look for a compact excavator that has convenient access to all of the daily checkpoints, such as vital machine fluid levels and other important maintenance items. And check to see if the machine has centralized grease points for the slew bearing and pinion gear. 
Routinely inspect the excavator's undercarriage to look for any tears or cuts in the rubber tracks. Then, make any necesarry repairs immediately to minimize machine downtime.
6. Try it Yourself
Above all, the best way for you to compare compact excavator models is to operate them on your jobsite. Not all compact excavators are created equal, and operating a machine in everyday situations goes a long way in helping you see how it would perform as a member of your fleet. 
During the demo, be sure to examine the machine's versatility, operator comfort, ease of routine maintenance and, of course, performance, so you know exactly what to expect from your most recent equipment purchase. 
The addition of a compact excavator could drastically improve your fleet's productivity and versatility. But before you buy, make sure you've considered all the factors involved so that you can find the best fit for you and your equipment operators.