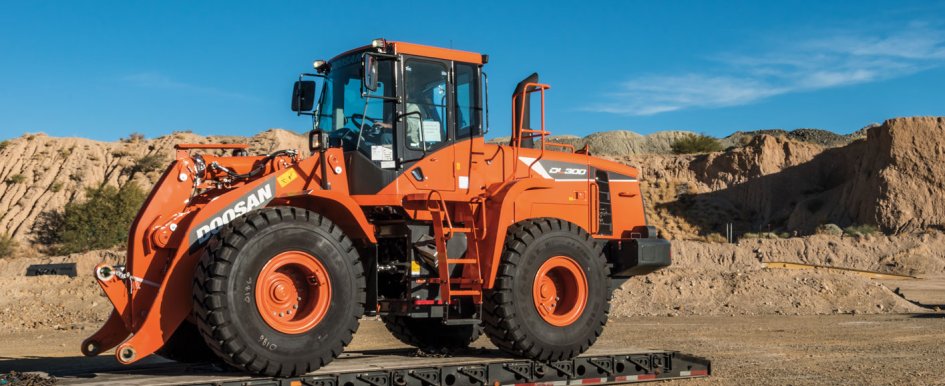 4 tips to properly transport a crawler excavator or wheel loader
Transporting heavy equipment is no small feat. Since it involves several steps, it is your responsibility to use good, consistent hauling techniques. Proper hauling practices, such as using the right size of transport and towing vehicles and correctly loading, positioning and securing equipment, will help minimize loading issues that slow your productivity. In addition, abiding by proper practices can help reduce load securement violations and save you money. In 2015, more than 4,000 load securement violations were issued, as reported by the Federal Motor Carrier Safety Administration (FMCSA). By following the recommendations in your owner's manual and the four tips outlined below, you can transport your crawler excavator or wheel loader to your next jobsite with ease.
1. Select the Right Transport Vehicle
First, make sure the transport and towing vehicles are the adequate size and capacity for the total machine and attachment weight being transported. If you are transporting oversize loads, you will likely need a larger transport device with a larger weight rating to handle the load you are moving. Special approval or permits may be required for oversize loads along your planned route. A transport vehicle's load rating can be found on its identification plate or in the equipment owner's manual. All states and local municipalities have regulations based on gross vehicle weight rating—the maximum operating weight or mass of a piece of equipment as specified by the manufacturer. Load ratings vary from state to state, so check federal, state and local laws and regulations regarding weight, width, length and height of a load before making preparations to transport your machine on public roads, bridges, highways and interstates.
2. Follow Basic Loading Guidelines
It is important to follow the loading guidelines outlined in the owner's manual to make sure critical actions are not missed. Some proper loading procedures to consider may include:
Understand how to operate the equipment that you are transporting.
Check that the trailer is parked on firm, level ground.
Ensure that ramps are designed to handle the weight of the machine. If required, add blocking under the ramp for support.
Make sure the ramp and equipment are free of grease, debris or mud that could cause the machine to slide.
Travel up the ramp with the heaviest end up when you are loading the equipment onto the trailer.
When loading or unloading the machine, run the engine at the lowest speed setting and travel at the slowest speed possible.
Additionally, keep in mind the machine should be properly distributed on the transport vehicle. Improper weight balance increases the pull on the transport vehicle and tire wear. The best way to determine if the load is properly distributed is to look at the transport vehicle's suspension and make sure it is balanced.
3. Secure the Equipment Properly
Once your machine is on the transport device, you should lower its bucket or attachment to the floor of the vehicle, stop the engine and turn the battery disconnect switch to the off position. All doors and covers should be locked before transport. Machines that have an articulation point, pivot or hinge require an articulated frame lock before being transported to prevent any articulation while in transit.
Next, place chocks, cradles, wedges or other means in front of and behind each track or wheel to prevent any rolling or shifting during transport. Then, install tie-downs at the front and rear tie-down positions. Most manufacturers recommend at least four tie-downs to prevent any movement. It is important to note that some transport devices have D-rings, chain slots or built-in strap rails that allow you to easily connect the machine to the transport vehicle. Always use the recommended connection points and securements to minimize damage and maximize the effectiveness of transporting the machine.
Before hauling the equipment, inspect the tie-down points and tie-down equipment used to secure the machine. All pins and connection points should be secure and the hooks should still be functional. If any cracks, stretches or fatigued links are found, remove the tie-down equipment from service. All tie-down equipment should be able to either meet or exceed the machine's weight rating. In addition, if you are transporting a wheel loader, verify the machine's tire pressure before loading. Undetected rubber tire leaks or improper inflation may lead to loosening of tie-downs. Refer to the owner's manual for proper tire pounds per square inch (psi).
4. Transport Equipment Attachments Efficiently
Securing excavator and wheel loader attachments and accessories is also important. Whenever possible, the attachment should be secured to the machine during transport. If that isn't possible, set the attachment on the trailer in the orientation that can be secured by chain straps. Especially when transporting smaller excavators, make sure buckets and other attaHowchments are properly secured to the transport device. If the machine is equipped with hydraulic attachments, make sure the hoses are routed in an orientation where they are not interfering with the machine on the trailer. Hoses should not be lying underneath the machine, located in the way of a tie-down or connected in a manner where they could become disengaged. All hydraulic hoses should be secured properly in accordance with the owner's manual.
Transporting equipment does not have to be difficult if you comply with proper hauling techniques and abide by your local regulations. Following these four tips and instructions, along with the recommendations in your owner's manual, can help minimize issues the next time you transport your equipment to your jobsite.
Removable Counterweights Lower Transportation Costs
Some heavy construction equipment manufacturers offer a removable excavator counterweight to reduce the overall machine weight. This option may allow owners to utilize a standard-size trailer to transport an excavator, which helps reduce hauling costs and avoid oversize or overweight permits. The counterweight and any attachments can be transported on a second trailer. Always refer to the owner's manual for proper uses.