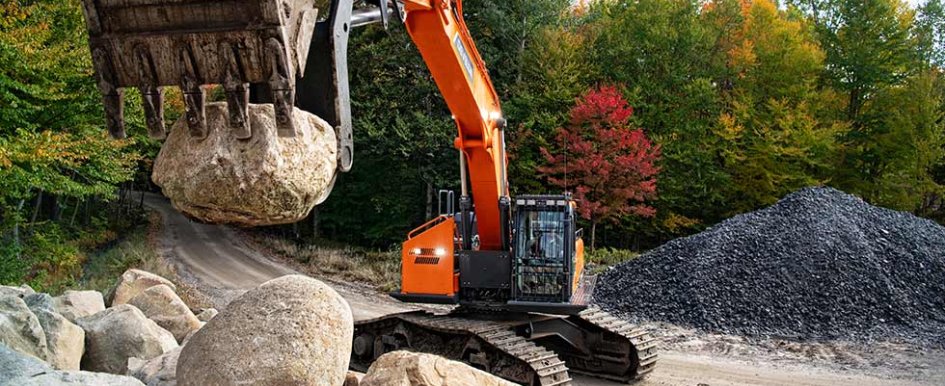 Versatile construction equipment fuels success for New York contractor
Thursday, October 12, 2023
Mountains, rolling hills and snow-covered forests.
These are just a few features of Tupper Lake: a picturesque town in upstate New York, located approximately 150 miles north of Albany and nestled within the heart of the Adirondack Mountains.
Although it's a small community, there's plenty of contracting work to do for Josh Trudeau, owner of Trudeau Construction Company. He previously worked a municipal job in Tupper Lake, gaining valuable experience with construction equipment. About five years ago, he decided to go out on his own and created Trudeau Construction. Presently, the organization employs a team of 11 and boasts a substantial workload in the queue.
"We do development, right-of-way clearing, excavation and foundation work," Josh said. "But we also do a lot of land management, tree removal, logging and trucking. It's a little bit of everything. Each day tends to be different. We mow ditches one day and build paths the next. I enjoy coming home every night thinking that my crew and I turned something that wasn't very good into something we are proud of."
Given the diverse range of services offered by Josh's company, a robust fleet of construction equipment is imperative to stand up to the demands of various jobsites. Over time, Josh has significantly expanded his equipment fleet from its modest beginnings, ensuring his business remains well-equipped to excel on any jobsite. His company currently owns compact and heavy construction equipment.
"We really enjoy how the equipment performs on the jobsite," Josh said. "The comfort, visibility out of the cab, easy maintenance and the availability of our dealership for parts and service all contribute to our success. We're on a first-name basis with the dealership. I've got everybody's personal cellphone number, including the owner, and that really helps out."
Equipment Fleet Builds a New Community
Josh and his team have achieved recent success with a project aimed at getting a new residential community ready for development close to Tupper Lake. For this undertaking, they employed a range of machines for this project, some of which were equipped with quick couplers to enhance their versatility.
"We're jumping from roadbuilding to ditching and using several other attachments like mowers," he said. "We had to be able to use one machine on several different jobsites."
 A mini excavator, fitted with a flail mower attachment, undertook the task of clearing the overgrown vegetation along the roadside. Its precision and efficiency allowed for the once tangled and obstructed area to be cleared, enhancing both safety and aesthetics.
"Mowing typically helps reduce beach brush growing on the side of the road; that way the brush doesn't make its way onto the road and into vehicles," Josh said. 
Another phase of the project included lifting and moving logs with a DX35-5 mini excavator paired with a bucket and thumb attachment.
"We used the DX35-5 for feeding our small chipper on this project. We also have a lot of residential work close to houses and buildings," Josh said. "We can't be scarring trees, so we use this machine where we can't fit our bigger machines."
Mastering Challenges With Precision & Power
Trudeau Construction also strategically employed a DX380LL-5 road builder to lift landscaping boulders with a bucket and thumb attachment combination. 
"We do road rights-of-way and build new roads; and being in swampy, muddy areas, the road builder helps us keep our traction," Josh said. "The machine gives us a lot more weight, and we can pull stumps without getting light in the tail end."
Set up along the road, a DX140LCR-5 excavator was used with an angle tilt bucket to excavate and load the dirt into a DA30-5 ADT. The ADT transported the dirt to another area where it was unloaded and kept for future use. 
Finally, a DL280-7 wheel loader was tasked with lifting, carrying and loading materials that will eventually be used in
the development of the new community. 
"When we're done with our fall projects, wheel loaders are used to feed our screening plants to get road sand ready for the busy snow removal season," Josh said. 
The area regularly receives more than 100 inches of snow, so Josh and his crew have to make sure they are ready come winter.
"We use our wheel loaders for snow removal," Josh said. "We have a large plow we put on the front. We chain them up all the way around, and we can clear all our landing areas, staging areas and road rights-of-way, and they work really well."
Safety Comes First
Another important aspect that played a significant role in the success of this project was safety, which Josh emphasizes on every job. Safety is a top priority for Josh and his team, and they take it seriously from the very start. 
When recruiting new operators, Josh follows a thorough training approach to ensure they are well-prepared to handle the construction equipment responsibly. He pairs them with experienced operators initially, allowing them to learn from seasoned professionals and gain valuable hands-on experience. As they become more familiar with the equipment and demonstrate proficiency, he gradually transitions them to operating smaller machines.
Before heading out to the jobsite each morning, Josh and his team conduct a "toolbox talk." This practice involves gathering together to discuss the tasks for the day, potential hazards and safety measures. This daily routine ensures that everyone is on the same page, fully aware of the job requirements and ready to tackle any challenges with safety at the forefront of their minds. Additionally, Josh and his employees have weekly safety meetings to ensure that everyone is keeping safety top of mind.
With the right equipment and an eye on safety, Trudeau Construction continues to find success.   
Heavy Equipment Safety Resources
Safety is critical in the construction industry. All operators need proper education and a general understanding of a machine's basic operating procedures and safety features before getting started. Follow these resources for safe operation:
Review the manufacturer's operation and maintenance manual, which serves as the primary guide for proper operation and maintenance.
Familiarize yourself with today's heavy equipment safety features prior to operation. These smart solutions can include rearview cameras, around-view monitoring (AVM) camera systems, object detection and virtual wall technologies. Fleet management telematics and machine monitoring also provide you with smart solutions for tracking equipment, helping improve uptime, machine productivity and jobsite safety.
Look at all safety and instructional decals on the machine to help you understand potential hazards and the consequences of injury. 
Check out safety manuals from the Association of Equipment Manufacturers (AEM), which serve as complementary references on proper operating practices. 
Visit with your local dealership about hands-on equipment training. They have the product knowledge and experience to help you troubleshoot and maintain a machine.