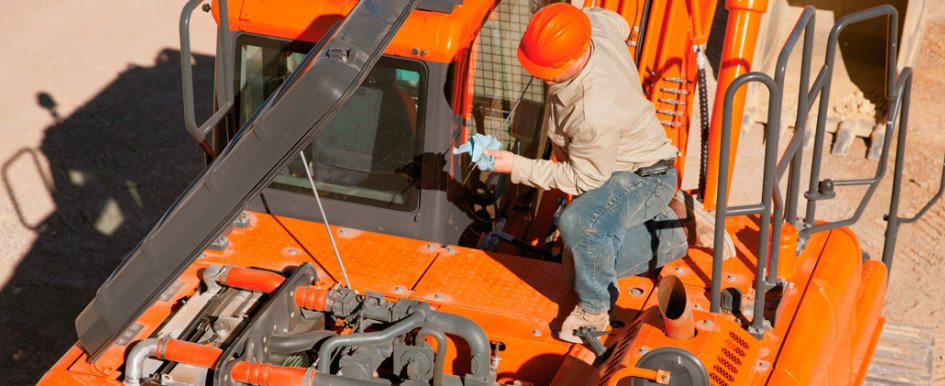 9 proper operation tips to ensure safety and productivity on your next project
According to the U.S. Department of Labor, approximately 4,585 workers were killed on the job in 2013, and 58 percent of those workers died while working on construction sites. The leading causes of death were falls, being struck by an object, electrocution and being caught between objects. Eliminating these "fatal four" causes of death would save close to 478 workers' lives in America each year. Before using a piece of heavy equipment, operators should follow these nine tips:
Tip 1: Educate before operating
Whether it is in the classroom or hands on, all heavy equipment operators need proper education and a general understanding of basic operating procedures before using a machine. Understanding the instructions laid out in the manufacturer's operation and maintenance manual is a critical component, said Shawn Warkenthien, Doosan's director of product safety.
Safety and instructional decals are strategically placed on the interior and exterior of heavy equipment and should be reviewed prior to operation and maintenance. Any decals that become worn, damaged or missing should be replaced, and can be done so by visiting your local heavy equipment dealership.
Tip 2: Wear proper clothing
Wearing protective clothing and personal safety devices are two ways that keep workers safe on an active jobsite. Do not wear loose fitting clothing or other items that can catch on controls or in moving parts. Personal protection equipment for operators may include:
Hard hat
Safety shoes
Safety glasses
Heavy gloves
Hearing protection
Reflective clothing
Tip 3: Understand the jobsite
Getting a feel for the work area and looking for potential dangers should be assessed before using heavy equipment. Operators should look around the jobsite to make sure there are no bystanders and use barrier tape, traffic cones or gates to keep other individuals and equipment out of the work area.
Tip 4: Complete a visual check
Before entering a piece of heavy equipment, operators should take a few minutes to walk around their machine to look for potential problems. Heavy equipment operators should complete the following during a visual check:
Repair broken, missing or damaged parts.
Check for damaged or missing safety or instructional decals. Replace them, if needed.
Check tires for cuts, tearing or over inflation.
Check wheels for damaged rims and missing or loose wheel nuts or bolts.
Review tracks for broken or damaged parts.
Replace worn or damaged tires or tracks.
Check all fluid levels.
Look for evidence of leaks and have any leaks repaired and fill fluid to proper level.
Remove any flammable debris from the engine compartment, the battery box, around exhaust components, under the machine and around rotating parts.
Inspect lights, cab glass, side mirror and rearview camera for damage.
Clean and inspect walking surfaces and grab handles.
Assess the condition of the roll-over protective structures and the falling-object protective structures.
Tip 5: Use three points of contact
To prevent falling when entering or exiting the machine's cab, all operators should use their manufacturer's designated access system. A three-point support system enables workers to use two hands and one foot or one hand and two feet when mounting the machine. Face the machine when entering or exiting and follow these tips:
Make sure work boots and hands are clean when mounting and dismounting.
Do not carry tools or supplies when entering or exiting.
Never jump onto or off of the machine.
Never attempt to get on or off a moving machine.
Never try to start the machine from outside the cab.
Tip 6: Practice starting procedures
After entering a piece of heavy equipment, operators should first inspect the seat belt and buckle for wear and proper function. They should also adjust the seat to operate the controls properly and familiarize themselves with warning devices, gauges and operating controls. Operators should make sure the parking brake is engaged (if applicable) and put all controls in the neutral/park position prior to starting the machine. Other personnel working in the area should be warned by sounding the horn.
"The operator should always look for other personnel or vehicles in the area before moving the machine," Warkenthien said.
While the transmission is in neutral, the engine speed control and equipment control levers should be tested to make sure all functions are running correctly. Shift controls should also be examined to ensure correct operation in forward, neutral and reverse positions. Parking, service and swing brakes should also be evaluated at this time.
Tip 7: Exhibit proper operating techniques
Even the simplest of steps can be overlooked and potentially lead to operator injury. Operators should understand and abide by the following general heavy equipment safety tips:
Always slow down before turning, reduce speed before changing travel direction, stay alert and maintain safe distances from other equipment.
Never exceed the machine's rated lift or load capacity.
Avoid steep slopes; only travel up and down a slope and never across a slope.
Do not turn on an incline.
Use and maintain service and parking brakes carefully.
Stay in gear when traveling downhill and do not shift to neutral.
Always park the machine on firm ground and apply the parking brake.
Never approach power lines with any part of the machine, unless all local, state and national safety precautions have been taken.
Understand clearances and weight limitations of floors and ramps if using the machine inside a building.
Stop operation if visibility becomes restricted because of broken, dirty or out-of-adjustment mirrors or lights.
Look and listen for malfunctions; stop operation immediately if erratic operation is detected.
Tip 8: Choose the right attachment
Using the correct attachment for the task is an important safety measure that is often overlooked.
Tip 9: Maintain the machine
Operators should be authorized to complete maintenance and possess the necessary skills and tools to complete the job correctly. Other proper maintenance tips include:
Check lubrication charts.
Examine all instructional messages on the machine.
If needed, use wheel chocks to keep the machine from moving during service.
Attach a "Do not operate" tag or similar warning tags to the starter switch or steering wheel before maintenance.
Install all appropriate lock devices or support devices such as articulation locks, lift arm supports, cab supports, dump body support devices and jack stands.
Do not operate the engine in a closed area.
By following these nine tips, heavy equipment owners and operators can be much better equipped when working on active projects, potentially minimizing their risk of jobsite injury.